If you use words like whimsical and ethereal to describe your aesthetic, chances are you're a fan of Jill Stuart. Her collection offers soft chiffon and silk clothes in the prettiest colors and prints, and any girly-girl would dream to have her closet filled with them. (As one of those girls, I can attest to that statement).
The success of Stuart's revered fashion empire should surprise no one. Apart from her inherent talent, she learned from the best: her parents. "Seeing my parents' success [from running sportswear line Mister Pants and dressing countless celebrities] made me want to make a name for myself," she tells us. "My parents taught me how to harness creativity and turn it into a successful business. I am a hard worker, just as my parents are, and I think that is the driving force behind both my fashion collection and my makeup line."
That makeup line launched in 2005, but only debuted in the United States this year. And just like her fashion range, it's beautifully feminine: each product is packaged in a silver case with intricate floral and crystal details. The line focuses on three categories: lip, eye, and cheek, because Stuart believes that's all you need to look luminous. "With my makeup, all you need is lip, eye, and cheek products to create your dream glow in under five minutes," she says.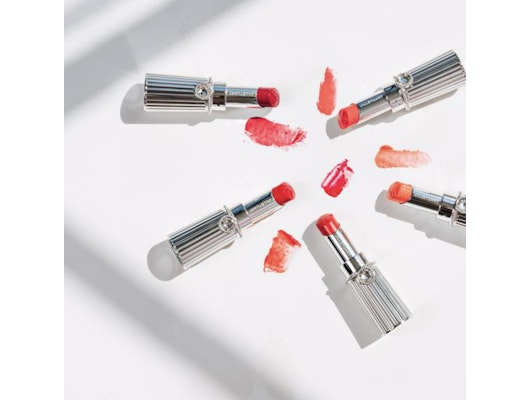 The lip and cheek products come in different shades of pink, mauve, and red, in the prettiest of sheens for buildable coverage so that you can use the formulas for any occasion. A personal favorite of mine is the Jelly Eye Color ($20), which glides on incredibly smoothly and leaves a shimmery, glossy finish that lasts all day. To get more insight into this elegant range, we asked Stuart our most burning questions about her makeup collection, sense of style, and more. Keep reading to learn about her, including what she believes to be the most important part of any look.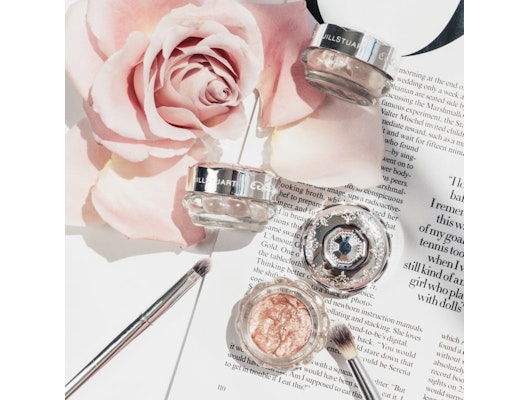 Spotlyte: You're known for your pretty ultra-femme, whimsical clothes. What is the process like trying to bring that same aesthetic from fashion to beauty?
Jill Stuart: I always incorporate femininity into my clothing designs because it is inherently who I am. Of course, with my makeup collection, I wanted to create something that represents who I am and make customers feel that way too. It's exciting to combine fashion and cosmetics together; [you're] mixing and matching different colors and textures to express yourself.
Spotlyte: This collection first launched in Asia back in 2005 and is just now coming the US. Was there a reason why you decided to launch it there first before coming here?
JS: Over the years, I have taken many trips to Asia, and each time I come back feeling inspired and enriched by the culture, the fashion, and the people. Clothing and makeup are heavily emphasized in Asia and I love that they make it a priority to feel beautiful. When the opportunity to start my makeup collection in Asia came about, I knew I had to take it. Now, after 13 years, I am so excited to be bringing the collection here to the US. 
Spotlyte: You say this collection is beauty for the modern vintage princess. Who is a modern vintage princess?
JS: Vintage has been a part of my life for as long as I can remember: I started collecting vintage clothing when I was sixteen and now I have quite the assortment. Vintage is valuing history while being contemporary. My daughter Sophie radiates modern vintage beauty.
Spotlyte: What was harder: creating your first handbag and jewelry collection when you were 15 years old or stepping into the beauty world for the first time in 2005?
JS: Beauty was more of a challenge because it was something new. I did, however, learn quickly and the entire process of creating the formulas and designing the packaging is really fun for me. 
Spotlyte: Let's talk about your beauty regimen. How do you take care of your own skin?
JS: I drink a lot of water to hydrate my skin. I wash my face with Jill Stuart® Beauty Pure Foaming Wash ($35) twice daily and Pure Milk lotion ($50) to moisturize.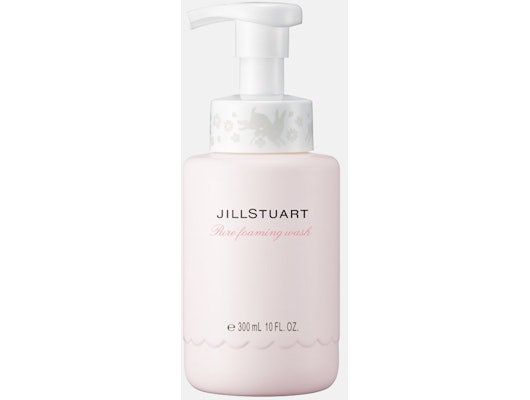 Spotlyte: What is your favorite spa treatment?
JS: I love Joanna Vargas's Triple Crown Facial.
Spotlyte: What do you do wellness-wise to stay sane while working so hard?
JS: I try to eat a clean diet and take lots of vitamins.
Spotlyte: What's the most important beauty lesson you've ever learned?
JS: Confidence. It's the most important part of any look. If you don't feel comfortable in your own skin, then the look doesn't work. Be true to yourself and the rest will come.