Kristyn Pradas, a celebrity airbrush-tanning artist, has one of the most coveted jobs on the planet: she gets to see all of the Victoria's Secret® models in the buff. It comes with being hired as the official spray-tanner for the 2018 Victoria's Secret Fashion Show®.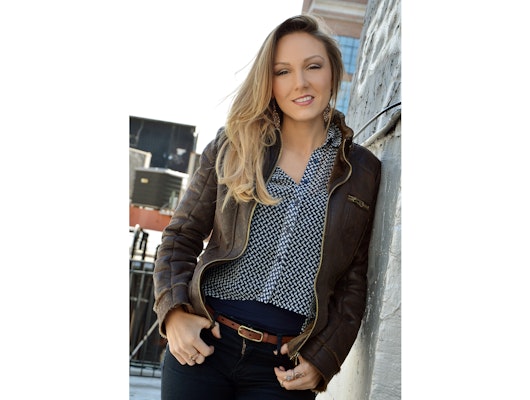 Manny Roman
In the days leading up to the runway filming in NYC, the long-legged goddesses visited Pradas in a secret hotel suite. There, she misted them with her brand-new product line, Pradas GlowTM, including self-tanner and a special shimmering oil. The result: the Angels' gorgeous-toned bodies were accented in just the right ways with body makeup.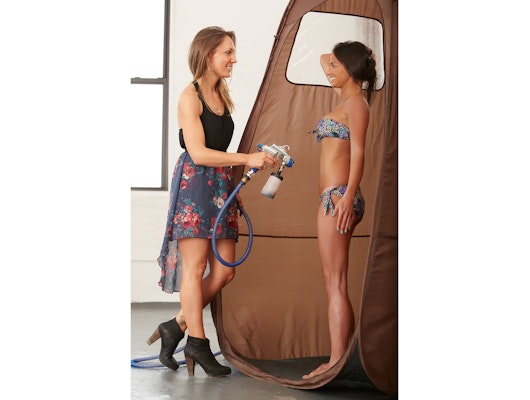 "Yes! You can contour your body with self-tanner," she tells me — all smiles — the on the eve of the show filming. It's 6 p.m. and I've come to get the "official" Angel tan and learn her tricks of the trade. (After my appointment, Angels will float in and out of her hotel suite all night for final touch-ups.) This is not just self-tanner: it's body art.
"First, do one complete layer of self-tanner all over your body," Pradas advises. "Decide which areas you want to shade and enhance. Then, put more solution on those areas. Darker areas always appear smaller. For instance, if you're wearing a black dress, you look thinner than if you're wearing a white dress. Dark colors make you look slimmer."
The same idea applies to self-tanner. By adding strategic extra layers of the product to certain areas, you can trick the eye to thinking those places are smaller or more defined. This is the basis of contouring, which many of us already to do our faces.
When it comes to layering on the extra tanning formula, Pradas is a fan of using blending sponges (like your trusty beautyblender®!). Your hands may have residue on them (she likes to clean them with makeup wipes), so a clean sponge is your best bet. "You always want to dab — especially if the formula is still wet," she explains. "If your tan is dry, then you can actually buff it."
Once you've got the perfect self-tanner look for your body, try Pradas' Skin ArmourTM ($20) to maintain it. Most oils break down a tan, but this one acts as a shield and helps maintain it. Apply it on dry skin all over before showering (fine to use on your face if you're not acne-prone). Skin Armour is comprised of a medley of organic oils — shea nut, olive, jojoba, rosehip seed, chia seed, rosemary — that are nourishing for skin. Hydrated skin is less likely to flake off, meaning your tan will last longer.
"It creates a barrier between your skin and the water — it allows the water to bounce right off your skin," Pradas says. "It also protects your skin from the chlorine and the heavy metals that come out of the faucet. Those metals can strip your skin and make it drier. When you get out of the shower, you won't be oily because most of the product will be rinsed away." (Editor's note: I tried this on my tan, and it actually worked at preserving it and helping it fade uniformly!).
Ready to get going? Keep reading to learn exactly where to apply self-tanner to contour your body, from head to toe.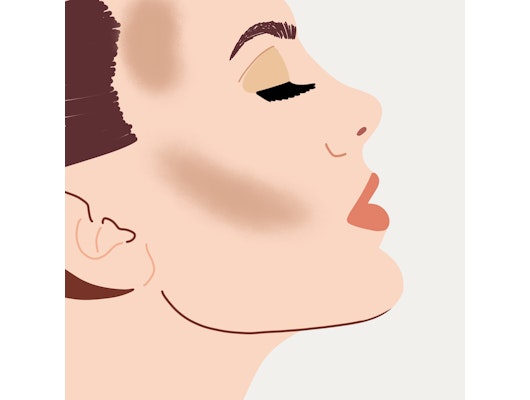 Lauren Johnstone
Define Your Cheekbones: "To find your cheekbones — everyone's are different — make a kissy face to suck in your cheeks. Use a makeup sponge to add extra tanner to the sunken parts. Also, do the line of your forehead around your temples. If you sit in the sun and the sun hits you directly, you usually get color there."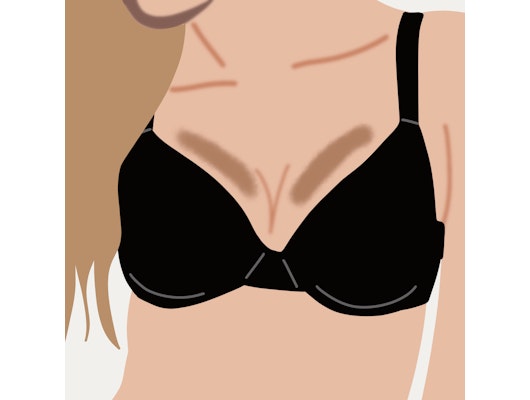 Lauren Johnstone
Create Cleavage: "Shade from the middle of the cleavage around the top of the breast in the shape of upside down 'C's. The middle part [mid-top of breasts] will be a little lighter, so that way it looks bigger. Again, darker makes it look smaller. Darker also makes it look tighter and lifted. Lighter makes you look bigger, fuller."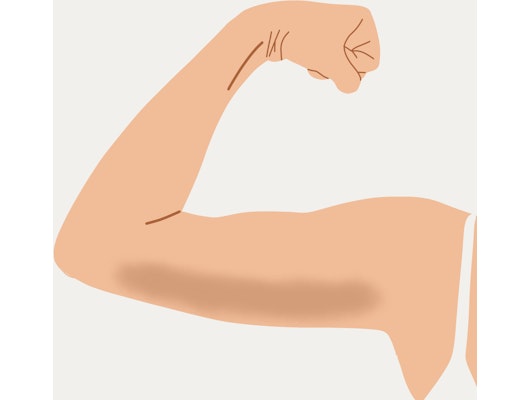 Lauren Johnstone
Tone Your Arms: "Shade the backsides of your upper arms — right underneath your muscle. Don't do the lower part of your arms or it looks very unrealistic. If you're in the sun, your forearm doesn't get any color. If you start shading that real dark, it won't look natural."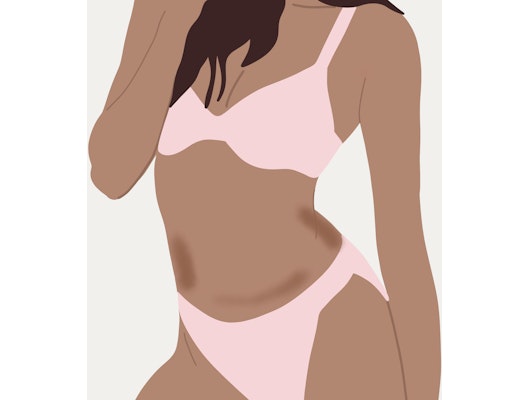 Lauren Johnstone
Whittle Your Waist: "For a smaller-looking waist, put more solution on your love handles (the sides of your abs). Darken or 'slim' those areas to appear thinner. Also, make your little pooch area darker so that makes you appear thinner."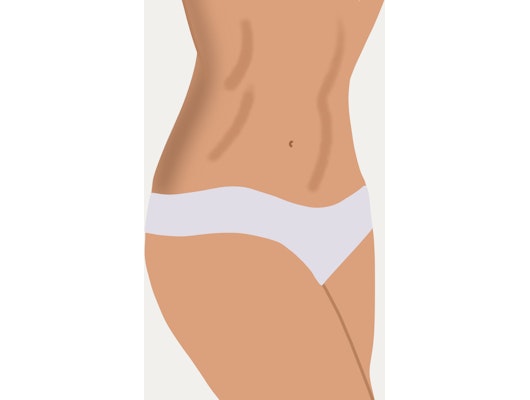 Lauren Johnstone
Sculpt Your Abs: "Make a muscle — like flex your abs. Take either a makeup sponge or a paint brush sponge, and just dab it into where you're flexing — where the indents would be. It creates the illusion that they're more defined than they actually are."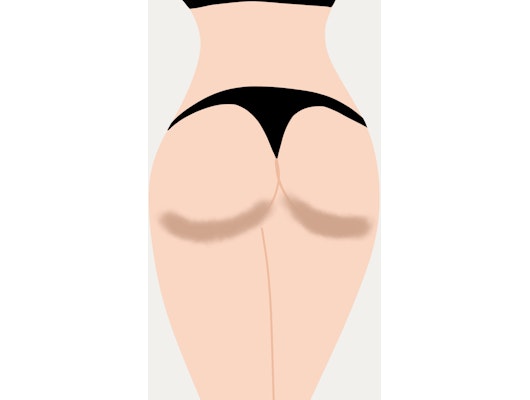 Lauren Johnstone
Lift Your Bum: "Obviously, I shade the entire thing first, because a dark butt is always a cute butt and looks tight. Then, make the saddlebag area — where your butt meets your thigh — really, really dark. Right over the butt cheek." [Editor's note: it looks like two "C"s cupping your derrière.]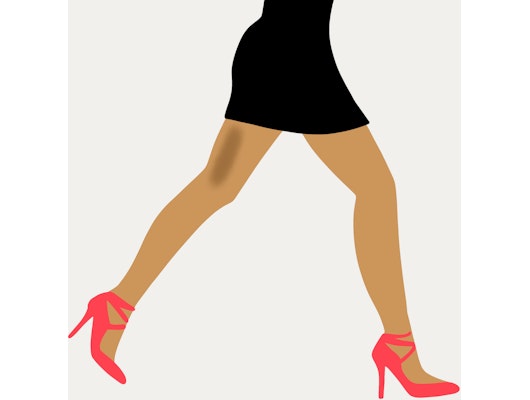 Lauren Johnstone
Elongate Your Legs: "If you want your legs to appear thinner when you're walking, apply an extra layer of the self-tanner on the inner thighs."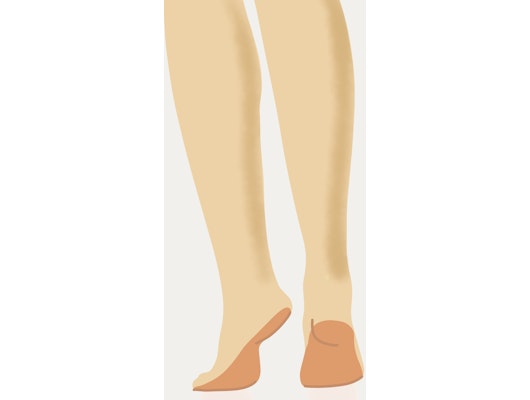 Lauren Johnstone
Slim Your Calves: "People like their calves to look thin, so the best thing to do for the calves is to make them a little darker. From underneath the knee on both sides, darken it a bit. Go all the way down so it looks uniform and it looks even. That way, your legs appear thinner."
Services were gifted to the author for the purpose of writing this article.