Finding the perfect small gift for someone you care about can be a pretty big challenge. It has to be thoughtful. You want it to be chic — a gift card just won't cut it.
You can achieve that crucial element of surprise by treating your loved one to a little something they may not know about nor would ever consider splurging on for themselves. Furthermore, an impeccably-chosen stocking stuffer can prove that giving is just as much fun as receiving. We found 10 gifts that fit that description perfectly — find our festive, stylish picks below.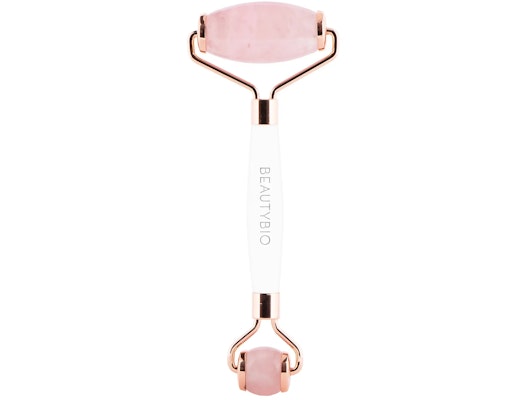 BEAUTYBIOTM Rose Quartz Roller
Facial rollers are ubiquitous, but none come close to the "jewelry for your vanity" status achieved by the BEAUTYBIO Rose Quartz Roller ($60). We swear by this to help promote lymphatic drainage, which de-puffs the face and gives it instantly a more toned appearance. To use it, slick on a serum or moisturizer, then roll it (using short strokes) from the center of your face, moving out toward your ears. The stone (responsibly harvested in Brazil) is naturally cool to the touch, but we still keep it in the fridge for an extra chill — it helps tighten the look of any enlarged pores.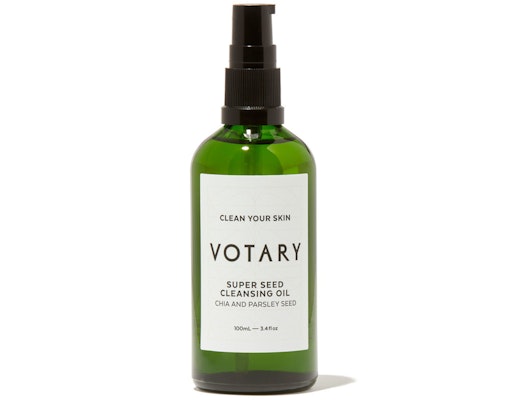 Votary® Pillow Spray
For any of our friends who are reading, a posh aromatherapy treatment is our idea of a perfect gift. London-based eco-luxe brand Votary's Rest Your Head Pillow Spray ($48) should not be ignored. The mind-soothing blend of lavender and chamomile relaxes the senses and helps you drift off after a long day. It's especially a great travel accessory for those who can't fall asleep easily when away from their own bed.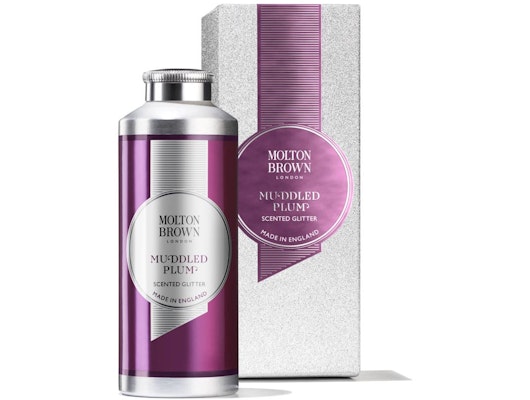 Molton Brown® Muddled Plum Scented Glitter
Scented glitter may sound abstract, but hear us out. You've most likely gifted candles to friends who take great pride in their home decor skills. This holiday season, switch it up and surprise your favorite domestic goddess with the Molton Brown Muddled Plum Scented Glitter ($45). A few sprinkles add festive iridescence to any table setting, illuminate the tree, or bring a bit of extra to your gift wrapping game. The light orange, plum, oak-aged rum, and sandalwood notes linger delicately for a few hours. Bonus: The glitter is biodegradable.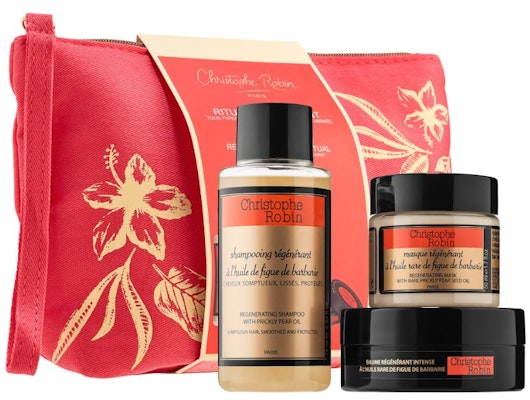 Christophe Robin® Regenerating Hair Ritual Travel Kit
Since our strands can get a bit dry and lackluster during the colder months, it's essential to restore hydration. The trifecta of deeply nourishing shampoo, a mask, and multi-use balm in the Christophe Robin Regenerating Hair Ritual Travel Kit ($50) does this while also delivering bounce and shine. We also adore the crisp, fruity aroma which comes courtesy of antioxidant-rich prickly pear extract.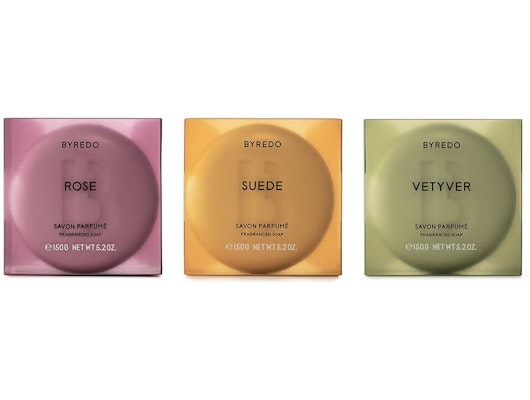 Byredo® Fragranced Soaps
Soap as a gift may sound like a cop-out. But trust us — anyone would want to find the new Byredo Fragrant Soaps ($40 each) in a stocking! They cleanse and condition the skin while leaving behind a subtle aura of sophisticated fragrance (choose from Suede, Vetiver, and Rose). These stylish bar soaps prove that even washing your hands can be a self-care ritual.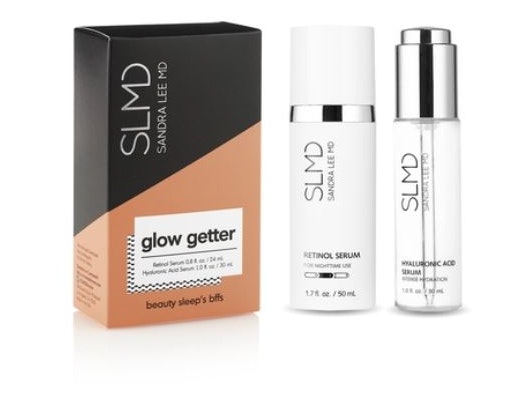 SLMD® Glow GetterTM Gift Set
When not filming the visually engrossing (pun intended) television show Dr. Pimple Popper on TLC, Dr. Sandra Lee develops formulas for her behind the innovative SLMD skincare line. This holiday season, the doctor prescribes the new Glow Getter gift set ($70) to amp up your bedtime regimen. The dynamic duo of retinol and hyaluronic acid serums is ideal for those who are low maintenance but have high standards — they work to deliver firmer, brighter, and healthier-looking skin by morning.
[Editor's note: Retinol shouldn't be used by those who are pregnant or considering getting pregnant. Please consult with your doctor before use.] 
Kjaer WeisTM Lip Balm
Everything about the Kjaer Weis Lip Balm ($50) is decadent, which is why it gets our vote as one of the most splurge-worthy gift ideas on this list. The organic formula (which is handcrafted in Italy!) uses Brazilian nut butter, rosehip seed oil, and chamomile to ensure your lips are soft and kissable all holiday season long. Plus, a nourished pout holds on to lip color longer, so you won't need to touch up as often. We're especially fond of the intricately designed compact — not only is it stylish, but it's refillable, too.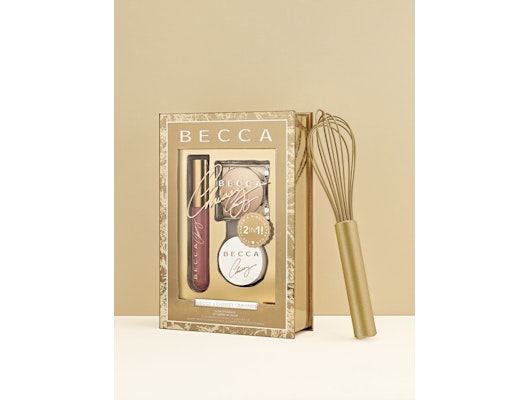 BECCA® Glow Kitchen Kit Becca x Chrissy TeigenTM
If you have either a makeup devotee or a gourmet to impress this holiday season, consider surprising them with the Becca x Chrissy Teigen Glow Kitchen Kit ($44). This makeup set is inspired by the the ultimate cravings of the relatable supermodel/domestic goddess: a red velvet-inspired lip, a cinnamon sugar glow powder, and a churro-scented highlighter/eyeshadow duo. They look as delectable as they smell!.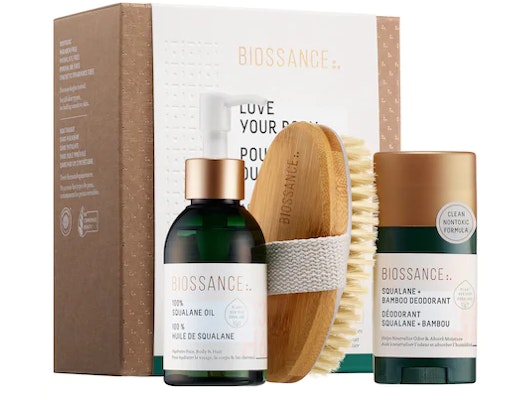 Biossance® Love Your Body Kit
The entire Biossance product range boasts mega-nourishing plant-based squalane as the hero ingredient, which is an essential addition to your body care routine come Winter. The Love Your Body Kit ($58) includes the brand new non-toxic deodorant (which uses bamboo powder to keep you feeling fresh), a dry body brush to exfoliate and rev up circulation, and their classic 100 percent pure squalane oil to indulge yourself head to toe.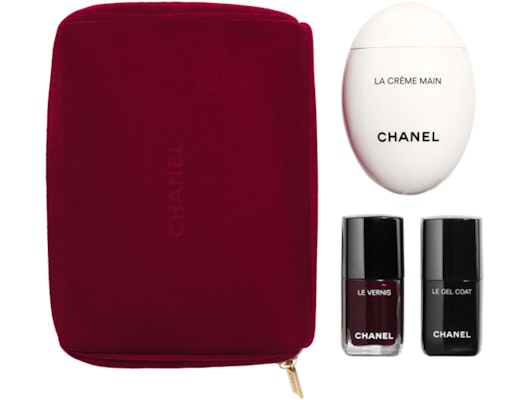 CHANEL® Prep, Prime and Polish Manicure Essentials Set
Shopping for someone with impeccable taste can feel intimidating — but it won't this year. The fan of classic elegance on your list will love everything about the Chanel Prep, Prime and Polish Manicure Essentials Set ($110). The Le Crème Main preps and softens the hands for a stylish holiday nail look achieved with the iconic Le Vernis nail color in Rouge Noir. A final swipe of Le Gel Longwear Top Coat adds a high-gloss finish.
Some products were gifted to the author for the purpose of writing this article.
Allergan may receive commission for purchases made through links in this article.