I must confess that the night before seeing celebrity esthetician Georgia Louise, I committed a multitude of skincare sins. I had a few sips of alcohol. I ate salty snacks (I believe popcorn is a major food group). I shed some tears, I went to bed well past midnight, and I only completed two steps out of my typical six- or seven-step skincare routine. Unsurprisingly, my face looked exorbitantly puffy and lackluster the morning of my appointment. Add in the fact that I didn't have makeup on — and was visiting her to get the Angel Facial, specifically designed for the models of the 2018 Victoria's Secret Fashion Show® — I felt especially out of my element.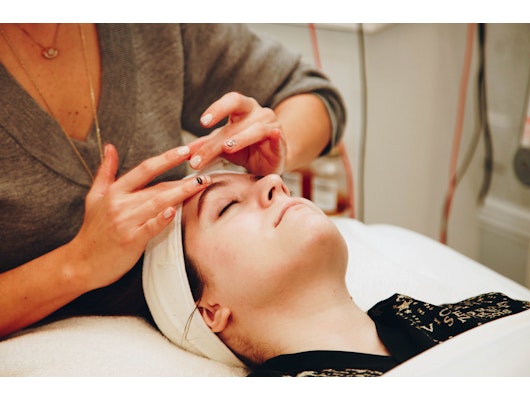 You see, Louise — who treats the faces of Gwyneth Paltrow, Jennifer Aniston, Katy Perry, and many more celebrities — had been spending the days leading up to our appointment pampering the complexions of the Victoria's Secret AngelsTM and models. The taping for the show had just happened the night before we met. (As I was eating popcorn and watching Handmaid's Tale, these lithe, sculpted women were strutting down the catwalk in fantastical lingerie.)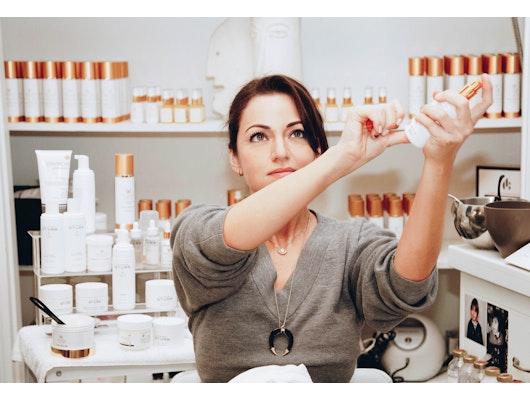 But Louise quickly soothed any concerns I had about my doughy-looking face and ushered me into her atelier's luxe treatment room and in turn, its heated, elevated bed. This — paired with Louise's soothing hands, which had begun to cleanse my skin — had me on the cusp of REM sleep (she notes that 90 percent of her clients snooze during her appointments).
"We're doing the Angel protocol," Louise tells me. "This is all about lymphatic drainage, brightening the skin, and ionic oxygen, which basically takes away all the pollutants from the skin. [The facial] is like buffing your skin bright with oxygen — your skin will really glow," she shares.
However, I knew from mere minutes in Louise's hands that my skin would glow regardless of what she applied to my skin, because she was going to town on my complexion. Using a series of massage techniques that felt like flipping, gliding, tapping, and stroking, Louise focused on draining all the lymph in my face. She then brought out two of her beautiful Lift + Sculpt Butterfly StonesTM ($75) and used them in mirroring motions along my jaw, under my cheekbones, and around my brows in the name of, well, lifting and sculpting.  
"Do you feel all that tension?" she asks as she dragged the pointed end of the tool along my jaw. She explains that the way the butterfly stone "skipped" down my jawline instead of gliding is a sign of lymph buildup, and that regular facial massage can help smooth it (and other puffiness) away.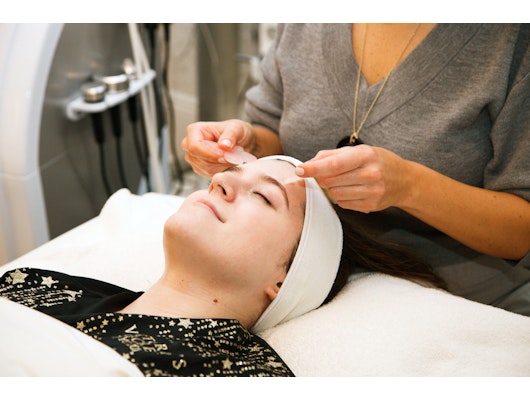 But puffiness didn't even have a fighting chance against the next step of the treatment. Louise gently slathered on Dr. Barbara Sturm'sTM Anti-Pollution Drops ($145) (Sturm collaborated with Louise on the Angel Facial's protocol) and then broke out her Facial Freeze Tools ($120), which had been chilling on ice. She swept them across my skin, lightly resting them on my eyes for seconds at a time, which made me feel like I had just submerged my entire face in arctic waters — and then opened my eyes. After about 15 seconds, the sheer shock of being cold went away and was replaced with a soothing sensation.
"It's such a great thing to do when you wake up," Louise tells me, "when you're all tired and puffy, or when you've been crying." (Guilty of all three.)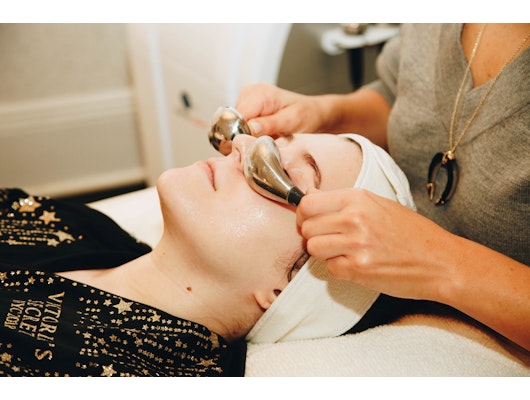 Louise then wheeled over a monstrous piece of technology. "We call it 'the mothership,'" she quips. The Raja Medical® IonixLightTM device has the ability to administer everything from radiofrequency and LED light therapy to oxygen and microcurrent, and Louise had switched on the latter modality.  
"This is the latest technology," she tells me of the tool she began passing over my face. It looked almost like a handheld showerhead (complete with long hose), but it had massaging nubs on its surface and LED lights inside.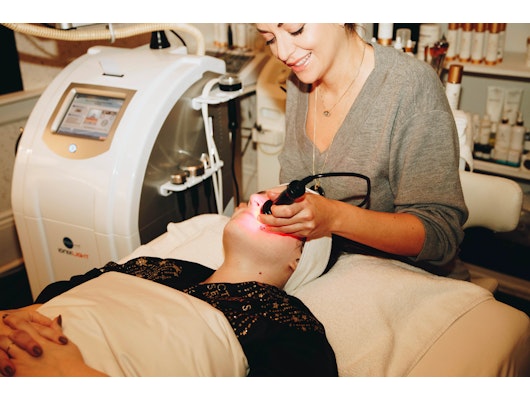 "It's called Myo — it [has a setting that] uses the same biorhythms as the body," Louise explains. To my concern, she then cautions, "You should feel like a little sting — very gentle, though. I don't think you'll get any twitching because I'm not working too deep."  
Despite the potentially nerve-wracking warning, I noticed nothing out of the ordinary (not even any stinging) and relaxed. Myo claims to help give skin an extra lift, stimulate blood circulation, and promote lymphatic flow (all important things for a facial to accomplish, I'd say!), while the green LED lights beamed away, concentrating on treating hyperpigmentation.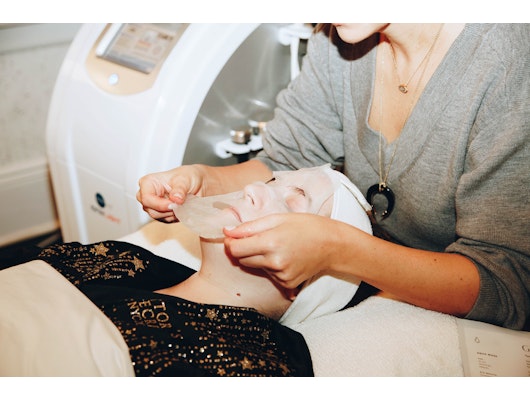 Just when I was getting ready to solidly drift off to sleep, Louise switched things up again. She unfurled one of her GLOPulseTM sheet masks ($75 for 10 masks) and placed it on my face (aligning the eye, mouth, and nose holes with great care).
"This is bamboo," Louise says of the sheet mask. "It has conductive acids in it, so it makes the galvanic GLOPulse conduct through it." She then popped her GLOPulse Deep + Quick Ion Enhancer ($165) on me.
Though it looks like a set of headphones that you might have used with a Walkman, it's actually one of the only at-home devices of its kind. It uses galvanic current — a low-level form of current that uses positive and negative ions — to help push ingredients more deeply into the skin. (It's designed specifically to work exclusively with  her sheet masks, like the aforementioned one.) In case you're curious, you won't feel any sensations from the device at all — you just might notice more advanced results from your masking.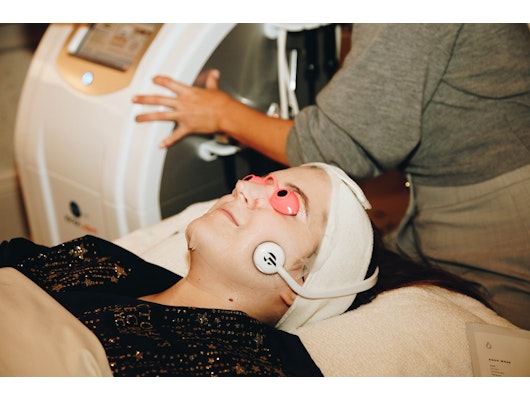 And of course, because this is a professional Georgia Louise® facial (not a DIY one with her fabulous tools), she wasn't done yet. She placed goggles over my eyes and aligned a huge panel of the mothership over my face, which strobed a rainbow of LED lights to help fight breakouts, fine lines, and more.  
"And let's do oxygen at the same time, because we can," Louise adds. But unlike a classic oxygen facial, the mothership was releasing negative ionic oxygen into my skin.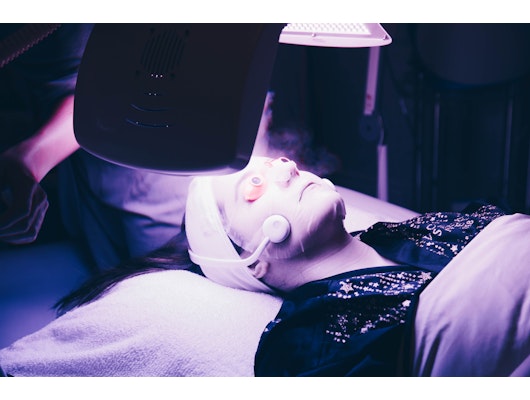 "Negative oxygen is [a strong cleanser] . . . so your skin just looks really bright," she explains, adding, "My clients say that their friends are like, 'Did you bleach your face? How come your skin is looking so clean? What did you do?,' and it's the negative ions."  
As she explained all this, I felt supreme clarity and serenity — maybe from the oxygen? — and tried not to stare into the panel of vibrant lights, which looked as if it was ready to beam me up into outer space.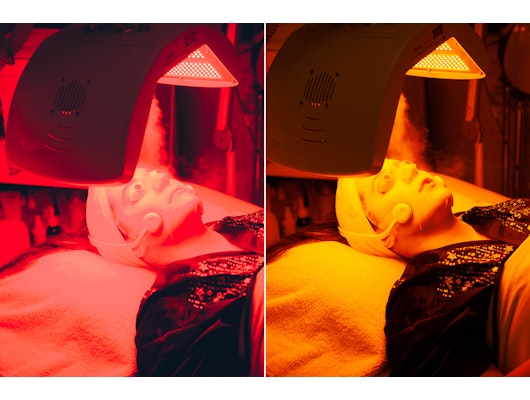 Shortly thereafter, the treatment came to a close, with a quick application of Dr. Barbara Sturm's Glow Drops ($145) — which deliver hydration, nourishment, and yes, radiance — to seal in all of Louise's hard work. I checked myself out in a mirror only to barely recognize that this was the same person that had walked into her atelier. My cheekbones had been chiseled out of my formerly-puffy face, my complexion was bright with a gloriously even skin tone, and my complexion felt healthy and soft.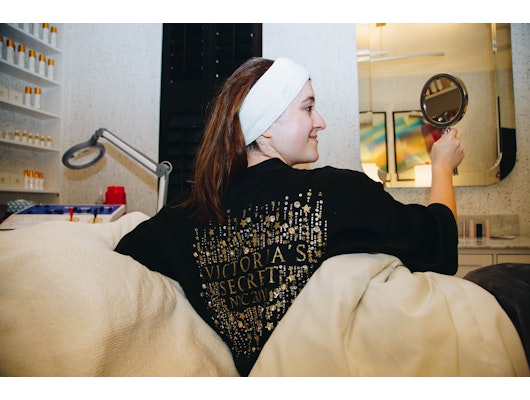 An unexpected benefit of this treatment, though was that a pimple of mine (which had started to rear its hideous head before my appointment!) vanished throughout the course of my time with Louise — and she didn't perform a single extraction.  
That's not to say that I couldn't have benefitted from them — the Angel Facial doesn't include extractions. "For models that come here, they're quite tired and stressed, and they're coming in for harmony," Louise reminds me. "We just make them feel like they're in a hotel suite being pampered." It's hard not to feel pampered in her hands — and while I didn't quite leave my appointment looking like Adriana Lima, I did walk in a skincare sinner and walked out an (almost!) Angel.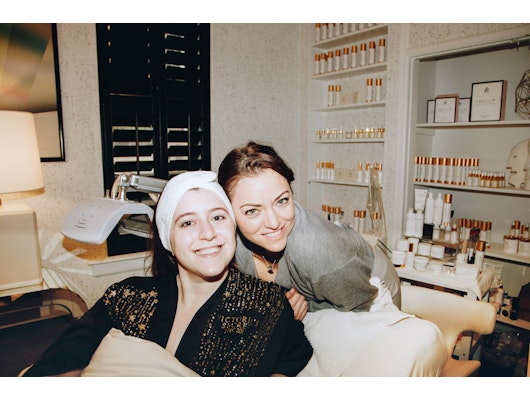 Services were gifted to the author for the purpose of writing this article. 
Allergan may receive commission for purchases made through links in this article.