If you find yourself lying on Dr. Barbara Sturm's table about to get your face worked on; well, you're in very, very good hands. The 46-year-old German aesthetics doctor certainly walks to her own beat — questioning the norm, and developing cutting edge products under her eponymous skincare line. For instance, just because skin lasering is a popular treatment right now doesn't mean she's offering it (more on why she isn't a fan later). And about 14 years ago, she had the crazy, brilliant idea to use one's own blood proteins combined with hyaluronic acid in a moisturizer, dubbed MC1. It's currently one of the most sought-after and expensive (as it can cost upward of $1,000) skin-soothers on the market.
[Editor's note: MC1 is currently not available for purchase in the US.]
Dr. Sturm is also a known fan of "drops" (basically lotion-y, booster serums) and has developed options for everything from sun protection to glow-enhancement. And while she is known for her porcelain complexion, her brand is undoubtedly inclusive. In 2016, she teamed up with Golden Globe-winning actress Angela Bassett on a line of products aimed at women of color that's been received with much praise.
We know how she wants to take care of your skin — nourish it with hydrating products, exfoliate it (gently!), and perhaps even inject it (if you're a candidate for these treatments). But what we wanted to learn was how the founder and CEO of Dr. Barbara Sturm® Molecular Cosmetics takes care of her own enviable complexion. Read on!
Spotlyte: Describe your skin and skincare philosophy?
Dr. Barbara Sturm: My skincare philosophy is simple – reduce inflammation and heal your skin through hydration, nutrition, and keeping the cells healthy and alive.  
Spotlyte: What is your approach to anti-aging?
BS: It is the same as my skin care philosophy. I address this approach with ingredient science, and heal skin both from within (using supplements) and without (topical skincare).  
[Editor's note: Talk to your doctor before starting or stopping any new treatment, medication, or supplement.]  
Spotlyte: The beauty industry is enormous and notoriously competitive. What challenges have you encountered?
BS: Beauty and wellness is a huge, competitive industry and like a lot of industries, it doesn't like the changes it is facing to the old status quo. I have been outspoken about the approaches that I believe are good and bad for your skin — not just about my own products. You know you have come to the attention of much larger competitors in your industry when they start to attack you. Paid trolls sometimes attack my statements on social media. I have had phone calls from secretly paid "influencers" who said "I will destroy you!"  We have even been threatened with extortionate class action lawsuits by the skin acids industry! The attacker outed themselves by spending the first few pages of the complaint touting the benefits of their product for the skin.
Spotlyte: You have been critical of aggressive approaches to skin, such as at-home acid peels. Why is that? What do you suggest people use instead?
BS: I recommend a healing rather than aggressive approach to one's skin. Don't destroy skin to save it. Reasonable minds can disagree, and everyone should follow the approach they wish.  As a practicing doctor, I have seen quite a few serious burns particularly from at home (rather than professional) acid peels. Applying acid with skin presenting an imbalanced pH can really exacerbate the problem. Instead, I recommend the opposite approach – nurturing and maintaining our skin cells.     
Spotlyte: What's your approach to skin cleansing? Why?
BS: Wash thoroughly but gently. I produce a soft foam cleanser that is extremely gentle, and an enzymatic cleanser that one should use twice a week, particularly to remove makeup. The enzymes loosen the conjunctions between dead skin cells.    
Spotlyte: Tell us about your personal skincare routine — the products used, the steps, and any fun application techniques.
BS: I live life on the go like everybody else, so my routine has to be simple. I wash my face, apply my Hyaluronic Serum ($300), then my MC1 moisturizer infused with my own proteins. A few times a week, I add the step of using my mask after cleansing. When I go out at night, or need an extra pop, I apply my Glow Drops ($145). I religiously take my Skin Food Supplements ($95), and when in polluted areas, I take adaptogen-based anti-pollution supplements and mix Anti-Pollution Drops ($145) in with my serum. Of course, I use my Sun Drops ($145) when I'm in the sun. My whole routine takes less than a minute, except for when I use my mask.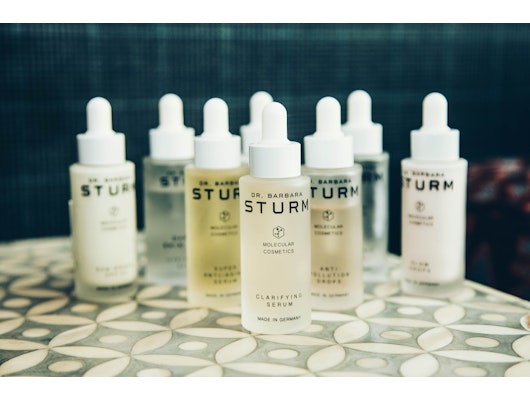 Joslyn Blair
Spotlyte: Serums — are they worth the hype?
BS: Serums are such an essential part of a skin care routine. You apply immediately after washing your face. The small molecules in serum deeply penetrate the skin and provide active ingredients to deeper layers.
Spotlyte: What is your famous "blood cream"? What inspired it and how does it work?
BS: This cream, called MC1, is infused with a patient's own proteins, which we derive from their blood. We take a small amount of blood using a special syringe, heat to body temperature for a fixed period of time and produce high quantities of healing factors including anti-inflammatory proteins. This work was something I translated into aesthetics from my prior work in anti-inflammatory orthopedics.  
Spotlyte: What product that you created are you most proud of and why?
BS: Sorry, my products are like my children. I can't pick a favorite. And I wouldn't produce them if I didn't love them. Of course, the MC1 cream is special because it was my first invention.
Spotlyte: What facials do you actually receive yourself? Who does them to you?
BS: I have a wonderful team of facialists, and I get them when one of them and I are both free.  Which means not too often. Joanna Czech and Georgia Louise are two of the greatest facialists in the world, and they are my friends — so when I get the chance.
Spotlyte: Have you gotten or do you get any other med spa treatments?
BS: I don't agree with aggressive lasers, and don't use them. I am a big believer in microdermabrasion and microneedling. I offer both it in my clinic and use them myself.
Spotlyte: What about injectable wrinkle reducers and filler? Do you get them?
BS: Short answer, I'm an aesthetic doctor who has administered more than 30,000 treatments of injectable wrinkle reducers and fillers. And yes, sometimes I point those needles at myself. [When it comes to my clients,] I am proud to be known for [my technique]. Injectables in the right hands [can] make a tremendous aesthetic difference. 
[Editor's note: Injectable wrinkle reducers temporarily smooth the look of moderate to severe wrinkles in certain areas of the face, including the forehead, frown lines, and crow's feet. Injectable filler is a temporary treatment that adds volume via hyaluronic acid to areas of the face such as the lips, cheeks, and laugh lines. Like any medical treatment, both injectable wrinkle reducers and injectable fillers have potential risks and side effects. Talk to a licensed provider to see if they're right for you. And learn more by chatting now with a trained aesthetic specialist.]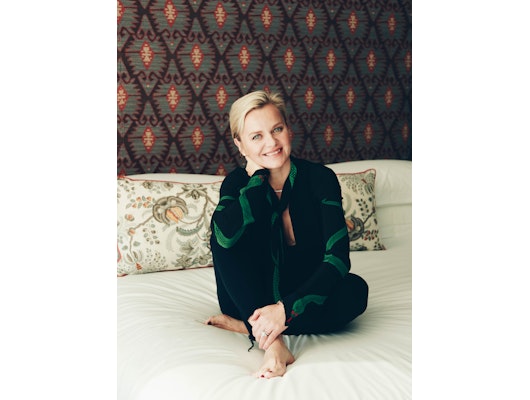 Joslyn Blair
Spotlyte: If you were not a doctor and owned your own skincare line, what would you do?
BS: Something aesthetic. Perhaps an interior decorator!
Spotlyte: Any parting words of advice?
BS: Take HEV exposure (exposure to screens and tablets) as seriously as sun exposure and protect yourself! HEV can penetrate the skin more deeply than UVA and UVB rays. It causes premature aging, inflammation induced redness, and damage to DNA.