I get it, guys are hard to shop for. We aren't always the most forthcoming when it comes to what we actually want. That's why items like neckties, power tools, and home brewing kits exist — they're fallback gifts that people buy the men in their lives when they have no other ideas.
I'll let you in on my own personal gift-giving philosophy. Giving a gift isn't about utility, it's about surprise. I've always believed in giving a gift that someone wouldn't buy themselves or, better yet, didn't even know they wanted until they unwrap it. This philosophy has always served me well and it's especially useful when thinking about grooming gifts. They aren't only about what he uses, but what he should be using. If you were to stick entirely to what a man already uses, you'd be relegated to refilling his 3-in-1 shampoo/conditioner/body wash or buying him a family pack of deodorant. But for pete's sake, it's the holidays — it's an opportunity to expose him to a new high-tech device or upgrade his routine. (I especially love to give a set because not only is it more bang for your buck, it is an opportunity for him to try a few new things at once.)
With that in mind, below are the best grooming gifts that any man in your life (or yourself) would be thrilled to receive this holiday season.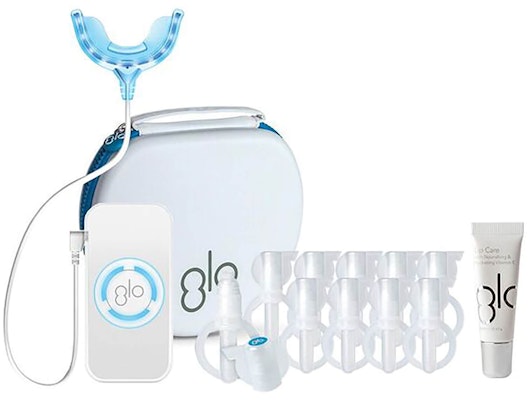 Glo Science® Glo Brilliant Teeth Whitening Device
You'd be hard-pressed to find someone who doesn't want white teeth, and while whitening toothpaste can help, most of us need a little something more. Enter the Glo Science Glo Brilliant Teeth Whitening Device ($200), a high-tech tool that delivers bright results. It works by combining hydrogen peroxide gel with heat and LED lights, which help whiten teeth quickly. I've found that the results are similar to what you would get at a doctor's office without needing to leave your couch. Plus, a lot of guys like having a new toy to play with — and this one is actually one he'll use over and over.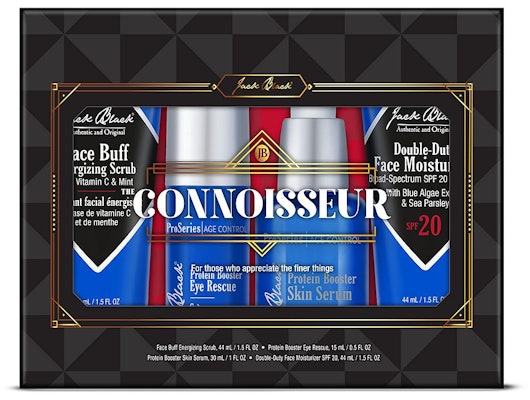 Jack Black® Connoisseur Set
Even if the man you're shopping for isn't a grooming expert, he's probably heard of Jack Black. The brand is known for elegant and innovative products that many guys love. But instead of just getting him more of the same Turbo Wash® he already uses, expand his options with the Jack Black Connoisseur Set ($62). The four products in this set — a face scrub, eye cream, protein-rich serum, and SPF 20 moisturizer — deliver a well-rounded skincare routine that is ideal for both the beginner or an actual connoisseur.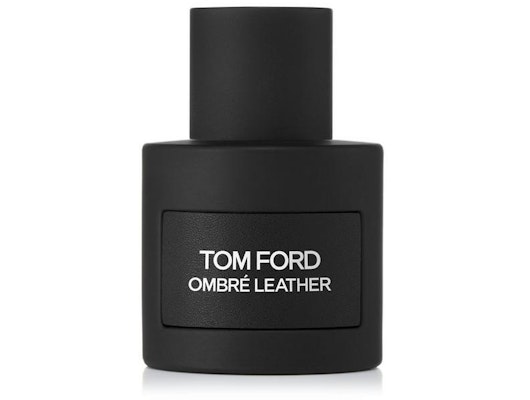 Tom Ford Ombre Leather®
Tom Ford's newest cologne, Ombre Leather ($125), is inspired by the wild west, desert life, his own home in Santa Fe and, of course, cowboys. Play into every guy's sense of adventure and secret desire to ride the range with this scent, which you'll love too. Patchouli, cardamom, and white moss are layered with black leather, resulting in a nuanced and edgy fragrance that isn't overly masculine. The scent is undoubtedly Tom Ford, whose colognes are notoriously distinctive and expensive, but easier to wear every day than some others (and refills throughout the year are lighter on the wallet).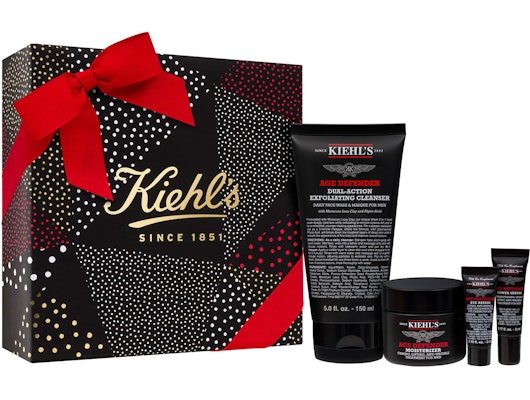 Kiehl's Since 1851® Men's Heavy Lifters Set
I'll tell you something right now: men are concerned with aging, too. It's just that many guys don't know where to start. Make that leap easier for him with Kiehl's Men's Heavy Lifters Set ($68), an easy-to-understand skincare regimen using products (cleanser, serum, moisturizer, and eye cream) specifically formulated for a man. Ingredients like caffeine and salicylic acid help to clear and revive skin, respectively, while plant extracts help diminish the look of fine lines and wrinkles. The eye cream even has a blurring effect, which helps reflect light to brighten under eyes. It's one of the most complete anti-aging systems for men that I've found and, believe me, he wants it.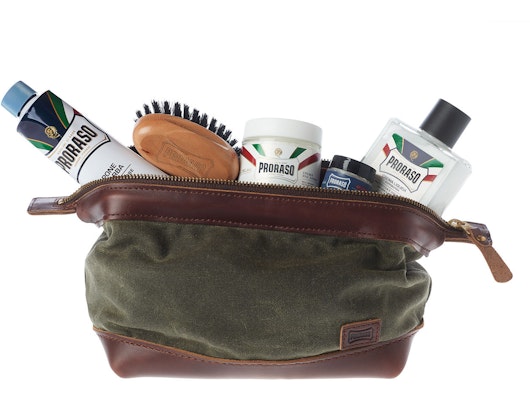 Proraso x Billykirk Gentleman's Set
Shave sets are a dime a dozen, especially during the holidays (add them to the list with power tools). What makes the Proraso® x Billykirk Gentleman's Set ($185) special, though, is both the products and the packaging. Proraso (over 100 years old and still one of the best shaving lines in existence) partnered with cool-guy bag designers Billykirk to make a special dopp kit that he'll love to use. Neither the bag nor the formulas inside feel like an afterthought, and truthfully, any guy would be stoked to get either of these things as gifts. Put them together? That's a game changer.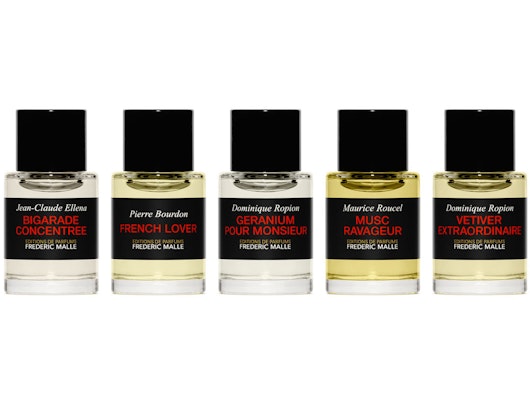 Frédéric Malle® The Essential Collection Pour Homme
Cologne is such a personal endeavor which is why it can be a difficult gift to give. Unless you're giving him one he already wears (haven't we already established that we're not doing that this year?), it's almost impossible to pick one out that he'll actually like. (That is, if you haven't bought the other fragrance on this list.) A set like the Frédéric Malle The Essential Collection Pour Homme ($175) takes the stress out of the equation by offering five of the perfumer's most iconic scents for men for less than the price of a full-sized bottle. The best thing about a set is not only that it cuts your losses, but it offers experimentation. A man can switch up his cologne with ease, or even wear them together to create something unique.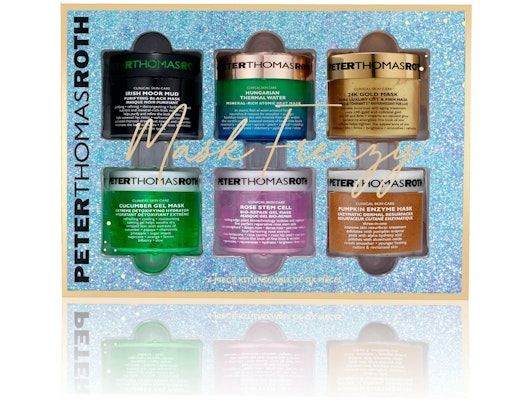 PeterThomasRoth® Mask Frenzy Set
Most guys' skincare routines are probably lacking in one area or another. We could all use a little more hydration, or pore detox, or anti-aging. A simple way to help him get into skincare without overwhelming him is introducing masking, since it's a treatment you don't have to use every day. The PeterThomasRoth Mask Frenzy Set ($75) contains all of the brand's best-selling masks to attack a variety of issues.
Masking is fun, guy-friendly, and — if you're giving this to a significant other — even something you can do together (and make sure to turn that camera to selfie mode when you do).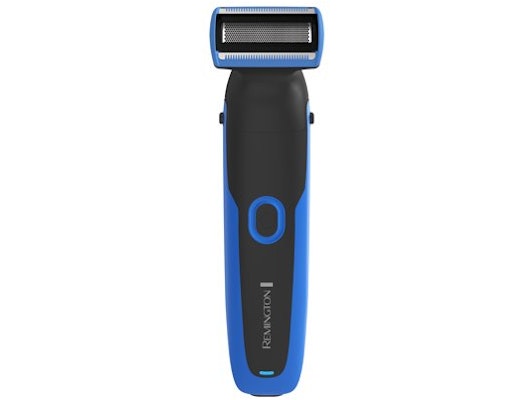 Remington® WetTech Head, Beard & Body Trimmer
When it comes to grooming, one thing many men hate is too much stuff. (That's why the men's aisles are packed with multi-use products.) But if he's the type of guy who trims his beard, shaves his head and manscapes — or even just two out of three — chances are, he uses a different device for each area. Show him how simple his routine can get with a multi-purpose trimmer like the Remington WetTech Head, Beard & Body Trimmer ($46). It's designed to be used all over his body and has multiple attachments so he can groom to exactly the hair length he wants (even if it's no hair at all). It can also be used on wet skin and in the shower, so cleanup is a breeze, and irritation is largely nonexistent.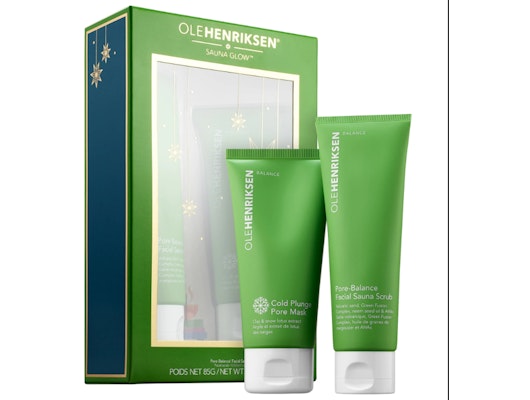 OleHenriksen® Sauna GlowTM Warming-Cooling Scrub and Mask Set
It's a fact that men have thicker skin with larger oil glands, as well as more and larger pores, which means that acne, breakouts, and blackheads are a common problem among many of us. The OleHenriksen Sauna Glow Warming-Cooling Scrub and Mask Set ($39) is the perfect combination to help out a guy who might not know how to tackle congestion. The warming scrub helps to exfoliate dead skin cells and remove deep-set dirt, while the cooling clay mask helps control oil. It's a simple system that can offer real solutions to every guy, but especially teenagers or active dudes who need a little more oil control (whether they know it or not).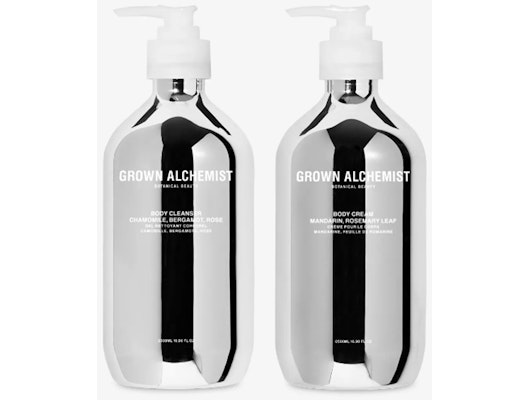 Grown Alchemist® Intensive Body Care Kit
The brand's distinctive bottles in Grown Alchemist's Limited-Edition Intensive Body Care Kit ($90) have been re-designed in an edgy, reflective chrome, but that's the only thing that's changed. What's inside delivers the same natural ingredients and fresh scents that we all expect and love from the line. The Body Cleanser (with chamomile, bergamot and rose) and the Body Cream (with mandarin and rosemary leaf) leave your body clean and moisturized and your bathroom smelling like the top of a mountain.
Allergan may receive commission for purchases made through links in this article.