In The Path, we spotlight different women making a difference in the fashion, beauty, wellness, medical aesthetics, and more industries. Here, Facile CEO and co-founder Danielle Nadick shares her road to success.
Those who took French at a grade-school level may recall the word facile: simply enough, it means "easy." Ease and accessibility is exactly what CEO and co-founder Danielle Nadick had in mind for her clients when opening her first hybrid dermatology office-medispa-beauty boutique in West Hollywood. (The space offers everything from laser treatments, facials, and chemical peels to injectable wrinkle reducers and fillers.) But the entrepreneur's path to success wasn't très facile.
"I've been creating business plans since I was 16," shares Nadick, who says she loves the process of "thinking of an idea and how to execute." But once she graduated college, she wasn't sure what to do next, so decided to try out different industries that appealed to her interests to see if something stuck. As she hopped around in the sales and marketing fields within fashion and interior design, she started feeling a bit unfulfilled.
It wasn't until she was 27, engaged, and in search of ways to get wedding-ready that Facile became an idea. She booked her first injectables appointment with her now business partner, Dr. Nancy Samolitis, and was very satisfied with the results.
Her actual aha moment was in the waiting room, where she had a vision of a "really beautiful, accessible space that didn't feel like a doctor's office." And when you visit Facile — which has since opened a second location in Pasadena — you'll notice that the vibe is more comparable to a dreamy meditation studio or elegant lounge. (Nadick's passion for interior design is quite evident in the space!) If not for the providers in lab coats, you might never realize that Facile offers injectables. Keep reading to learn more about Facile and Nadick, plus her career advice, favorite skincare products, stance on medical aesthetics, and more.
Spotlyte: What inspired you to take the risk of starting your own business in the beauty and aesthetics space?
Danielle Nadick: I don't think I ever viewed what I was doing as a risk! I believe in order to create your own business, you really can't have fear, or you might never take that leap of faith. That does not mean that I wasn't calculated and careful with the decisions I made, but I felt that I had much more to lose in not moving forward than in just doing it!
Spotlyte: What are the perks of being your own boss? What are the challenges?
DN: The biggest perk for me is that you get out what you put in. Everything that you do day-to-day directly impacts the success of your business and therefore your life — I think that's pretty cool. The biggest challenge for me has been navigating my emotions when things don't necessarily go as planned or when we're thrown a big curveball.
Spotlyte: Who inspires you professionally? Who is your ultimate inspiration?
DN: Emily Weiss [founder and CEO of Glossier®] is a true inspiration to me. I remember reading an article a while back about how she began Into The Gloss while still working at Vogue, and would wake up at 5 a.m. to work on ITG, then head into her "day job". Everything that she has now created with Glossier is just incredible! I am also in awe of Ilse Crawford. She's an innovator and an incredibly talented interior designer. I think interior design, in the beauty and aesthetic space in particular, is so important in creating the best possible experience.
Spotlyte: When did you first become interested in skincare, beauty, and medical aesthetics?
DN: I've always been interested in skincare and beauty. I was the girl in high school who would do my friends' hair and makeup for all the dances. I also struggled with mild acne growing up, and had a really great dermatologist who made a huge difference in my skin health. I became interested in medical aesthetics in my early twenties when I moved to LA. I found it really fascinating that you could do a treatment to enhance certain features.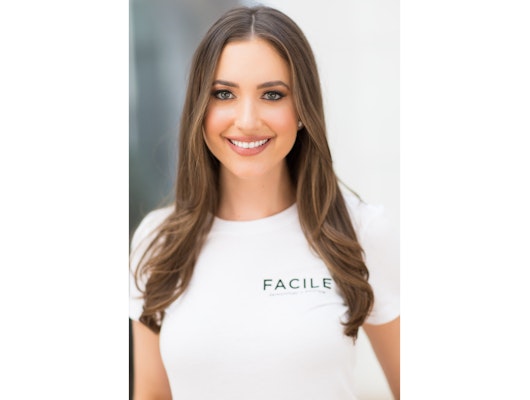 Spotlyte: What is your stance on medical aesthetics?
DN: I don't want to look like a different person. If someone looks like they've had something done, then they aren't going to the right provider.
Spotlyte: When did you start trying medical aesthetics yourself?
DN: My first treatment was at the age of 27 for filler. I saw the fabulous Dr. Samolitis, of course! The results were great.
Spotlyte: At Spotlyte, we talk a lot about the stigma surrounding medical aesthetics. What would you say to someone who is interested in injectables but is wary of taking the plunge?
DN: If you're interested in injectables but too scared to take the plunge, then you should have a consultation. This is the best way — to not only get to know your potential provider, but to learn about what is and isn't right for you. If you don't feel good about the provider you're meeting with, or the experience doesn't feel right in your gut, I would say to keep doing research. You should never feel pressured into moving forward with a treatment. If you feel like you're being "sold," my advice would be to run!
Spotlyte: What are some of your favorite skincare products?
DN: My number one favorite skincare product is Facile Shield ($45, available exclusively at Facile). This is a non-chemical sunscreen with a slight tint. I wear this every single day! It's so silky smooth and it helps to even out my skin tone without clogging my pores. I also can't live without our Facile Essence ($85, available exclusively at Facile). It's a really wonderful hyaluronic acid — I cannot get enough of it! I use this all over my face, neck and décolletage after cleansing.
I also love Malin + Goetz® lip moisturizer ($14); it's insanely good. I've been using this same product since it came out. You'll find one in all of my bags!
At the moment, I'm loving sheet masks. A really great one is the Reset Button sheet mask ($6) by Peach & Lily®. I like to keep mine in the fridge so it's super refreshing when I wear it. Also, a little life hack — once I remove the mask from the packet, I'll go in for the remaining serum and apply it to my neck and décolletage.
Last but not least, I really love Senté® Bio Complete Serum ($179), this is the only retinol-based product that my skin can tolerate — I'm very sensitive.
[Editor's note: Retinol shouldn't be used by those who are pregnant, considering getting pregnant, or nursing. Please consult with your doctor before use.].
Spotlyte: You're a busy boss lady! Other than visiting Facile, what do you do and where do you go to treat yourself?
DN: I try to work out throughout the week, I really need the endorphins to keep me balanced and on my game when I'm sitting at a computer or driving from location to location. I love SoulCycle® and PlateFit® when I'm in a rush. I also try and get out into nature at least once a week, and really love to hike. I like to indulge every once in a while, so a delicious meal and a glass of wine is always appreciated. There are so many great places in LA! If I'm really in need of some self care, I'll treat myself to a massage at the Beverly Wilshire, it's always a fantastic experience. Plus, you can use the pool when you're there, so it's like a mini staycation.
Allergan may receive commission for purchases made through links in this article.