In The Path, we spotlight different women making a difference in the beauty, fashion, wellness, and medical aesthetics industries. Here, Rodial® founder Maria Hatzistefanis shares her road to success.
Bee Venom, Snake Serum, Dragon's Blood: They sound like components of a magical brew, but you'd be more likely to find them in Maria Hatzistefanis's makeup bag. Surely, evocative product names have helped her skincare brand, Rodial®, amass its international presence. It's the glowing results, though, that turn curious consumers into devotees.
The 40-something-year-old businesswoman is also the founder of niche anti-aging skincare brand, Nip + Fab®. Additionally, she is the author of the best-selling book, How to Be an Overnight Success: Making It in Business ($15), where she chronologizes her (often tumultuous) journey building a skincare empire. Unsurprisingly, Hatzistefanis's own skin glows — almost from across the room — on an almost impossible level. Below, the beauty maven dishes on her personal skincare routine, anti-aging, and the myth of instantaneous success.
Spotlyte: In your opinion, how have the beauty and skincare industries changed since you launched your brand in 1999?
Maria Hatzistefanis: The industry has transformed since I started Rodial. There is a lot more competition, but we are staying in our own lane and do what we do best (we still sell one Dragon's Blood Sculpting Gel ($84) every minute globally). I also listen a lot to what our customers want. I communicate with them daily on my @mrsrodial [Instagram] account.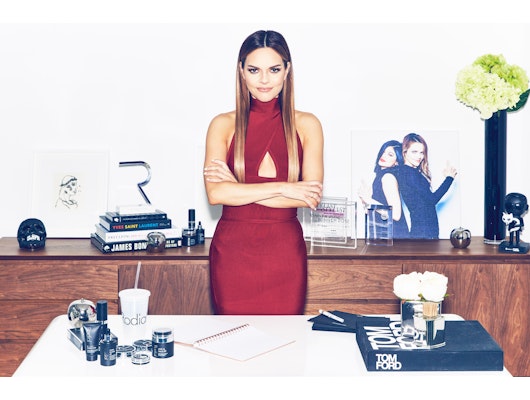 Mark Cant
Spotlyte: You published a book called How to Be an Overnight Success — yet you share that creating the brand actually took a ton of hard work (of course!). In the age of Instagram and instant gratification, do you still think the same principles that guided your success hold true today?
MH: Behind every success story is a lot of hard work. It took me years to get Rodial off the ground — however, people assumed that I made it literally overnight. I am now launching a podcast called Overnight Success to take the conversation from the book to a more dynamic platform and hope to inspire more women. I do think in the age of Instagram some people can find success a lot quicker, but it's just "overnight exposure."
Spotlyte: What is the biggest risk you've ever taken in your career?
MH: Starting Rodial was the biggest risk I could have taken at that time. Looking back, I really started my business from complete scratch. I started the brand on my own; I had no team, no offices. It was risky because I was choosing not to have secure full-time employment, or the safety net of a monthly salary. I can't believe I started from a back room at home and created two brands [Rodial and Nip + Fab®] — and had Kylie Jenner front two of our campaigns!  
Spotlyte: What is the best piece of career advice you've received? Who gave it to you?
MH: I read once that Kris Jenner said that if you get a "no," you are talking to the wrong person. I live by those words!
Spotlyte: What is your best piece of advice for someone who wants to start their own beauty business?
MH: Believe in yourself, in your ideas and trust your gut. Think big all the way!
Spotlyte: How have the types of products you use on your skin changed over the years?
MH: I have now switched to a balm cleanser; it has transformed my skin.
Spotlyte: What is one single product that has changed your skin more than any product you've used?
MH: The new Rodial Collagen Booster Drops ($89) have completely transformed my skin. They keep my skin plumped to perfection.
Spotlyte: What are three products you always put on your face in the morning? What about at night?
MH:  All Rodial! In the morning I use the Bee Venom Cleansing Balm Rodial Bee Venom® Cleansing Balm ($59), Rose Gold Moisturizer ($250), and the Skin Tint in Hamptons ($45). In the evening I use the Pink Diamond Cleansing Balm ($59), Vit C Cleansing Pads ($56), and the Retinol Booster Drops ($89).
[Editor's note: Retinol shouldn't be used by those who are pregnant, considering getting pregnant, or nursing. Please consult with your doctor before use.]
Spotlyte: What is your philosophy on anti-aging? Has it changed over the years?
MH: It's not just about your skin. You need to keep the young vibes throughout your overall presence, too. This includes your hairstyle, your makeup, and your clothes. These can also age you!
Spotlyte: Are there any beauty treatments you swear by, aside from applying topical products?
MH: I love laser facials, and I get them once a month and before a big event.
Spotlyte: What is your stance on cosmetic injectables?
MH: Everyone should do what makes them happy — but injectables on their own are not enough [to keep wrinkles at bay]. You need good skincare to get the best texture, luminosity, and elasticity. I love frequent facials; I have also seen women with injectables that look fantastic.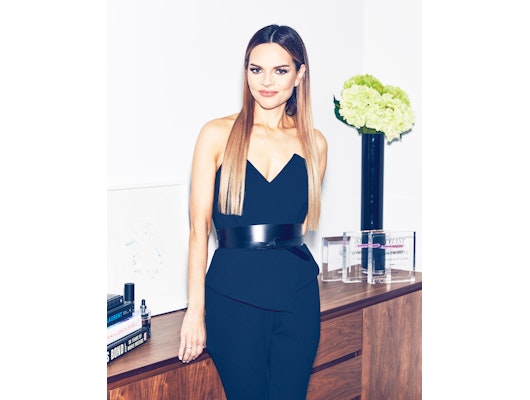 Mark Cant
Allergan may receive commission for purchases made through links in this article.