It seems like every other week there's a newfangled gadget that promises to curl, twist, kink, flatten, or otherwise revolutionize our hair. But not every woman is tempted by hot tools. Many forego them as a rule (and some just can't be bothered!), allowing their hair to dry naturally instead, using only products to style.
We spoke to seven women who have mastered the art of the air dry. Each one has a different hair texture and climate to contend with, so you're bound to snag some tips for your own strands.
Bryce Gruber — New York City
Not only is Bryce the founder of TheLuxurySpot.com, she's a mother to four children. Read: the woman is busy. She describes her hair as "very thick, wavy, with parts that are downright curly," and says that she almost always air-dries her hair during the summer months.
Bryce's Air-Dry Technique: "I'm really intense about using a good, thick conditioner when I air-dry," she says. "A little weight is a positive thing to resist New York humidity and keep loose curls in their healthiest state. Currently, she's obsessing over the rich, luxurious Pai-Shau® Conditioner ($28) and leaves about a quarter-sized amount in after she washes her hair before bed. She adds, "I use a really wide toothed comb, a low braid, sleep, and wake up with the best looking and smelling summer waves ever."
Anti-Frizz Tip: "Frizz is my arch nemesis as a girl of Middle Eastern heritage," Bryce says. "It's the battle I'll fight my whole life and it boils down to oil — the only really effective weapon against water-related dramas like frizz." While she refuses to add coconut oil to her own strands ("if you color your hair, it'll wreck it"), she swears that "lightweight oils like argan, avocado, and grapeseed are excellent at taming, adding shine, and defining thick curls." She tells us that she cheats the whole expensive hair system game by throwing an easy $12 at a huge bottle of grapeseed oil from the grocery store.
Margot Grant Witz — Toronto, Ontario
Margot says she's the owner of "crazy curls that have a mind of their own," but that she embraces that texture instead of fighting against it. She air-dries her hair every day, noting that her curls are temperamental and easily disrupted if she overdries them with tools.
Margot's Air-Dry Technique: "I switch between Elizabeth Grant's Japanese Volumizing Conditioner ($35) and Curly Hair Solutions Curl Keeper® Leave-in Conditioner ($19) every day, literally," she says. After applying her conditioner of choice, she'll brush through her hair with a Tangle® Teezer ($12), which doesn't snag at her curls, then leave the conditioner in for about 15 minutes. Once she rinses, she'll apply a dime-sized amount of more conditioner, and a product called Curl Keeper® ($19), "a water-based styling product that helps to curate the curl."
She notes that on extreme weather days, she'll apply Original Sprout® Tahitian Hair Oil ($13), and that she completely avoids silicone or alcohol since they dry out her hair. She'll follow up with a styling cream, then uses a claw clip to lift the root of her hair until it dries.
Anti-Frizz Tip: While Margot swears the outlined routine does an excellent job of nixing frizz, her other big tip is to not touch your hair while it's drying.
Tia Coates — Chandler, Arizona
Tia has finely textured hair, but notes that there's a lot of it both in terms of length and quantity. Though she doesn't own a blow dryer (serious commitment to the air-drying method!), but she does get blowouts about twice a month as a treat.
Tia's Air-Dry Technique: "I'm not super picky about my shampoo and conditioner brand. I use mid-level products for cleansing," she says. "I have four styling serums and use them at different times. I always, always apply some Loma® Fortifying Reparative Tonic ($35) — it was recommended to me by my stylist and it makes my hair feel amazing and silky soft." She also uses OGX® Nourishing Coconut Milk Anti-Breakage Serum ($6) and will mix it in with the Loma tonic on sporadic wash days. After applying serums, she allows her hair to air dry — which doesn't take too long, thanks to Arizona's arid desert climate.
The fourth and final product she uses is Marrakesh Oil ($23), which she applies after her hair is dry. "I use it more as a hair perfume," she confesses. "It just smells so delish. I will wait to use it before heading out for the night. It makes my hair soft and smooth for straight styles, and the scent makes me feel exotic and confident."
Anti-Frizz Tip: Tia says she doesn't naturally have a lot of frizz, and believes she has her Loma product to thank for that. "My bigger problem is baby hairs on my hairline and part," she says. "I just glue it down with hairspray."
Sara Zucker — New York City
Sara has medium-thick hair with loose curls that "need a bit of coaxing," she tells us. Her strands have a tendency to be dry, and the curls require some anti-frizz treatment. Unless it's snowing outside (which would cause her hair to freeze), she always air-dries.
Sara's Air-Dry Technique: "I actually grew up with pin-straight hair," she divulges. "Thanks to puberty, it went kinky around age 16 and I've been traveling a grail quest to find the perfect curl cocktail ever since. Though she's not particularly loyal to most products, she swears by a haircut from Devachan® (a salon that specializes in cuts for curly hair), "which makes the curls fall better when they dry and grow out."
She adds, "typically, I shower every other day with a co-wash or a low-foaming shampoo, like Redken® Curvaceous® Lo-Foam Cleanser, then a thick conditioner. I also love L'Oréal Evercreme® Deep Nourish With Apricot Oil Conditioner." Without fail, she applies leave-in conditioner to sopping wet hair fresh out of the shower and before adding any other products. To finish things off, she keeps things simple with a light, but powerful styling product. Her current favorites include Ouai® Soft Mousse and Curl Jelly ($26), Aveda Be Curly® products, and anything by Ouidad®.
Anti-Frizz Tip: "I shifted from gel and alcohol-based products to creamier, more hydrating ones. I also use hair masks once or twice weekly," she says. One gel product that she makes an exception for is Ouidad Advanced Climate Control® Gel ($26), which "blows [her] mind with regard to how well it works in moist weather." Adds Sara, "Nothing conquers humidity better."
Tamara Anderson — Wichita, Kansas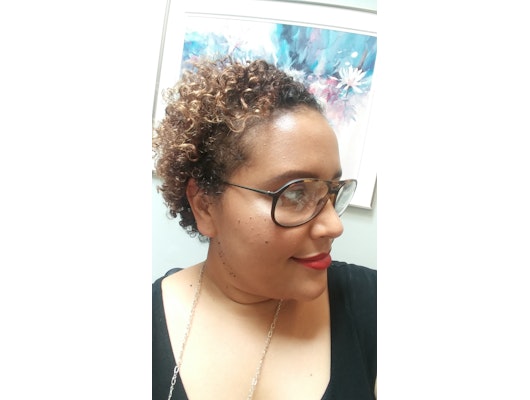 Tamara rocks tight, fine curls in the heart of America. She strictly air dries, getting her hair wet about three to four days a week and using actual shampoo on an average of two to three times a month.
Tamara's Air-Dry Technique: For days when she does shampoo her hair, she'll prep the night before, coating dry strands with Mielle Organics® Mint Almond ($14) and combing it through with a wide-tooth comb, starting from the ends and working her way to the roots. She'll then wrap it in a satin bonnet and sleep. "On the day of, I shampoo with Madam C.J. Walker Beauty Culture® Coconut & Moringa Oils Shampoo ($24), paying close attention to the scalp because that's where I get product build-up," she says. "After rinsing, I deep condition with cholesterol. Right now I'm using Queen Helene® ($4), but Le Kair® ($20) is my favorite. I'll then do a regular condition with Shea Moisture® Manuka Honey Conditioner ($12)."
Once she's gone through the shampooing routine, she'll comb Cantu® Shea Butter Leave-in Conditioning Repair Cream ($6) through her hair and squeeze out excess moisture out with a cotton t-shirt. On non-shampoo days, she conditions her hair with Aussie 3-Minute Miracle®, followed by the same combing and leave-in routine.
Anti-Frizz Tip: "If it's really humid here, I'll add a little bit of Davines® This Is A Curl Building Serum ($27) to my Cantu to add a little more hold," she says. "Otherwise, I sleep with my hair wrapped up in a satin bonnet or scarf to avoid excess friction with my pillowcase and I try not to touch it while it's still damp." Once it's fully dried, she'll fluff it up some, but never when it's fully wet.
Maricar Santos — New Jersey
Maricar has super thick, straight hair with fine strands that tangle easily. It also has a tendency to get oily if she doesn't wash it every 24 hours or apply dry shampoo. That said, she washes it nearly daily and, since using a hair dryer would be too time consuming, she always air-dries.
Maricar's Air-Dry Technique: "My hair is pretty healthy since I've never colored it and I rarely use heat tools, so I can get away with putting no styling products in it at all and having my hair cooperate, even on really humid days," she tells us. "I usually use TRESemmé® 24 Hour Body Volume Shampoo ($4) to cleanse my hair and keep the oil situation under control, and then I always use a rinse-out conditioner afterward, which I comb into my hair in the shower."
Some of her favorite conditioners that she relies on to hydrate her hair without weighing it down are Renpure® Argan Oil Conditioner ($8), TRESemmé® 24 Hour Body Volumizing Conditioner ($6) and John Frieda Beach Blonde Smooth Seas® Conditioner ($10) ("even though I have dark hair, I love this stuff," says Maricar). After showering, she'll towel-dry her hair — and that's it. "Once it dries, I leave it alone," she explains. "I won't even bother to brush it. With this routine, my hair looks shiny and clean, and feels soft."
Anti-Frizz Tip: The only time Maricar ever deals with frizz is when she's used a hot tool to curl her hair. "When that happens, I'll reach for any anti-frizz serum and use it to smooth my hair out," she explains. "But again, I rarely get my hair curled."
Patrice Yursik — Chicago
Patrice embraces her natural, "kinky, coily, afro-textured hair" amidst some of the most brutal Windy City climates. She says she pretty much exclusively air-dries, using a blow dryer in the winter only when it'd be too risky to leave it wet for too long.
Patrice's Air-Dry Technique: She washes her hair with shampoo every five to seven days, using Head and Shoulders® to really treat her scalp. She's also a huge fan of indie brands, and lately swears by Naturalicious®, which offers a clay-based shampoo she likes, and Adwoa BeautyTM.  "Their Baomint is so wonderful for summer — cool and refreshing for thick heads of hair," she says. She also uses a deep conditioner treatment once a week followed by some detangling action via her Ouidad® Double Detangler comb ($26).
"Then I typically spray on a leave-in conditioner," she explains. "Lately, it's been Adwoa or Alikay NaturalsTM Lemongrass Leave In ($6). Kim KimbleTM also makes an amazing leave-in conditioner spray for textured hair." After, she'll slick on a creamy styling product. "Right now I'm loving Naturalicious® Moisture Infusion Styling Crème ($18) and also T-RootsTM Butter Curls at the moment," she shared. "I may or may not use an oil if I want to add shine or definition, and then I go!"
Anti-Frizz Tip: "I have to kind of embrace frizz, otherwise I would have a battle every day," she says. "In general, I try to clump my curls, and I use products that help to weigh them down." For Patrice, frizz is usually a sign that she's due to trim off her split ends.
Allergan may receive commission for purchases made through links in this article.