Daily, women come to me — often sent by their 18-year-old daughters — asking about which contour palette to buy. As a makeup artist, I can tell you that some people — many people! — don't need one at all. The media has overwhelmed consumers with this trend, and women of a certain age don't necessarily realize that "contouring," as seen via the World Wide Web, may not be the best choice for them.  
Typically, most busy women over 21 who are working, have families, and other adult responsibilities likely don't have the time to validate owning a six-shade contour palette. But of course, you always want to be able to accentuate your best features. Let me be the first to tell you that you don't need a whole contour palette to do that. Here are some solutions for those who want to participate in the contouring trend, but don't know the age-appropriate methods or means.
What Is a Contour Palette?
Contour palettes usually consist of several shades deeper than your skin tone, meant to add the appearance of shadow on the face. These would be applied to places that you'd want to create an illusion of depth or a sculpted look, such as the hollows of the cheek, the top of the forehead, and jawline. There are also always one or two "highlight" shades, which will be lighter in hue than your skin tone and often shimmery. These are meant to be applied to high points of the face, such as your cupid's bow, brow bone, and cheekbones. Not only will highlighter add dimension, but it will add to creating that illusion of glowing, youthful skin.
There are two types of formulas when it comes to these palettes: cream and powder. Unless your skin is extremely oily, cream is the best choice for more mature skin. That's because it will sculpt (or highlight!) the face while simultaneously adding a dewy radiance to the skin. (Powder could cling to fine lines, wrinkles, or enlarged pores, making them stand out.) To avoid accentuating lines or imperfections, cream products will bounce light off of the skin and add to the youthful appearance that you are after.  
Why You Don't Need a Whole Palette
I spend a lot of time (on a daily basis) talking women out of purchasing an entire palette for contouring. The average contouring palette typically contains six pans, but I know that many women end up using only two or three hues from these popular sets. Furthermore, the contouring shades often run extremely deep and both the sculpting and highlighting options are richly pigmented, so they require some heavy lifting in the blending department. That's why I try to instill the understanding that glowing, sculpted results can be achieved just by using a deep bronze tone and a highlighter.   
Gia Duka, a makeup artist for Benefit Cosmetics®, says that she always recommends the Benefit Hoola® Cream-to-Powder Quickie Contour Stick ($28) for women on the go because it's simple to use and it blends easily with your fingers. "Delicate skin won't be tugged or pulled by brushes and sponges with this formula and it sets beautifully with a long-wearing, soft-matte finish," she says. The product is in stick form, so it can be easily swiped along the contour lines that one wants to achieve. The small tip can easily be applied on the sides of the nose to make it appear slimmer, or along the jawline to sculpt sagging areas. Use fingers to blend softly in an upward direction for a perfectly soft, natural look.
Sarah Levins, a CliniqueTM consultant, concurs, noting that the Clinique Chubby StickTM in Curvy Contour ($24) and Hefty Highlight ($24) are top-sellers for women who are looking to sculpt their faces. "These products are goof-proof because they offer a quick solution for contour and highlight with just two shades instead of the four or six of traditional palettes," says Levin. (Like the Benefit stick, you can glide these onto areas you'd like to sculpt or highlight, then blend.) "They can be blended with a brush or fingers for an easy application and they are so sheer, you don't have to worry about making a mistake," Levin adds.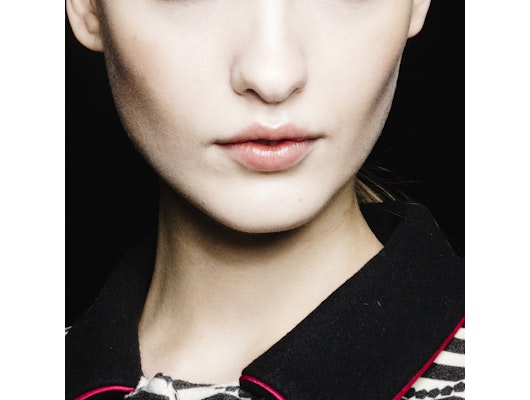 Getty Images / Rosdiana Ciaravolo
Cut Back on Highlighter
Sheer application is an especially nice characteristic for your go-to highlighter to have — always remember that "less is more." While younger skin can pull off a heavily highlighted face, more mature skin has a harder time. When skin around the eyes and on the forehead has fine lines or any other imperfections, the shimmer of most highlighters will catch in these crevices, which can make them look worse. This is where the formula you choose is imperative: soft creams and sheer liquids are the best choice for skin that has any kind of texture (like wrinkles or enlarged pores). My go-to for all skin types is the NARS® Cosmetics Illuminator in Orgasm ($30) or Super Orgasm ($30) These liquid highlighters can be quickly applied with fingers by pressing them into the skin.
Feel Free to Ditch the Blending Sponge
Speaking of blending, it is probable that your niece, daughter, or favorite makeup blogger told you to buy a blending sponge. While the technique of buffing with these popular sponges can yield some beautiful results, I often ask clients how much time they have for their beauty routines before they make that purchase. I also gently remind them that it is suggested to clean blending sponges daily to prevent bacteria growth. Nine times out of 10, the client will decline the blender purchase after we have reviewed the facts.
As I've already mentioned, it is simply not necessary to dedicate so much time and energy to a sculpted face. Using traditional bronzers and highlighters (or contouring sticks) can create flawless dimension, which can be blended with brushes and/or fingers. If you're open to trying brushes, I have a few suggestions. My favorite tool when contouring the face is the IT CosmeticsTM  Velvet Luxe Soft Sculpting Brush #315 ($34). This soft, synthetic brush places product in just the right spots with its perfectly angled bristles. Use the flat side of the brush to apply all of your bronzers or deep contour shades, and then use the angled bristles for highlighter and blending.
For a subtle highlight, I recommend using a blending or finishing brush. It can apply a light touch of highlighter to the top of the cheekbones (or other features that you want to glow). My go-to blending brush is the MAC® Cosmetics #188 Synthetic Duo Fibre Face Brush ($35). It's small enough to get into every angle and blend seamlessly, and it is also the perfect brush for highlighter because it will never add too much. The white synthetic hairs pick up just the right amount of product and also can press it into the skin for a flawless blending technique. It can also be used to buff all of your contour lines — just be sure to fully wipe down your brush between applications so you don't dull down your highlight with leftover contouring makeup.
With these tips in mind, you can head into your local makeup store and ask for exactly what you need to sculpt your beautiful face with confidence. After all, the point of highlighting and contouring is to draw attention to your best features!
Products may have been gifted to the author for the purpose of writing this article. 
Allergan may receive commissions for purchases made through links in this article.