There's a treatment popping up at spas, dermatologists', and doctors' offices nationwide and it's as incredibly self-explanatory as it's dubbed: HydraFacial®. You're correct with assuming that this facial does, in fact, hydrate and replenish skin with moisture and other beneficial ingredients. But there's also an art to how it's done as I learned when I received it from Graceanne Svendsen, celebrity facialist at Shafer Plastic Surgery & Laser Center (starts at $250 for 45 minutes). For instance, Svendsen's method includes techniques that help to naturally contour and depuff the face.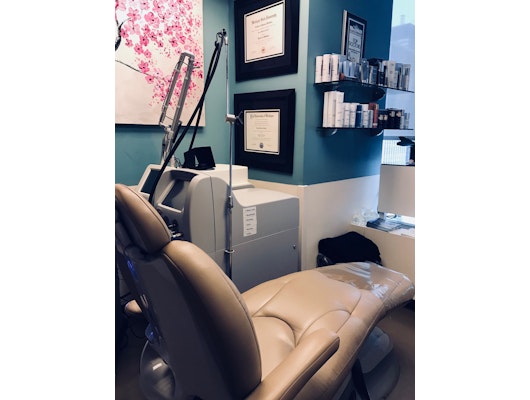 The Hydrafacial machine
Before we get into the specific steps and details of my facial, let's break down what a HydraFacial is. The first thing to know is the HydraFacial is centered around a machine that gently sucks the dead skin off of your face, while adding in hydrating boosters.
"We use a wand that has vortex fusion, so it's going to twist and scrape, while also sucking out dead skin." Svendsen explains. "The fusion twists like a little tornado and sucks out dead skin while infusing serums."
I'm super sensitive to pain (I tear up while getting my eyebrows tweezed), but felt zero discomfort during this. It's similar to the sensation of a microdermabrasion, which I find to be very tolerable.
The first official step in Svendsen's process is lymphatic drainage. She does this even before cleansing the skin, which is typically how any facial begins. "The reason for that is I need this slip," she explains. "I use a glass wand that works similar to cupping. It detoxifies the skin by dragging that fluid along the surface and down the neck for your body. That helps with puffiness, sinus congestion, inflammation, and the appearance of large pores."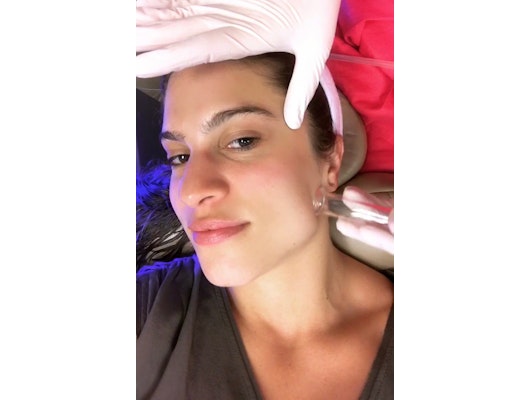 The Contouring/Cupping Step of the HydraFacial program
Next, the skin is cleansed used a method called hydro-dermabrasion. "What that means is we're hydrating using a micro-dermabrasion technique," Svendsen describes. "We're sucking out dead skin and infusing serums at the same time."
Essentially, skin is neutralized because the dead skin is being removed at the same time hydration is added. Talk about efficiency.
"There are boosters, which can be customized to the patient's skin type and condition," says Svendsen. "There's a brightening booster, a CTGF one (which is growth factors), and a hydrating booster called dermal filler." On me, for instance, she used the topical dermal filler option right under my eyes to smooth out the area.
Next, she covered my skin with a glycolic acid peel, incorporating 7.5 percent of glycolic acid with 2.5 percent salicylic acid. "This is just gonna brighten your skin," she explains, of the exfoliating cocktail. "It should feel really soothing."

Next up, Svendsen kneaded my face with her self-described European massage technique. "It blends a slight bit of lymphatic drainage all with the idea of neutralizing this peel and helping to oxygenate the skin," she notes.
The grand finale is a hot towel soaked in rose and geranium essential oils. "I heat the towel up so we're opening the pores," she explains. "The rose is hydrating and great for inflammation. The geranium balances hormones; it's good for cleansing and antibacterial."
Post-facial, my complexion looked immediately filtered and my cheekbones were higher and more chiseled. "The HydraFacial is great for events and photographs when you don't want to have a lot of inflammation on the face," she enthuses. "It is a pre-party facial."
There are no manual extractions during this facial, so you really should be able to get it and go about your day, simply looking glowier. I plan to get another one a few days before my brother's wedding to ensure I have an even complexion under makeup. Bring on the HD!
Lauren Levinson received the HydraFacial to try.