The idea of "going to the doctor's office" probably makes most of us cringe. But what if you could meet like-minded people and discover new holistic beauty products? Well, that's the kind of medical practice board-certified dermatologist Dr. Gervaise Gerstner is running. Her Upper East Side office looks more like a spa — and yes, the rumors are true: there's a champagne room. 
Kelsey Ann Rose
But let us be clear: there is serious business being done at GG's. The self-identified Southern belle may be one of the most welcoming, charming "hosts" in NYC, but she is ready to check your moles, administer injectables, and prescribe something for your adult acne. Don't be surprised if she also offers you heartfelt dating advice or gives you a sample of the latest kombucha hitting Whole Foods. She shares that 80 percent of her patients are women, so if the space has that je ne sais quoi woman's touch, it's not unintentional. That said, her eldest patient is a 95-year-old man.
"Patients tell me they appreciate the research I share with them on why I select certain products," she says (GG's also sells curated beauty products and she is a global ambassador for L'Oréal Paris). "The market is flooded with skincare from Sephora℠, department stores, and even Instagram. It's hard to know what really works or just has a celebrity endorsement. It's important to study the clinical trials and scientific results from a company. I create a customized, simple skincare plan for each patient."
In her mid-40s, Dr. Gerstner practices what she preaches. Her "look" is enviable — luscious blonde hair, glossy skin, and camera-ready lashes.
"When I turned 45 last month, my youngest daughter asked me if I was sad that half of my life was over," she reveals. "I laughed, as I feel like my happy life is all in front of me. I truly love the niche I have created, helping people with their skin; and more so, becoming an adviser in the overall health and wellness worlds. The first half of life was very stressful creating a medical career, family, and social life. Instead of a mid life crisis now, I am blessed to have a new mid-life passion to help both coasts." We have intel that the overachiever recently got a California medical license, bought a Bel Air home, and hopes to expand her practice to Hollywood.
Here, Dr. Gerstner shares which top dermatologist mentored her straight out of medical school, what treatments she actually does to her own face and body, and how Grace Kelly has inspired her injecting technique.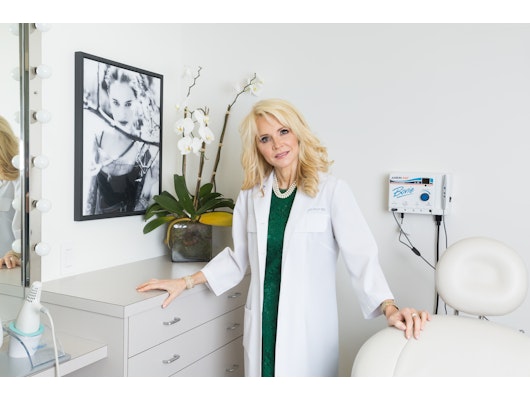 Kelsey Ann Rose
Spotlyte: What made you want to be a dermatologist?
Gervaise Gerstner: I decided to become a dermatologist because my father (a Johns Hopkins-trained cardiovascular surgeon) gave me the choice: I could be a doctor or a doctor. His mother had given him the choice of being a doctor or a Southern preacher, and he chose doctor. So when my brother and I were in our formative years, he would take us to scrub into surgeries, follow him in hospital and clinic rounds, etc. My brother is a spine surgeon, and I am both a cosmetic and medical dermatologist.
If left to my own devices, I would have probably owned a spa, beauty salon, or a wellness center in today's world. I spent all of high school babysitting and tutoring to get cash to spend on whatever new skincare or makeup was at the local drugstore in Columbus, Georgia.
At Princeton, I majored in history and minored in visual arts. I was accepted into a humanities program at the Icahn School of Medicine at Mount Sinai — there are 12 slots saved for students just like me.
Spotlyte: When did you get your big break as a celebrity derm?
GG: I was starting my chief residency year at Mount Sinai, and my dermatology idol Dr. Patricia Wexler offered me a job — even though I had 12 months left in residency and had not even taken nor passed my dermatology boards. And I was pregnant. I gave birth in November 2002, finished residency in July 2003, passed my boards in August 2003, and my first day with Pat was September 2003. Pat taught me so much about cosmetic dermatology, as well as handling high profile patients, celebrities, editors, etc.
Spotlyte: What is the most rewarding part of your job?
GG: Becoming a part of a patient's life. Sometimes it is piercing ears, sometimes it is correcting a deforming scar, sometimes it is advising them on a terrible breakup or miscarriage, sometimes it is creating a skincare plan, sometimes it is diagnosing skin cancer. I have even diagnosed breast cancer in my office. I love that patients make me part of their lives.
Spotlyte: What is the weirdest part of your job?
GG: Getting text photos of people's private area rashes.
Spotlyte: Tell us what getting a treatment done at your office is like. We hear you offer champagne...
GG: One of my best girlfriends works for LVMH/Veuve Clicquot, so she was always sending me my favorite rosé champagne to the office as gifts. My office manager, Joanna, decided we would have Champagne Fridays, but then patients asked for it every visit so it evolved into an everyday option. We always have chilled champagne, as well as an array of juices, sparkling water, Bai® waters, and even hard booze.
[Editor's note: Alcohol should be avoided before, and for at least 24 hours following, certain treatments. Talk to your doctor to see what's right for you.]
Since I become the quarterback for many of my patients' medical, nutrition, and fitness needs, I like to have healthy snacks and juices available. Many international patients and even some locals stay for four or five hours. We also host events for patients to get to try a new product line, gluten-free fitness bar, or kombucha. I like to promote my patients' businesses, too. Patients treat GG Dermatology as an experience, while also knowing they can pick my brain for the best endocrinologist, spinning instructor, Upper East Side salad, and hotel destination.
Spotlyte: How do you choose what products you offer?
GG: We want to be a wellness emporium. My staff and I are constantly reading and sampling and trying new holistic treatments, diets, skin products so that our finger is on the pulse of trends that actually work. I don't want to recommend something unless it is an A+, so I highly curate the products that we carry. For example, some lines, like Eminence®, have hundreds and hundreds of SKUs, but we cherry-pick the ones we think are the most effective. Marcia Kilgore made this popular years ago when she opened Bliss℠ (that was the first spa I ever went to back in mid '90s when I came to city).
I love going to dermatology, plastic surgery, and aesthetic conferences to bring back lots of new products. Then, I weed through and present my patients the best of the best. I love giving out tons of samples and getting feedback from patients.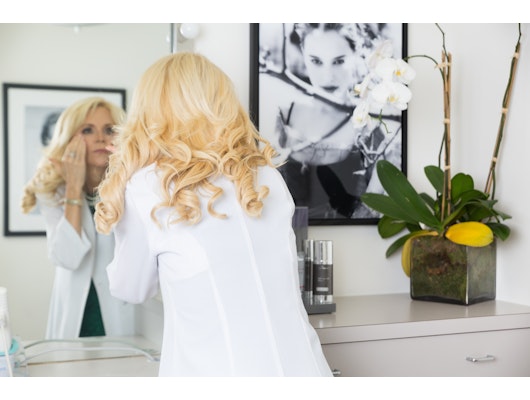 Kelsey Ann Rose
Spotlyte: What are three beauty skincare products you always put on your face each day and why?
GG: My own GG glycolic 20% Treatment Pads ($65) for texture and glowy skin, daily moisturizer with SPF and tint (have three I like: Soleil Mineral, Coola®, and GG BB Cream). And the holy grail product for treatment, SkinMedica® TNS Essential Serum®. It is the perfect combo of growth factors and antioxidants.
Spotlyte: When did you start getting cosmetic injectables?
GG: I started getting injectable wrinkle reducers for my forehead frown lines in my mid 30s. I just turned 45.
Spotlyte: What are the biggest myths about injectables?
GG: The biggest myths are thinking you are going to have huge duck lips or huge chipmunk cheeks from filler. I do not like a big lip look. My goal is to add volume back to the lips one had before aging set in.
[Editor's note: Injectable wrinkle reducers are used to help temporarily diminish moderate to severe wrinkles in certain areas of the face. Not everyone's experience is the same since, as with any prescription treatment, injectable wrinkle reducers have potential risks and side effects. Be sure to talk to your provider before booking. Learn more now by chatting with a trained aesthetics specialist.]
Kelsey Ann Rose
Spotlyte: How do you coach patients towards a more natural look?
GG: I show patients a photo of Grace Kelly in my office, which enables me to demonstrate what aesthetic goal I am trying to achieve. I encourage patients to bring photos of themselves when they were younger. I don't want to create a new look, but help restore [the volume] they had in younger days.
Spotlyte: Do you get any other facial treatments yourself?
GG: I am obsessed with keeping up with the texture of my skin, so like clockwork every two weeks I do some sort of treatment: rotating Clear + Brilliant© laser, Fraxel® laser, VBeam®, microneedling with PRP, and HydraFacial©.
Spotlyte: What motivates you as a dermatologist these days?
GG: My latest commitment is to become an expert in everything perimenopausal. American women go through menopause on average at 52, so we most likely spend half of our lives in menopause or perimenopause. This makes women much more prone to effects of aging than men. It is not fair that women age harder than men, so I have embraced the mission to give my patients and myself "tricks" to age gracefully. Perimenopausal belly fat, hair loss, skin laxity issues, and adult acne all have become my targets to combat.
Spotlyte: What is the most-requested treatment right now at your office?
GG: It's a three-way tie between Clear + Brilliant, microneedling with PRP, and injectable wrinkle reducers. The fourth would be [solutions for] acne. It's a skin condition we see and treat often on everyone from my teenage daughters and all their friends to my cosmetic patients with adult acne. 
Spotlyte: What else are you passionate about in the skincare world?
GG: Skin cancer. It hit me personally. Sixteen years ago I found a melanoma in situ on myself. [Editor's note: a cancer in situ is one that has not spread beyond its point of origin to other tissues/organs.] I insist my patients let me check their total body once a year. Last year my mother had a melanoma in situ, too. Growing up in Georgia, I used to go to tanning booths before prom! We didn't realize the risk of skin cancer. I understand patients like to look tan, but we give them options for healthy tans by recommending and selling self-tanners and body foundations.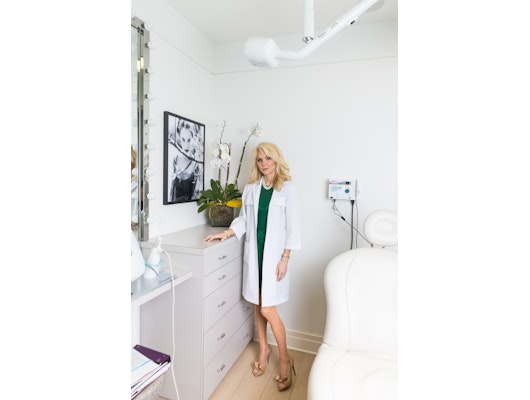 Spotlyte: If you weren't a doctor, what would you do?
GG: If I weren't a doctor, I would love to commit more time to helping companies develop topical drugs, skincare, and makeup lines. My dear friend from Princeton, Debbie [Debra] Perelman, just took over Revlon®, so I would probably ask Debbie for a chance to create products. I would approach Allergan® about helping their home office in Irvine with new groundbreaking developments. I would also love to commit more time to creating a wellness center in NYC and LA, which has the best doctors and best therapists under one roof. I am intrigued by topical cannabis for inflammation and skin conditions, too. 
Spotlyte: What empowering advice do you want all women to know?
GG: My greatest disappointments have become my biggest successes. It is so corny, but each time a door closed in my face, an even better opportunity landed at my feet. Be kind and nice to everyone. Read constantly. Acknowledge a higher power. Smile.
Dr. Gervaise Gerstner is a paid Allergan consultant.