When Debbie Gibson burst on to the music scene in 1987, she had a scrunchie in her hair, a song in her heart, and an address in the New York City suburbs. OMG, so did I! What I did not have were her writing, producing, or singing chops, nor a debut album that went triple platinum. But a girl can dream.
Needless to say, when the invitation came to meet the now 48-year-old pop star, my 18-year-old self freaked out with excitement. Now that we're adults, it turns out that Debbie Gibson and I have another thing in common: thinning hair. A fortuitous Google search led Gibson to Keranique®, a hair-regrowth system for women, for which she's now a paid brand ambassador. Allow Gibson to guide you through her greatest (beauty) hits.
Debbie Gibson: So, I noticed, probably about six to seven months ago, that my hair started thinning, especially around the bang area. And I don't know what exactly to attribute it to. It could be different elements — health, the fact that Las Vegas is really dry, breakage because I was processing my hair a lot, it could be hormonal. I've asked my hair, and it won't answer me.
Chris McMillan was cutting my hair at the time, and I was going to do my movie [Wedding of Dreams on the HallmarkSM Channel] and my hair didn't have that luxurious Hallmark look. Chris pretty much insisted that I get extensions, and he sent me to an expert extensionist, who does the most amazing tiny little bonds. But, I'm highly sensitive and the bonds were driving me crazy. I got the extensions out three days later. Then my movie got pushed back six weeks, which ended up being a great thing.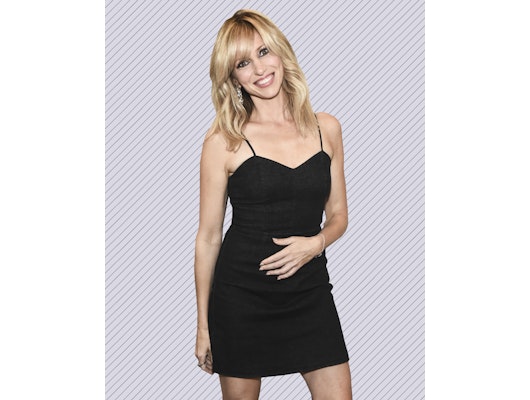 Getty Images / Daniel Zuchnik
DG: I was thinking, my hair has been one length, long and luxurious before; there's no reason why it can't look like that again. So, it was kind of inspirational in a weird way, for me to see myself with extensions, and say, well, I want this look, but naturally.
I was literally Googling "hair regrowth" — I saw everything from, "put olive oil on your scalp" to "stand on your head" —  and I found Keranique, and saw so many glowing reviews. So I ordered it on Amazon. When it came, my first thought was, "This is never gonna work. It has too many ingredients and my body's gonna freak out." [Due to a past incidence of Lyme disease, Gibson's body is very sensitive and reactive.] And, I tried it, and my body didn't freak out!
The first thing I noticed — instantly — was that it made my hair really thick. I just kept using it and was noticing little changes along the way. When I went off to the postponed movie, I was still feeling a little insecure. Like, "Is my hair ready to be in a movie, or not?" I had gotten these two gorgeous real hair wigs that cost me a bloody fortune, but by the time I got to the set, the executives were like, "Your hair's looking really good; you don't need wigs or extensions." When you see me in this movie, it's just me and Keranique. [Keranique® Hair Regrowth System ($59)]
DG: I love the whole Sandra Cope line. She developed a couple of the products for burn victims, and it's the real deal. My favorite is what I call Fanceline; it's like a fancy Vaseline®. It's really called Ultra Moist [Gibson pulls Sandra Cope Aloe Spectrum Ultra Moist ($41), from her purse]. It has olive oil in it and I use to take my makeup off, I put it on my lips. Sandra Cope really focuses on masks and exfoliating and I've gotten everything. It's all really mild, natural, and nothing has an added fragrance.
When I realize, "Oh shoot, there's going to be a high definition camera," I do have an Aztec clay® that I mix with apple cider vinegar and hot water, like a mask. The apple cider vinegar for me is like a chemical peel. I think if I did that a lot, it would help the signs of aging because your skin is  red after, but it's kind of a good feeling — like it's agitating your skin a little so that it creates a healing response.
I also love Derma-E® Microdermabrasion Scrub ($33). It has a citrus scent that doesn't bother me. I used to love fragrance — I had a perfume once by Revlon® — but now what I will usually use is a little bit of rose water. Or, I mix some peppermint essential oil with almond oil. I've [also] used grapefruit, or lemon, or something uplifting, but very natural.
DG: I've used injectable wrinkle reducers three times in my life: twice in my thirties and once in my forties. I have that animated Muppet face, always have. I see pictures of myself at 30, and I'm like "Oh, I see the lines coming," because I'm always animated. Luckily, there's great lighting and Photoshop. At a certain point, I didn't feel like injectable wrinkle reducers were for me, and I don't currently use them.
There's also saying, "Hi, I have lines." People have them. I've been percolating on whether I want to make a statement and own that.
[Injectable wrinkle reducers are temporary medical treatments designed to smooth moderate to severe wrinkles in certain areas of the face such as forehead, crow's feet, and frown lines. As with any medical treatment, there risks and possible side effects . Consult with a doctor to see if this is right for you.]
Have questions about injectable wrinkle reducers? Chat with a trained aesthetic specialist now.
Allergan may receive commission for purchases made through links in this article.
Products were gifted to the author for the purpose of writing this article.