Standing outside a nondescript door in downtown Manhattan about to get a near-thousand dollar facial treatment is not something I do every day. Especially not in this case, since behind that door is the temporary NYC pop-up of buzzy LA-based med spa Le Jolie. The med spa is known not only for its super cool Instagram, but also for the FORMA facial treatment. That's what I'm here to experience. 
The FORMA treatment, also known as the "Non-Surgical Facelift," is an FDA-approved technology that combines radio frequency waves and heat to tighten skin and stimulate collagen below its surface. "Our skin is like a balloon," says Dr. Parvaneh Rafaeloff, MD, owner and medical director of Le Jolie. "Collagen is like a rubber band. FORMA makes them both tighter and also stimulates the formation of more collagen."
Garrett Munce
Unlike lasers or microneedles, the FORMA is truly non-invasive. The radio frequency waves from the device penetrate about five millimeters beneath the skin's surface. That's deep enough to tighten the collagen we already have and stimulate the production of more. The lifting and wrinkle-reducing effects of the waves are immediate upon one use (and can last a few months); but both Dr. Rafaeloff and the manufacturer recommend six treatments a week apart. 
Before treatment:
Garrett Munce
The results are apparent (Dr. Rafaeloff showed me a ton of before-and-after pictures), but I'm eager to see what just one treatment is like myself. At 33 years old, I'm also wondering if I'm a little young to reap the benefits of a "facelift." Judging from the Le Jolie instagram though, I'm not. "FORMA is one of the most popular treatments among my younger customers," says Dr. Rafaeloff. "They use it...to temporarily tightening the skin, especially along the jawline." She believes that this is because we spend so much time looking down at our phones, so younger and younger people are seeing themselves with double chins and sagging jowls. I can certainly understand that argument — just think about when you open your camera app and you left the front-facing camera on. Yikes.
Garrett Munce
The FORMA face treatment isn't so much a facial, at least not in the traditional sense. There is no exfoliation or extractions, just a quick cleaning and a swipe of numbing cream (to help with the heat). The handpiece (the part that will be touching my face) does have little raised bumps to give a slight microdermabrasion effect; but really this treatment is about what happens below the skin, not on top of it.
After slathering conductor gel (similar to an ultrasound) on top of the numbing cream, Dr. Rafaeloff went to work. She focused on one side of my face for the first half of the 45-minute treatment. Even though she said she had the machine on the highest setting, it didn't feel hot, but instead like a warm at-home massaging wand passing over my face. She used circular motions on my cheeks and upward motions around my jawline, cheekbones, and forehead to help contour and control the lift I would experience. I won't say it was quite like a massage, but after the novelty wore off, I did start to get lulled into slight relaxation.
During treatment: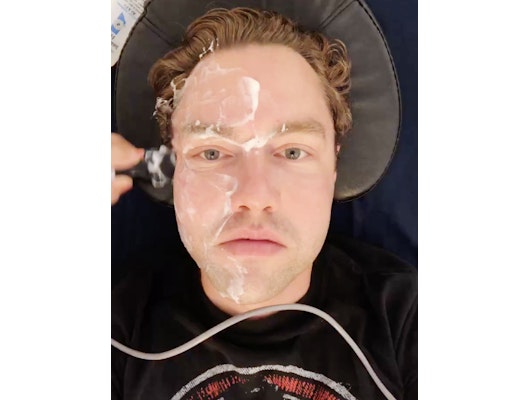 Garrett Munce
Once one side of my face was done, Dr. Rafaeloff had me sit up so she could take my picture. When she turned her phone around, my skin looked smoother and tighter and the pores seemed smaller, too.
I was convinced, so I quickly laid back down for her to get to work on the other side. She spent the next 20 minutes doing the exact same thing to the remaining side of my face. And once I was used to the sensation — dare I say I started to doze just a little bit? The relaxation effect is something many people experience, according to Dr. Rafaeloff. 
Once it was all over, she wiped the goo off my face, a quick Vitamin B12 shot for good measure (not part of the FORMA treatment but a peppy add-on), and I was good to go. Truthfully, once both sides of my face were FORMA'd, it was hard for me to see the same huge difference. But the next morning, my husband, who is observant but jaded when it comes to things I do to my face, said "Wow, your skin looks young." That was all I needed to hear to know that next time I'm in LA, my first call will be to Le Jolie.
After treatment: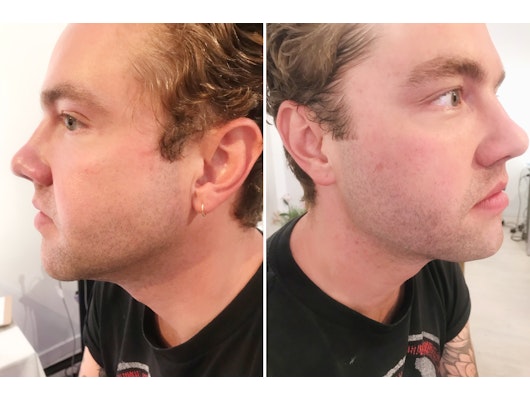 Garrett Munce
The FORMA Facial treatment was gifted to the author for the purpose of writing this article.