As an adult human male, I can tell you first-hand that shaving your face can be dreadful. Shaving it every day is even worse: there is the equipment, the time . . . the need to repeat for your entire life. Certain industries expect men to be clean shaven, some social groups look down on beards, and there are men who just like the way they look with a bare face. I myself fall into that third group — I personally feel like facial hair makes my already wide face look even wider.
As a grooming editor, I'm also a man who has tried almost every product on the market to address shaving irritation. I am far from the only guy out there who faces this issue. Problems like pseudofolliculitis barbae (razor bumps caused by ingrown hairs), folliculitis (inflammation of the hair follicle), rashes, and soreness are all common concerns.
These issues are march harder to treat when you shave daily, and though I've found a few short term solutions for my ingrown hairs and razor burn, nothing has addressed them for good. They always come back like pesky weeds in the otherwise well-tended garden that is my face. I began documenting my shaving journey (again, it's my job) and it wasn't until I got a comment from an Instagram follower that I ever thought I would find a true, long term solution.
"I got laser hair removal on my neck," this follower wrote to me over DM. A light went off in my head. Was that a real thing? I'd obviously heard of laser hair removal (it's been FDA-approved and available to consumers since the mid-1990s), but I'd never thought about getting it to stop my razor bumps. As I continued to investigate more, I found that laser hair removal as a permanent solution for shaving issues is more commonplace than I thought.
According to the American Society of Plastic Surgeons, nearly 1.1 million laser hair removal treatments were performed in 2017 alone, and 17 percent of those treatments are on men. However, what these statistics don't show is where on their bodies men are getting treated. Those who are actually providing the treatments, though, say the neck is [one of the most common areas].
"After doing laser hair removal for 15 years, I've seen not only an increase in men doing the treatment, but it's become the new standard," says Graceanne Svendsen, Senior Cosmetic Laser Specialist at Shafer Plastic Surgery in NYC.  "They don't want to deal with razor burn or bumps or any type of folliculitis. They've quickly figured out that it's preventative and, yes, it's a beauty thing too, because it makes the skin look great and not have that irregular texture."
Prevention is the key here. Laser hair removal addresses the cause of the problem: the hair itself. "By destroying the hair follicle or the root of the hair, you eliminate the source," says Dr. Joshua Zeichner, Director of Cosmetic & Clinical Research in Dermatology at Mount Sinai Hospital in New York City. "There's no hair growing back, no issues with shaving, no issues with hair bumps." Dr. Zeichner, in addition to performing the treatment on many male patients, has done laser hair removal on his own neck. "It has made my life a lot easier. I still shave, but I don't get the same irritation in the lower neck that I used to get."
Trevor* (who asked I don't use his real name), a former fashion publicist who lives in Miami, struggled with ingrown hairs his whole life. "I have very thick Italian-Jewish hair, which is both a curse and a blessing," he tells me. "The hair just grows in a corkscrew, so it would grow into my skin and was not shave-able." Trevor had to physically pluck each ingrown — so unpleasant! — and due to that discomfort, he tried every product he could get his hands on to deal with the issue. ("Single blade razors, sensitive skin razors, pre-shave treatments, special shaving creams, aftershaves, exfoliators, heating my face before shaving," he lists.) That was until a female friend suggested he try laser hair removal
"When you get ingrown hairs on your neck, it hurts," says Trevor. "It's uncomfortable. It's itchy. You are also self-conscious because you have this disgusting bump on your neck and when everything else about you is supposed to be clean, you don't want everyone to be looking at your neck."
Arthur* (not his real name), who works in finance in New York City, also had a lifelong struggle with ingrown hairs. Originally from Afghanistan, he has thick curly hair that presented problems for him at an early age. "It started in high school," he says (he's now in his forties). "My hair was so thick and my skin was so sensitive that any time I would shave my neck, there would be blood everywhere."
On top of that, he faced razor bumps. The chronic bumps cut into his confidence so much that they prevented him from dating and being comfortable in social settings. Things didn't improve when he entered the finance industry post-college. "Everyone was dressed to the nines and you never saw anyone with any facial hair," he says. "So every day was a struggle for me."
Hoping for a permanent solution, Arthur* tried his first laser treatment fifteen years ago when the technology was still fairly new. At that point, however, the bad outweighed the good. "It was painful," he remembers. "Too painful. I was like, 'This isn't worth it.'" It wasn't until years later that he was so fed up with the status quo that he went back to try again, this time to New York Dermatology Group, a top clinic in NYC. "The technology had progressed to the point where it started making more of a difference and it was less painful," he says.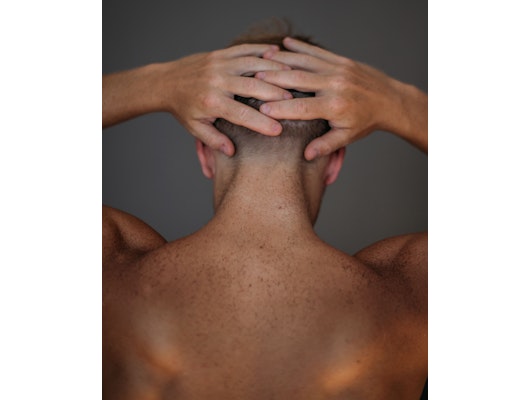 Stocksy United / Studio Firma
Does not imply that the man featured in photograph had the laser hair removal treatment.
Both Trevor and Arthur* admit that the process is still uncomfortable. "The experience is like someone taking a rubber band and snapping it on your neck," says Trevor. "It's not the kind of pain that lasts all day, though." Both say, however, that the minor pain is worth it. They find that to be true even over multiple sessions, which is par for the course in a full laser hair removal treatment plan.
According to Dr. Zeichner, it can take [an average of four to five] sessions to effectively treat the neck, and after the initial set of treatments, an annual touchup is usually advised. However, every individual plan depends on a variety of factors. That includes the patient's hair thickness, color, and expectations. The biggest factor in laser hair removal, however, is skin tone; [though treatment on people with darker skin poses more challenges, it is not impossible]. [Even so], while technology has come a long way since Arthur's first try 15 years ago, [results are not guaranteed] for every single person.
The fractionated lasers used in hair removal target pigment in the hair follicle below the skin, not the actual hair itself, so "[it's best to have] a difference in color between the hair and the skin," says Dr. Zeichner. This means that lighter hair is harder to remove (blonde, grey, or red).
Dave, an NYC-based personal trainer who is of Cuban descent, knew these risks before his first treatment. But after decades of trying to deal with ingrown hairs on his own, he felt it was worth it. "I would use tweezers to dig out the hairs on my neck, which left my sink bloody and scars all over my neck," he said. In his fifties, he thought he was out of options. "[Dermatologist] Dr. David Colbert is one of my clients, and one day he said, 'what's going on with your neck?' I had never heard of laser hair removal before, but he told me to come in for a consultation." During his appointment, Dr. Colbert and his team told him there were risks for men with darker skin tones, but Dave trusted his doctors and decided it was worth any risk if it would get rid of his chronic bumps.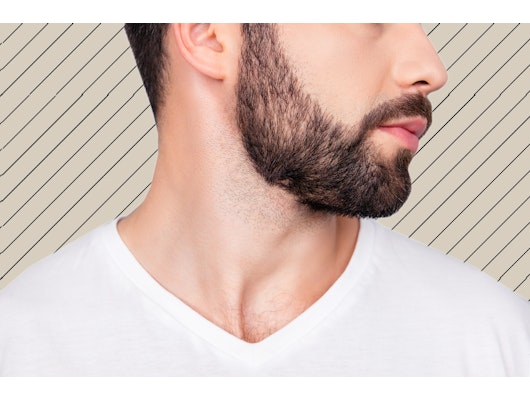 iStock / Deagreez
Ingrown hairs and razor bumps are very common among African American and Hispanic men. But like Dave's experience proves, a deeper skin tone doesn't necessarily mean laser is off limits. It does mean that finding a trusted provider and going in for an extensive consultation is all the more important. "We can now adjust the lasers to treat patients with darker skin tones," says Dr. Zeichner. "It takes more sessions because the light is delivered more slowly [due to use of] a lower energy level for safety reasons. Overall, I find that I can get those patients as clear as I can get someone who's Caucasian with dark hair."
After my own consultation with Dr. Zeichner, I soon found myself with protective stickers over my eyes and a laser aimed at my throat. Remembering the words of these other men, I anticipated the snapping rubber band feeling of the laser zapping the follicles. What I didn't anticipate was the burning hair smell that quickly filled the room. "That's normal," Dr. Zeichner assured me. In just 10 minutes it was over. The treatment is definitely not painless, but I've always had a pretty high pain tolerance (just ask the tattoos that cover my body).
I did not realize, however, that the after effects that accompany the treatment would last as long as they did. Dr. Zeichner told me to expect redness and swelling for the rest of the day and gave me a healing balm to apply as needed. For almost a week afterward, I had redness and bumps on my neck not unlike the razor burn I was trying to avoid. After a few frantic emails, Dr. Zeichner told me to keep it moisturized, be patient, and rest assured it will go away. It did, eventually.
[Editor's note: Individual results and experiences may vary.]
Still, even with the discomfort of the treatment itself and its after effects, I'm excited to see the plan through. If I have even close to the same outcome as the men I spoke to, it will all be worth it. "I have friends come up to me now and ask what I did to my neck," says Dave. "It's completely clear and the scarring [from razor bumps] is healing. I feel better than ever." For Arthur*, it was worth every penny. "Had I not had the means, I [still] would have found a way [to do it], because it meant that much to me and it really has impacted my life," he told me, adding that the change in his confidence level is astronomical.
And me? I'm on my way to my new bumpless life.
Service gifted to the author for the purpose of writing this article.
Dr. Joshua Zeichner is a paid Allergan® consultant.
Services may have been gifted to the author for the purpose of writing this article.