Consider why you wear lipstick: for many of us, it's to draw attention to one of the most alluring features on the face (perhaps even subconsciously). But if you were born with lips that are less-full, or your pout has slimmed down over the years, it can be discouraging to work with a deflated canvas. Lip filler — an injectable substance that can temporarily restore lost volume in the lips — is an option. However, it can also pose somewhat of a financial and medical commitment. If you're not quite ready for the investment, take a peek at alternatives, below.
[Editor's note: Injectable lip filler is a temporary, medical treatment used to add volume to the lips. Like any medical treatment, it has possible side effects (link to safety page), so consult with a licensed provider to see if it's right for you.]

Lip-Plumping Glosses
Plumping glosses have been around for decades, mostly because many actually deliver noticeably larger-looking lips — albeit only for an hour or so. Generally, the formulas are spiked with irritating ingredients, ranging from cinnamon to menthol (hence the sting that accompanies them!). These irritants encourage blood to rush to the surface of the lips, which results in a plumper look. We're partial to the aptly-named Lip Injection Gloss Extreme from Too Faced® ($21), which noticeably inflates in seconds (and comes in a range of colors!)
Microneedling
Microneedling — a process that involves creating tiny holes in the skin to promote collagen production — is generally used to plump up lines on the forehead and cheeks. The concept has gained traction and trickled down to other uses, including lips. According to GloPro founder, Jamie O'Banion, rolling a microneedling tool over the lips "creates thousands of tiny vertical micro-channels, which trigger a volumizing response and serve as access points to apply topical hyaluronic acid [or other nourishing lip products]." Try the brand's GloPro® Kiss ($249) before applying your next hydrating balm for a subtly plusher pout.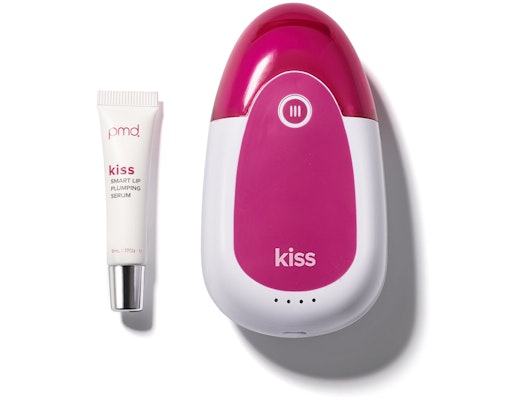 Lip Treatments With Suction
The PerkTM Lip Treatment relies on a similar plumping process as the HydraFacial® (read more on our Editorial Director's results here). According to beauty expert, Mickey Williams, the in-office treatment relies on a small suction wand to "vacuum" the lips. Simultaneously, it exfoliates. This combination leaves lips looking fuller for a few hours — and noticeably softer to boot.If you prefer a DIY device, consider the PMD® Kiss ($139), which uses gentle, suctioning pulses to glean similar effects. (Note: while suction can be used safely with these aforementioned tools, don't try it with anything that's not specifically made for lip plumping — it could be harmful to your pucker.) 
And if you think you might be ready to try injectable lip fillers, our trained aesthetic specialists are here to help!
Allergan may receive commission for purchases made through links in this article. 
Products were gifted to the author for the purpose of writing this article.