"As an artist and creative person, people like to label you," says 45-year-old Babi Ahluwalia, co-founder of Sachin & Babi®, a fashion label known for its head-turning gowns and accessories. "Eventually, you have to discover your own path and point of view."
Still riding high after multiple A-listers — including Kayli Carter, Connie Britton, and Jan Svendsen (who said "yes" after director Glenn Weiss proposed on stage) — graced the red carpet at the Emmy Awards wearing the brand she started with her husband Sachin, the designer stressed the importance of trusting your gut and tuning out the opinions of others.
Here, Ahluwalia shares her top tips for finding your voice, making peace with your wrinkles, and leaving your mark by breaking the mold. Plus, she explains why being a "late bloomer" has its benefits.
Carve your own path.
For Ahluwalia, going against the grain is what gets you noticed — especially in the ever-crowded fashion landscape. Instead of doing a standard runway show for Fall 2018 and competing with a calendar full of cool kids and megabrands, she decided to think outside the box and tap none other than septuagenarian supermodel Maye Musk to showcase the Sachin & Babi styles. Needless to say, it was a hit. 
"She is the face of CoverGirl®, she is 70-years-old, she is a size 8, and she is a regular gal who happens to have modeled for the past 30 to 40 years," Ahluwalia says. "After casting ladies like [Maye], we realized this really made sense to our consumers." Sure, there were a few retailers who didn't exactly embrace the new direction, but for the designer, "evolving and bettering your point of view" are the keys to lasting success.
Since then, the brand enlisted 49-year-old Helena Christensen, and most recently, 40-year-old Ujjwala Raut (a "crossover model" from Mumbai who walked some of the world's biggest runways in the '90s). "For me, it's a much more meaningful conversation when I work with girls who could be considered outliers," she notes. Regardless of race or age, the women Ahluwalia spotlights have "made a difference" or done something "pivotal in their own way."
Don't just talk the talk.
Showcasing diversity isn't merely a marketing tactic for the Ahluwalias. A commitment to authenticity is what she believes really resonates with women around the world. "People see through everything today," she says. "You need to be inclusive and truly mean it." After being approached by This Is Us star Chrissy Metz and dressing the actress for the 2018 Golden Globes, the designer made sure women at home could get the look. "If I make clothes for [Chrissy], I should be shipping her size to stores," explains Ahluwalia, who added sizes 16 and 18 to the line. 
This month, customers ranging in size from 0 to 20 can access the brand's signature sequins, beading, and bold prints. "What is fashion if it's not on people's backs?" she notes. "It doesn't really make any sense to me." 
It's never too late to start over.
"In a way, we're late bloomers," says Ahluwalia of the namesake label she co-founded with her husband in 2009. After providing design and embroidery for top brands like Oscar de la Renta®, Carolina Herrera®, and Manolo Blahnik®, the pair of college sweethearts set out on a new adventure. "We learned from the best and the finest; paid our dues in a very old-school way; and then came out with our brand in our mid-forties," she explains. 
Not only did this dynamic duo have plenty of experience under their belts, but as seasoned members of the fashion industry, they were better able to handle the rollercoaster ride ahead. "Your highs aren't so high, and your lows aren't so low because you've seen a lot in life already," Ahluwalia explains. "You're much more stable. You don't take things so seriously. You have a life outside of the fashion nightmare!"
Find a wingman that always has your back.
Some of Ahluwalia's stability can be chalked up to Sachin, her partner in life and business. "We grew up together — I've known him half my life," she says. "We met when I was all of 22. When we came up with the idea of starting a design service business, it helped that both of us wanted to find our path and live the American dream." Both foreign students at New York City's Fashion Institute of Technology, they bonded over their similar backgrounds and cultural heritage. "I was lucky enough to find somebody who looked like me, and honestly, it helped," she adds.
Having her other half at the office has its benefits . . . and its downsides. "Work never stops, I always know how his day went, and it does kill the romance sometimes," explains Ahluwalia. But having someone there to catch you when you fall is just one of the many perks, she adds: "I had a bit of a health setback this summer. I'm in the radiation phase and doing better now, but Sachin did all the heavy lifting for a while."
In a creative industry where many often find themselves "sucked into" work, this husband-and-wife team are able to maintain a sense of balance by raising their two daughters together. "For the most part, we know how each other's brains work and we play off each other's strengths," she says.
Trust the universe.
"It sounds hokey, but if you put out your best, it will come," said Ahluwalia. After a chance meeting with the late Oscar de la Renta changed the course of their careers, this couple is living proof that the "universe will have your back."
Ahluwalia is also a "firm believer in good karma" and "camaraderie." She refers to the CFDA (Council of Fashion Designers of America) as her "little design fraternity," and says that meeting people on the same "wavelength" and recognizing the success of others is essential to growing as a business and as a person. "You have to live a life larger than yours," she added. "When you get out of your bubble and celebrate others is when you experience a lot of joy. 
Always do the extra credit.
Trusting the universe, however, is only half of the equation. Going above and beyond expectations is how you guarantee good results. "Even with the success we've had, [Sachin and I] are very insecure. We always think, 'Oh my god, what if I didn't nail it?' So, we do more than what's asked of us. Always." 
The same goes for their children and extra credit assignments at school. "My daughter still tells me, 'Mom, it's just extra credit.' I say, 'That means you have to do it.' I believe the more you do, the more you learn. It shows that you really want to make your mark."
Turn your beauty routine on its head.
After putting out her best on the regular, Ahluwalia likes to unwind with 20 minutes of transcendental meditation a day. She switches things up by pairing "inversions" with a face mask from Wander Beauty®. "I stick my buttocks against the wall and put my legs up," she explains. "I put on a face mask, play with my dog, or talk to my children and catch up on their days. Now that my daughters know, they don't find it funny anymore."
Listening to music also helps this designer de-stress. "I love jazz and the Bee Gees," she reveals. "My husband makes fun of me when I play the Bee Gees in the shower. He says, 'Who listens to this besides you?' I say, 'Me and Tom Ford, honey!'"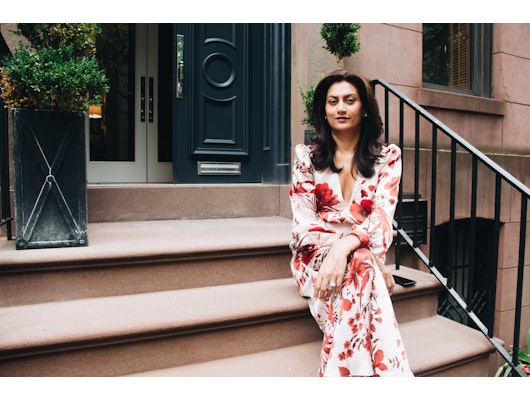 Trust tradition.
New Age beauty rituals aside, Ahluwalia still relies on many of the traditional recipes she discovered growing up in India. "We would whip yogurt, turmeric, and a little bit of lime juice together to make a brightening face paste," she shares. For softer strands, she'd massage coconut oil into her scalp and wrap hair with a hot towel.
Additionally, she'd use "neem sticks" from the Indian Lilac tree to brush her teeth at camp. "Now, fancy beauty brands are using neem in their products," she laughs. Some of the ready-made staples she's adopted as an adult include Mario Badescu® Glycolic Foaming Cleanser ($16) SK-II® Facial Treatment Essence ($99), Clarins® Double Serum ($89), Tata HarperTM Rejuvenating Serum($110), La Mer® The Moisturizing Soft Cream ($325; she stocks up at duty-free shops), and Olay® eye cream.
May marks Ahluwalia's birthday month. "It is a month of self-care, whether it's a mammogram or a teeth cleaning," she explains. Ahluwalia also schedules an appointment with Grace Pak, M.D. for injectable wrinkle reducers to help smooth the elevens, between her brows. "I started [using injectable wrinkle reducers] two years ago, and I schedule a follow-up visit every eight to 12 months," she said.
[Editor's note: Injectable wrinkle reducers are a temporary medical treatment used to smooth the look of moderate to severe lines in certain areas of the face.Injectable Wrinkle reducers should be administered no sooner than every three months. Like any medical treatment, there are possible side effects and risks (link to safety link language), so consult with a licensed provider to see if this is right for you. Have more questions? Chat with a trained aesthetic specialist now.]
In addition to appointments with doctors, Ahluwalia treats herself to a 60-minute, deep tissue massage at Aire Ancient BathsSM or EquinoxSM on New York's 54th Street. Plus, she makes time for regular facials at Mario Badescu, where she often indulges in a brightening vitamin C or nourishing gold treatment.
Own your look.
The one beauty lesson Ahluwalia hopes to pass down to her daughters, Rhea (15) and Tara (12): "Own the way you look and have a sense of pride," she said. "This comes with time. It's easier said than done." Knowing that her children "emulate both the good and the bad," it's important to the designer that she practices what she preaches. "I don't mind the fact that I'm aging — I actually enjoy it," said Ahluwalia, who believes that your "point of view" is just as important as your product regimen. She believes working out, eating well, and sleeping better all contribute to beauty. 
That said, Ahluwalia isn't against using a makeup to enhance her best features. She swears by Charlotte TilburyTM Light Wonder Foundation ($46), Yves Saint Laurent® Touche Éclat ($38) under eyes, Giorgio Armani® Fluid Sheer blush ($62), Glossier® Lidstar Cream Eye Shadow ($30; introduced to her by Rhea), and Tom Ford® Lip Color ($55) in Casablanca and Indian Rose.
Never stop learning.
The designer says she continues to grow alongside her daughters. When her girls took up surfing five years ago, she hit the waves as well. "When you're in the water, you're truly detached. There are no phones. It's a tiring sport, but it centers me," she said. In addition to being schooled on new beauty brands like Glossier and YouTubers such as Lilly Singh, she's also learned to laugh at herself a little more, enjoy the "everyday highs," and the look at the world through her daughters' eyes.
"The day Sachin & Babi was verified on Instagram, both of my girls said, 'Mom, now you're legit.' I said, 'What do you mean, now? I'm paying the bills and making the bank!'" The same can be said of the day Yara Shahidi rocked the brand's beaded heart hoops — a coup for her oldest daughter, who wrote the note that accompanied the A-lister's earrings. "She actually said, 'I know this celebrity much better than you and I'm telling you that the note has to be super pointed and very personable.'" It appears the business acumen doesn't fall far from the tree.
Allergan may receive commissions for purchases made through links in this article.