I was never the girl who was dying to be the bride, or even have a wedding. But when I got engaged in late 2001 at the age of 27 — and when I tried on the wedding dress that was "The One" — something inside me changed. Suddenly, I had visions of walking down the aisle. I could practically hear Pachelbel being played as my husband-to-be watched me make my way (elegantly, I prayed,) toward him. 
It would all be in front of 130 people. And I hate being the center of attention.
But maybe, I thought, if I looked and felt amazing, being the central focus would be easier. If not on my wedding day, then when? So, instead of focusing on my fear of hundreds of eyeballs on me, I focused on my fitness and my face. 
The Pre-Wedding Plan: Fitness, Facials…and Filler?
As a bride-to-be, I was like an athlete in training — I was focused and disciplined. I had a timeline and a vision: in six months time, I would be the most elite version of myself. I would be lithe and fit with smooth, supple skin.
My determination was fierce, and I was a warrior at the gym. I boxed, I lifted weights, and I discovered indoor cycling. I ate cleaner than clean (nothing processed, no sugar!) with tons of vegetables and glugged water. And in just a few months, I was really seeing and feeling a difference. My jeans were looser, and my skin was in better shape, too.
But my greatest indulgence was recurring facials with Svetlana. She had a way of cleansing my skin and soothing my soul all at the same time. Her treatment bed was gently heated and she played soft, meditative classical music as she worked. Her calm, sweet voice, with an indelible Russian lilt, was the highlight of my week.
Over time — with fruit acids, microdermabrasion, gentle extractions and cold blasts of pure oxygen — she transformed my uneven, temperamental skin into a calm oasis. I did anything she told me to do to keep the glow going. She advised me on creamy cleansers and concocted serums for me to take home. Then, one day, as I lay flat with my face in her expert hands, she said "Michele, you are so beautiful, but would you consider getting these lines filled with a leetle beet of collagen?"
And she traced the C-shaped creases from my nose to my mouth with her deft fingers.
Nasolabial folds.
They had never even occurred to me but all of a sudden, they were all I could see. 
Robert K. Chambers
To Fill or Not to Fill?
Svetlana referred me to a plastic surgeon she worked with, Dr. Mark A. Erlich, M.D., and I booked a consultation. The good doctor confirmed that, yes, the planes of my face could benefit from a little bit of filler in my folds. He showed me before and after photos and I was sold.
[Editor's note: Injectable filler is a temporary treatment that adds volume to areas of the face such as the lips, cheeks, and laugh lines. Like any medical treatment, it has potential risks and side effects. Be sure to talk to a licensed provider to see if it's right for you. Have more questions? Chat with our team of trained aesthetic specialists now. ]
Remember, this was 2002, and injectables were not as commonplace as they are today. There was really only one filler on the market — bovine collagen sourced from cows — and a blood test was required to ensure there would be no allergic reaction.
So I scoured my funds, held my breath and submitted to my first needle for the blood draw. As it turns out, there was no allergy and I was cleared, so I booked my appointment. No fear, I told myself. Eye on the prize. 
Karen Hill
My First Fill
I have to admit, in the days before my appointment, I had a slight existential crisis. Was I too insecure? I asked myself. Too vain? Was 27 too young to be starting with cosmetic procedures?  But when I thought it through, I could honestly say that I wasn't out to change my face — I actually quite like my face. I was just enhancing it. And besides, it wasn't permanent!  Also, I really trusted Svetlana and the plastic surgeon who would be injecting me.
Did it hurt? Did I regret it? Did I go back?
No, no way, and yes!
I was a little bit red and swollen immediately after the injections, but it was easily covered with makeup and resolved by the next day anyway. The area was also a little bit sore, but that went away, too. The result, though, was immediate. It was so subtle, but I was amazed by the effect.
[Editor's Note: Please note that adverse events can last longer than two weeks.]
Friends and family complimented me, insisting I had a bridal glow — which I'm sure I did, because I was feeling excited and confident about our wedding day.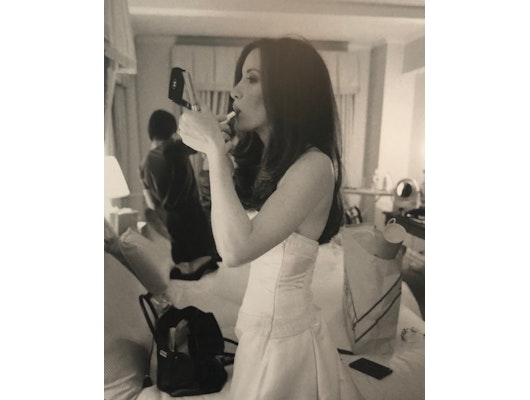 Karen Hill
Still Getting My Fill
My wedding passed almost 20 years ago, but booking filler appointments is still a regular part of my life today. For the past 10 years, I've been seeing Laura Palmisano, a cosmetic and dermatology physician's assistant at Schweiger Dermatology in New York City, who I met when I was a magazine beauty editor researching skincare. Her approach is as academic as it is aesthetic, which I appreciate.
Today, there are so many facial fillers on the market, most composed of hyaluronic acid, a naturally occurring sugar in our bodies. And it's not just the choice of filler that has expanded, but the useof filler has evolved, too. In 2002, I was literally getting my lines filled in. Over the years, I have also tried filler in my lips.
When I look back at my first experience getting bovine collagen before my wedding, I marvel at the use of injectables today. The effect is subtle, and, for me — certainly more than skin deep.
---quiz start
---quiz end
 Have questions? Chat with a trained aesthetic specialist now.
Laura Palmisano is a paid Allergan consultant.