The first thing you notice about Dr. David Shafer, MD, FACS is his smile; it's big, warm and omnipresent. The second thing you notice about Dr. Shafer, a Mayo Clinic-trained, NYC-based plastic surgeon, is his impeccable skin. You'd expect it from the celebrity plastic surgeon (he has a long roster of celebrities and socialites that he is expectedly tight-lipped about).
When it comes to the industry leader's own (glowing, blemish-free, usually sunkissed) skin, Dr. Shafer clearly knows that he's his own best advertisement. We got a peek behind the doors of his midtown Manhattan practice to find out what exactly this cutting-edge surgeon actually does to his own complexion. What we learn might surprise you!
It's About the Big Picture
"I've always been a little bit minimalistic," Dr. Shafer admits. "As most guys go, you get too confused if there are too many products and you get overwhelmed. You identify what the problem is and try to have a product or treatment that addresses it." He believes that your body needs variety so it doesn't get used to just one product. He tweaks his routine on a regular basis according to what his skin tells him it needs.
Dr. Shafer's big-picture view of skincare is based on three main points: "You have to have a good daily skincare regimen. You need in-office procedures and treatments. You need a balanced diet and to drink a lot of water. The combination of all of those is what's going to give you best results. All these things will make even good skin look better." From inside his midtown Manhattan office, he shares (and demonstrates!) his favorite tips, products and treatments that keep him looking his best.
Don't Go Overboard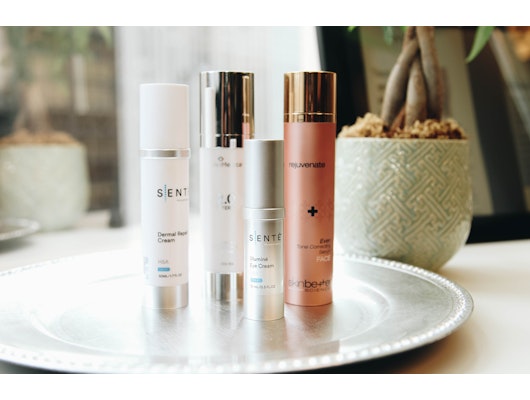 Joslyn Blair
"I wash my face twice a day (morning and night). You have to wash your face, but not too much, so you don't overdry your skin," Dr. Shafer says. "I don't use any harsh products because I don't like to be aggressive with my skin." To keep the aggression at a minimum, he only exfoliates once a week and uses either Jack BlackTM Face Buff Exfoliating Scrub ($30) or SkinMedica® AHA-BHA Cream ($44).
Shafer then follows with Sente® Illumine Eye Cream ($89) and Sente Dermal Repair Cream ($150). "All the Sente products have Heparan Sulfate Analog (HSA). It's a unique molecule which other products don't have and works in hand with the cellular mechanisms that help repair and rejuvenate the cells," he explains. Shafer is a believer in the idea of quality over quantity. After all, if you're going to use only a few products, make sure they really work.
Use Products When Your Skin "Asks" for Them
"If I'm feeling dry, I'll use the SkinMedica® HA5TM Rejuvenating Hydrator® ($178) for extra moisture," Shafer says. When it comes to personal issues, his main concern is redness and pigmentation. Many of his regular in-office treatments target those specific problems (more on that in a bit), but when he feels like he needs a little extra help, he'll add in a dose of Skinbetter Even Tone Correcting Serum ($140) or SkinMedica® Lytera® 2.0 Pigment Correcting Serum ($154), both of which specifically target pigmentation issues.
Take Your Vitamins
About a year ago, Dr. Shafer started to offer a menu of vitamin IV drips in his office and quickly became a convert himself. "About once a month, I'll do vitamin shots: vitamin B, vitamin B complex, vitamin C," he notes. "I think those are all good for your skin." The intravenous route is a way to supply the body with a highly concentrated dose of good-for-you ingredients that keep your body working better for longer.
[Editor's note: talk to your doctor about what — and if any — vitamins are right for you.]
Dr. Shafer pairs these highly concentrated vitamin drips with a significant daily water consumption. He believes staying well hydrated is one of the most important things for consistent skin health. "I drink a ton of water and that's what helps my skin a lot," he says. "All cellular mechanisms require water and hydration is good for protection."
Lasers For Maintenance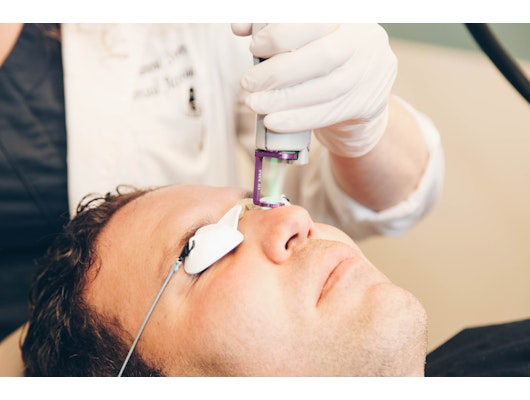 Joslyn Blair
By some standards, including his own, Dr. Shafer's daily product regimen is fairly low key. That's by his own design, as he favors regular in-office treatments that he finds are an effective way to minimize the amount of products he has to use every day. He views these laser treatments as maintenance tools, not one-time luxury items. "None of these treatments last forever," he says. "They're ongoing. It's like asking your barber how long your haircut is going to last. Your hair continues to grow so you have to go back and get your hair cut regularly. All of these things are a consistent process."
Shafer is a personal fan of lasers because of their ability to effectively address very specific issues. The VBeam laser, for instance, is one of his go-to treatments. "The VBeam targets things that are red like blood vessels and rosacea and it can help reduce bruising," he says. "I like to do it a couple of times a year to reduce any broken capillaries and any redness in my cheeks and nose."
Dr. Shafer likes the VBeam because it is effective and fast (the treatment takes about five minutes). There is no downtime either, thanks to the non-ablative properties of the laser - the beam does not cause any damage to the surface of the skin and instead targets cells deep below. This means the skin is able to heal faster and the tell-tale redness or irritation you get from other lasers is drastically decreased. "You can get the VBeam treatment and go right back to work," he adds.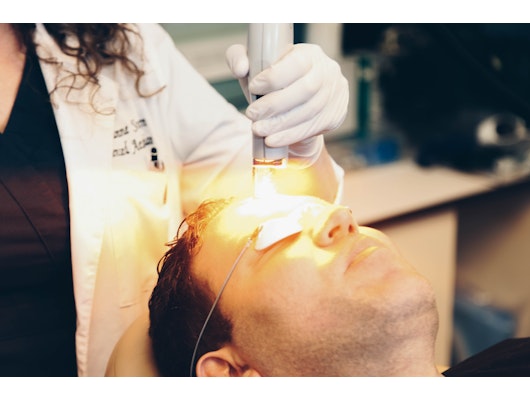 Joslyn Blair
Another laser he uses consistently is the Picoway®, which unlike the VBeam, targets dark pigment. "It's good for dark spots, sun spots, and hyperpigmentation," he says. "It can also help address fine lines and wrinkles." The fractionated Picoway laser uses fast pulses of energy instead of heat which, like the VBeam, avoids damaging the surface of the skin and targets pigmentation from below the surface. It's slightly more intense than the VBeam, however, and because his biggest issue is with redness instead of pigmentation, he uses it less frequently. "I'll do the Picoway once a year for maintenance and the VBeam about three or four times a year," he says of his current laser cocktail.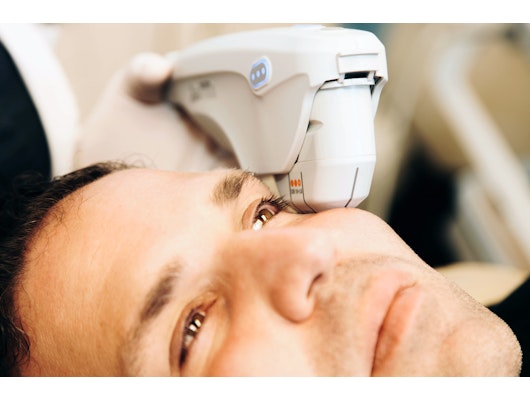 Joslyn Blair
Dr. Shafer also uses laser hair removal on the back of his neck to get rid of unwanted strands. He's only used it in that area ("I looked like a caveman before") but recommends the treatment for any place on the body that there is undesired hair. After the initial program of six to eight treatments (on average) over as many months, he gets annual maintenance treatments to make sure the hair is gone for good.
Attacking Wrinkles with Science
In order to attack fine lines and wrinkles, Dr. Shafer looks to a new technology called Ultherapy. The device uses ultrasound waves to reach deep below the surface of the skin and tighten muscles at the core, all while simultaneously stimulating collagen and elastin production. It's a fairly new device, but he's used it on both himself and patients with exciting results. Like the other treatments Dr. Shafer favors, there is no downtime, but he says "the effects aren't immediate. It takes a couple of weeks to see the full results." He uses it about once a year on his eye area to keep it tight and smooth the appearance of fine lines.
Dr. Shafer also uses regular injectable wrinkle reducers, which he administers himself. "I don't trust anyone else to do it for me," he admits. "As a plastic surgeon, you are your own walking billboard. I've been using them for about twelve years, and I'll do it every three to four months." He uses injectable wrinkle reducers on his forehead, between his eyebrows (the elevens) and around his eyes.
[Editor's note: Injectable wrinkle reducers are temporary medical treatments designed to help smooth the look of moderate to severe wrinkles in certain areas of the face. There are possible side effects and risks, so talk to a licensed provider to see if these treatments are right for you.]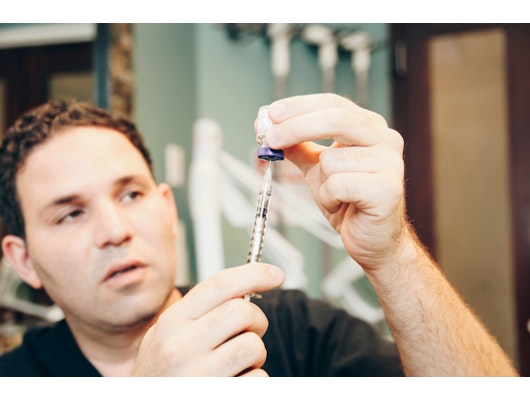 Joslyn Blair
If plastic surgeons really are their own walking billboard, then Dr. Shafer is the ideal advertisement for his skincare philosophy. He knows to give his skin what it needs and uses targeted treatments to maintain the youthful clear skin he is known for. The key to this sort of regimen is its personalization. "There is not one thing you can do to solve all your problems," he believes. "Most people are candidates for pretty much everything on the menu. It's about prioritizing what your issues and goals are and deciding what treatments will work best for you."




Dr. David Shafer is a paid Allergan consultant.
SkinMedica® is an Allergan-owned skin care product line.