In this series, Top 11, influential people with share 11 ways they take care of themselves including beauty, skincare, and aesthetics. Knowledge is power!
It feels a little cliché to say it, but as a beauty editor for more than 20 years, I really have seen it all. I've tested so many different lotions on the back of my left hand that it's probably five years younger than my right one. My face has been scrutinized by approximately the same number of people as Mona Lisa's (though mine were mostly dermatologists and aestheticians — and they were definitely allowed to touch). And I've seen hundreds of "next big thing" skincare products come and go.
To have staying power in my daily routine — a product has to show results. Of course, I'm a sucker for sexy packaging, gorgeous textures, and wonderful scents, but what I really care about is how it works for me. And because I do invest a lot of time and thought into my skincare routine, you will win my heart forever if you tell me my skin looks great, much more so than my hair or my nails or my lashes. (Unrelated, but if you compliment my bum, I am yours. It's one of the top reasons I married my husband.)
One thing I am definitely not: a skincare snob. I'm drawn to mass-brand products because I've gone behind the scenes to their labs and research facilities and have seen how much of their money and efforts go into producing products that work. I'm also equal opportunity when it comes to ingredients: naturals and synthetics live side-by-side in harmony in my personal closet.
Below are the 11 products and treatments you will have to snatch to take from my cold, dead, hands:
Tula® Purifying Face Cleanser ($28): I'm not one of those people who just splashes her face with water in the morning — I need to lather up or I feel like a dirty girl! I've done a lot of work with Tula, a probiotics-based skincare line, and I'm a big believer in the power of probiotics! Just as the probiotics you consume help balance your digestive system, topically applied probiotics can benefit your skin. But the reason I first fell in love with this cleanser is that it takes off all my makeup and smells like clean baby laundry.
Olay® Complete All Day Moisturizer with Broad Spectrum SPF 30 Sensitive ($14): Because I'm usually running late (I wish it weren't true, but it is), I keep my a.m. routine super-simple. After I wash, I apply a moisturizer with SPF 30 or higher, like I've been doing for the past 25 years. There has to be a total eclipse or an ER-level emergency for me to leave the house without sunscreen. I did plenty of damage to my fair skin before I knew the importance of daily SPF. All of the freckles on my arms and décolletage came from one bad burn I got in Florida on spring break when I was 16 (you can still see the unfreckled area where my bathing suit straps were). Never again.
Diode laser: To address those freckles, and the ones on my face that have banded together to create "age" spots, I'll see my laser love, Lisa Yozzo at the Center for Dermatology in Mt. Kisco, NY. (I happily schlep to Westchester, about an hour outside of where I live in Manhattan, to see her and my derm, David Bank, M.D.). She whips out her diode laser and goes to town on anything with enough melanin to attract the light. It hurts like a b*tch, but Lisa sweet-talks me through the pain — and it's worth it to get rid of those spots!
Fresh® Sugar Rosé Lip Tinted Lip Treatment Sunscreen SPF 15 ($24): I have, like, 10 tubes of this tinted balm and keep at least one on my person at all times. It's a sheer, natural pink tint that keeps my lips hydrated and happy. Just like SPF for the face, I make sure to keep my lips protected from the sun, too. But while lip lines are one concern, I'm more worried about getting a cold sore. So sexy, right? But UV rays can trigger a blister, and nothing makes me want to hide under a rock more than a cold sore. I haven't had one in years, but now that I say that you can rest assured I'm going to break my streak.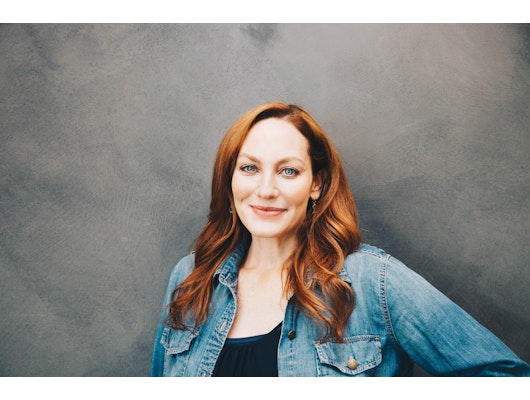 Joslyn Blair
Curél® Aquatherapy Wet Skin Moisturizer ($12): I often shower at the gym and use the Kiehl's® products they have there, but I always have this body lotion in my gym bag. You apply it directly to wet skin — while you're still dripping from the shower — and it works with the water on your skin to lock in moisture. I love it because if I actually wait to moisturize my body until after I towel off, there's a 50-50 chance I'll be too lazy (or too rushed) to do it.
Third-Generation Topical Retinoid 0.1 Percent Cream (by prescription): My nighttime routine is a lot more complex than the morning. After washing with my Tula cleanser, I take a pea-size drop of this prescription retinoid and mix it with whatever new serum I'm trying out. There's a reason that vitamin A derivatives like this one are considered the gold standard in anti-aging ingredients. It makes my skin look brighter, less wrinkled, and practically pimple-free. But I need to buffer it with a serum or it'll make my skin irritated and flaky, and I always avoid under my eyes and around my mouth.
[Editor's note: Retinol shouldn't be used by those who are pregnant, considering getting pregnant, or nursing. Please consult with your doctor before use.]
Perricone MD® Essential FX Acyl-Glutathione Smoothing & Brightening Undereye Cream ($122): My undereye area is the bane of my existence, which is only a little bit of an exaggeration. I'm a bit of a whore when it comes to eye creams and I've tried quite a few. But lately, I've really been digging this new one from Perricone. It's a deliciously thick balm that doesn't move after I apply it, so I feel like it's staying in place and doing its job! And my undereye area really does look better. If this keeps up, I may be willing to make a commitment.
Tula® Overnight Skin Rescue Treatment ($85): Everything I put on at night — I'll often use Tula's neck cream, too — gets topped with a layer of this cream. It's the cream I'd take if I were stranded on a desert island or in a crappy hotel in the outskirts of anywhere: It mentally takes me to a happy place. It's packed with probiotics that give it a tangy, yogurt-y scent that I love. Plus, it has lactic and glycolic acid for a gentle exfoliation while I sleep so I wake up looking dewy and fresh, even with just a few hours of sleep.
Bioré® Deep Cleansing Pore Strips ($15): I almost never go for facials; if I find myself at a spa, I will always choose a massage over a facial. But I do like to start the week with a clean slate and clean pores! So Sunday night is for pore-purging. I always start with one of these pore strips: For me, nothing beats the satisfaction of actually seeing the grossness that comes out of your pores. Then I'll follow up with a mask or peel that meets my skin needs of the moment — a deep cleaning, extra hydration, or some serious sloughing.
Injectable Wrinkle Reducers and Fillers: I've been getting injectable wrinkle reducers for about a decade, and fillers since I turned 40. My glabellar muscles — the ones that furrow my brows — seem to have Olympic-level strength, so I knock them out probably four times a year. I don't mind my crow's feet — I think they make me look like I've lived a happy, smiley life (which I have!) — but I have my dermatologist, Dr. Bank, give me an injectable wrinkle reducer injection every so often to soften them a bit.
I tend to be really conservative with filler, and usually see Dr. Bank or dermatologist Ellen Marmur, M.D., for fillers because they share my aesthetic. I don't want to create facial features that weren't there before — I just want what I used to have! A bit of filler in the apples of my cheeks and into my nasolabial folds makes me look like "me" again.
[Editor's note: Injectable wrinkle reducers temporarily smooth the look of moderate to severe wrinkles in certain areas of the face, including the forehead, frown lines, and crow's feet. They should not be used more frequently than every three months. Injectable filler is a temporary treatment that adds volume to areas of the face such as the lips, cheeks, and laugh lines. Like any medical treatment, both injectable wrinkle reducers and injectable fillers have potential risks and side effects. Talk to a licensed provider to see if they're right for you. And learn more by chatting now with a trained aesthetic specialist.] 
Cheryl Kramer Kaye received complementary products for the purpose of writing this article.
Product prices may vary from the time this article was written.
Allergan® may receive commission for purchases made through links in this article.