In our series Behind the Curtain, we get the scoop on the routines, careers, and more of those working so hard behind the scenes to make celebrities look stunning. Here we feature Sarah Lucero, celebrity makeup artist and Global Executive Director of Creative Artistry for Stila Cosmetics®.
Even if you've never been backstage at a fashion show, it shouldn't surprise you to hear that it is one of the most hectic locations on earth. Makeup artists, manicurists, and hairstylists are all chasing half-naked models — makeup brush, nail lacquer, or bobby pins in hand — in the name of adding that finishing touch before the talent hits the runway.
Amid the chaos, though, you can count on Sarah Lucero, Global Executive Director of Creative Artistry for Stila Cosmetics, to be a beacon of positivity and tranquility. If she's behind the scenes, she'll always greet you with a smile and take some time to explain the look she's whipped up — no matter how busy she is. Not to mention, she's one of the most talented makeup artists I've ever seen. The 40-year-old makeup artist has a preternatural ability to transform even the dullest skin into a complexion that seems naturally luminous and sun-kissed.
As it turns out, a career in makeup artistry was always in the cards for Lucero. She went to cosmetology school while still in high school, loving that she could get out of her regular classes to learn how to style hair. It was there that she met a makeup artist who ran the Academy of Cosmetic Arts, and her parents let her attend. "'I'm so fortunate to have supportive parents that believed in me from the start," she shares. "They never put pressure on me to follow in their career path . . . I grew up in Northern California and always felt like a free bird and marched to the beat of my own drums."
Since then, she's worked at Stila for over 15 years and has worked with celebrities like Victoria Beckham, Annie Lennox, Poppy Delevingne, Jasmine Sanders, and more. Below, she shares how she got started in beauty, her favorite products, and how beauty played a role in her recovery from breast cancer.
Courtesy / Sarah Lucero
Spotlyte: When did you first become interested in beauty?
Sarah Lucero: I was always interested in art and felt comfortable being creative and always coloring outside of the lines from a very young age. When I was 10 years old, my neighbors (a super cool young couple) had a garage sale and I found a stack of Cosmopolitan magazines with all the supermodels on the covers and I bought them. I was hooked on beauty, fashion, and the glamour of it all!
Spotlyte: When did you realize you could — and wanted! — to pursue a career as a makeup artist?
SL: I studied art, practiced makeup looks from magazines, and eventually assisted a makeup artist on local film in Santa Cruz — and felt like I was ready to get a job in cosmetics. I started working for MAC® Cosmetics in Nordstrom and eventually moved up to working in a MAC® store. I was lucky to learn from some of the best trainers at MAC. I would never trade that experience for anything because it is important to learn how to adapt quickly in a retail environment and to work with others in a such creative space. You really learn how to do makeup when you are working on so many different people every day.
Spotlyte: How did you start working with Stila, and what has your career at the brand been like?
SL: I went to Stanford and worked as the counter manager for Stila at Nordstrom in Palo Alto. I loved it and I was really good at selling through my artistry, so I got noticed and quickly promoted to work with Jeanine Lobell, the founder of Stila.
I was always a Stila girl from the start. I used to wear sheer lipstick on my cheeks as cream blush. I fell in love with the products and the clever packaging and knew I had to work with them. Jeanine Lobell taught me how to do beautiful makeup. She taught me timeless classic skills that I still use today, on everyone. I'm so grateful to her for taking an interest in me, believing in me, and teaching me.
I still see Jeanine when she comes to LA for shoots and I always assist her if it works out with schedules. I love to learn from other artists. It fuels my creative passion and allows me to bring new tips and tricks to my Stila team.
Spotlyte: What are some of your favorite makeup tricks, especially those you might use on your celebrity clients?
SL: I love a sultry smoky eye, and I often use browns and deep burgundy instead of black. Black or gray tends to look artificial, takes away from the shape of the eye, and overpowers with pigment. Warmer browns and burgundy give the depth and structure to eyes that make them stand out on the red carpet, on TV, in shoots, or in paparazzi pictures. My goal is to make all of my clients look and feel beautiful. I always want them to love their look and feel super comfortable.
Spotlyte: What products do you personally swear by to create a flawless canvas for makeup?
SL: I love the Algenist GENIUS Liquid CollagenTM and the new Liquid Collagen Lip. The face serum glides on and gives a slight glow to your complexion as it works its magic. And the new Liquid Collagen Lip is divine — it has the slightest hint of a tingle as it works to smooth and fill your lips. The GENIUS Liquid Collagen has the perfect formula for creating a base for makeup. For that, I love Stila Stay All Day® Foundation and Concealer. I use it on everyone with a beautyblender®. That texture and formula of foundation is the best I have ever used.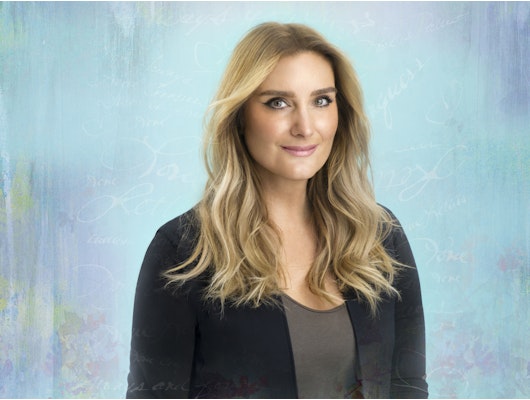 Courtesy / Sarah Lucero
Spotlyte: What are beauty products are staples in your own routine?
SL: I use [Frederic Malle] Portrait of a Lady perfume every day. I [also] use Dr. Barbara Sturm x Monika Blunder Anti-Aging Primer every day — I'm totally obsessed with that product. I love the Georgia Louise Lift + Sculpt Rose Quartz Butterfly stone and use it every day to de-puff and do a mini facial massage on myself in the mornings. Stila HUGETM Extreme Lash Mascara is my favorite mascara and I never leave the house without three coats on my lashes — it gives the appearance of fake lashes without the hassle!
Spotlyte: What is your beauty philosophy?
SL: I believe beauty shines the brightest from the inside. When I'm happy, relaxed, and not in a rush is when I feel best about myself. Confidence is key. As I get older, I love working out for my health and doing yoga, hiking, and allowing myself time to be creative. I find that I look the best and feel beautiful when I'm being creative, or getting lost in a beauty art project. I love my job and feel so lucky to be a part of Stila.
Spotlyte: You are a breast cancer survivor — did your passion for beauty play any part in your recovery?
SL: Yes! I learned so much through my cancer journey. I remember thinking to myself, "I know every trick in the beauty book, so I'm going to look good every day, and wear false lashes and fake it so people won't know I've lost my hair, my brows and lashes." Well, things are not that easy. I learned really fast that all my "tricks in the book" were not working at all! Lashes and glue slide right off lids. Brow pencils and powders don't stick to skin. If they do, the moment you have a hot chemo flash, you wipe off your brows or one eyebrow by accident.
It was hard for me to go through, but I was able to stay positive and have an optimistic outlook. I really lived in the moment and didn't waste time or energy worrying about things out of my control. I was lucky to test out a waterproof, natural-looking brow pen Stila was developing at the time. I wore it every day and it stayed on perfectly. Everyone asked me "why didn't you lose your eyebrows?" I did lose all my eyebrows — but Stay All Day® Waterproof Brow Color was my secret, and it is still my favorite product Stila makes to this day. I love showing it to women who struggle with brows or have lost their brows from chemo.
Spotlyte: What advice do you have for women going through chemotherapy that might be struggling to feel confident or beautiful?
SL: You have to be kind to yourself. It's hard to remember to do that when you are going through cancer. Join a support group like the Foundation for Living Beauty. This organization has saved me and helped me connect with others who have gone through or are going through the cancer journey. They taught me how to do yoga for cancer, which helps heal your body and mind.
The healing process came later for me and I'm still going through it. Breast cancer took away everything that made me feel like a woman. My breasts, my hair, lashes, brows, skin tone and texture changed. Even though everything grows back and surgery builds your body back with how you want to look, it never feels the same. So, again, always remember to be kind to yourself. 
Allergan may receive commission for purchases made through links in this article.