In our series Behind the Curtain, we get the scoop on the routines, careers, and more of those working so hard behind the scenes to make celebrities look stunning.
Grace Lee is magnetic. Her jovial disposition, perfectly tousled hair, and luminous skin aren't what you'd expect from someone who has been clocking minimal hours of sleep and traveling non-stop for work. Never mind the fact that the Maybelline® Global Makeup Artist, Canada, has been responsible for some of the most high-pressure fashion shows over the past week.
On becoming one of the most successful makeup artists in the game
For someone who counts Gigi Hadid, Adriana Lima, and Josephine Skriver as regular clients, it's surprising that Lee didn't always dream of becoming a makeup artist. In fact, her career path could be construed as somewhat of an accident. It wasn't until college — when she took an initially casual side job at MAC® Cosmetics — that she realized she wanted to pursue makeup artistry as a career.  
"My parents weren't so happy [about my decision]," she shares. Instead, they urged her to pursue law or medicine, writing off her interest in makeup as a phase. After 23 years, countless fashion shows, and a handful of television appearances, they've come to accept — and take pride in — her choice.
On looking and feeling youthful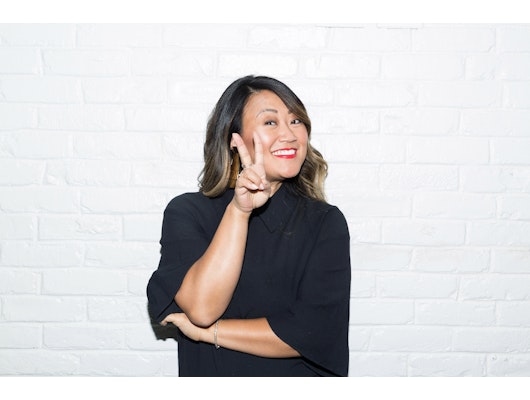 Kelsey Ann Rose
If you were to guess Lee's age, you'd probably be about a decade off. "I'm 43," she shares, without the slightest hesitation. "Most of these models [that I work with], I could legitimately be their mother!" she laughs. While it's true (plus, she actually is a mom!) Lee's style has the air of a cool, Soho-dwelling millennial. "I think the industry keeps me young," she shares; "when I'm 50, I'm still gonna wear like Air Jordans® and KITH®." 
As for her virtually wrinkle-free skin: "good Asian genes," she says, "or maybe it's Maybelline!" But she may be on to something regarding genes and her luminous complexion: her mother is a skincare aficionado. "She doesn't wear makeup, but she always took very good care of her skin," she explains. "Korean women have always been obsessed with skin." Lee's own skincare routine consists of classics: SkinCeuticals® CE Ferulic® ($166) and La Roche-Posay® Toleriane Hydrating Gentle Cleanser ($13).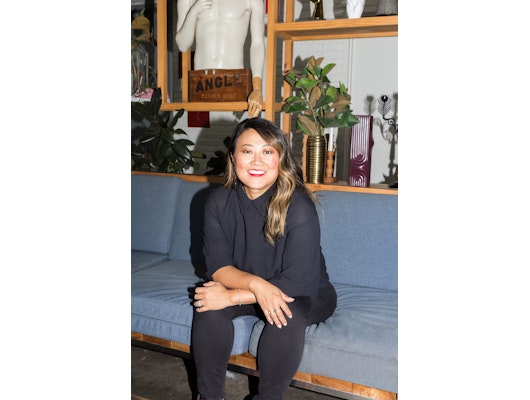 Kelsey Ann Rose
On Asian representation in beauty
As a woman of South Korean descent, Lee is acutely aware of the need for more Asian representation in beauty. In her estimation, beauty standards are becoming broader, thanks to inclusive cosmetics brands like Maybelline, blockbuster hits like Crazy Rich Asians, and beauty and fashion icons like Michelle Lee and Eva Chen.   
That said, she does have a particular hang-up. "This — what do you call it?" she says, gesturing to the space between her perfectly-arched brows. Lee is referring to the elevens, which she only has on one side: "It's a one!" she jokes. "I always notice it when I see myself on TV." Injectable wrinkle reducers — which can temporarily soften said furrows — are not totally out of the question. "Some of my friends have had it; [and it works]," she shares, "[but] I'm [still] on the fence." For now, the 43-year-old is leaning towards getting swoopy bangs.
[Editor's note: Injectable wrinkle reducers are a temporary treatment used to smooth the appearance of moderate to severe wrinkles in certain areas of the face. Like any medical treatment, there are potential risks and side effects, so consult a licensed provider to see what's best for you. Have more questions? Chat with a trained aesthetic specialist now.]
On her career highlights
"This [fashion] week has been the most insane week I've ever had — hands down," she says. That is certainly saying something for a woman who did makeup at the 1994 Olympics in Greece and landed a gig as a Global Makeup Artist for one of the most iconic beauty brands to date.  
"I keyed [was the lead makeup artist] the KITH show [with 122 models]." she shares. Among the 122 were Bella Hadid and Hailey Baldwin. At one point backstage, Grace recalls working on both models simultaneously — with two different makeup looks. "It was pretty intense!" she shares. Plus, the show itself was melodramatic in the best way possible. "They have like cloaks on, and then Bella Hadid opens the gates and walks out," she recalls. "I cried at the rehearsal. It was overwhelming. I think that one will go down in the books forever."
Despite her hectic schedule, Lee credits over two decades of experience and motherhood as reasons she's able to keep calm. When things get tough, she reminds herself to be grateful. Plus, she says, "how bad can it be when I'm doing Josephine Skriver's makeup?"
On advice for burgeoning artists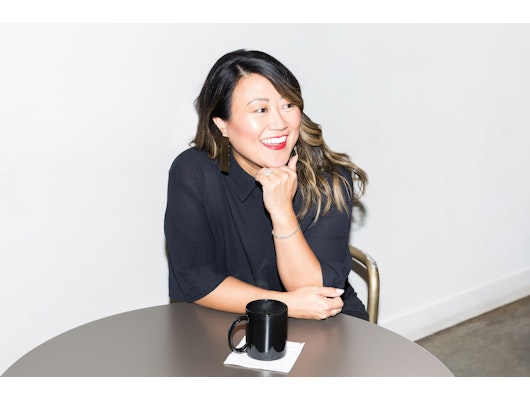 Kelsey Ann Rose
"It's not gonna happen overnight," she asserts. "I've been doing this for 23 years and I'm still going!" For someone starting out, she advises taking a backseat on set to listen and absorb. If you can swing it, work for free. Most importantly, be nice. "You just never know," she says, "a janitor could be an aspiring makeup artist, and then that person's gonna be your boss one day." Not to mention, everything is easier when you're nice. It might just be why she's able to key 40 shows in a single week and remain positive, fun, and vibrant through it all.  
 Allergan may receive commission for purchases made through links in this article.