You probably think you look better with a tan, don't you? For most people, having a tan is a sign of health, youth and sexiness. A golden glow to your skin creates an almost real-life Photoshopping effect, and can diminish the appearance of redness, stress, fatigue and conditions like eczema or varicose veins. All of those benefits sound very attractive — so it doesn't surprise us that studies have actually proven that people with a tan are generally found more attractive by others. There's a reason for that.
"A tan enhances your skin tone," says James Read, celebrity tanner and creator of James Read Tan. "It gives you a radiance and makes you look like you lost weight. When you've got a tan, you naturally feel healthier and more confident." However, the health risks and long-term effects of sun damage have also been well documented, making it essential to rely on faux alternatives — such as self tanner — to get that sunny complexion easily and healthily.
Self tanners (which usually come in the form of lotions, liquids, and foams) use a chemical called dihydroxyacetone (DHA) which reacts to the dead cells on the surface of your skin. It then temporarily darkens them, giving you the appearance of a tan. The chemical reaction requires no sun exposure to work and can last for up to a week. (Learn more about self tanners here — and shop a few of our favorites.)
But as commonplace as DHA-infused formulas are, it's rare for the majority of men consider sunless tanning as an option. It could be the fact that most of these products are marketed toward women, but it's more likely to be a general lack of knowledge on the subject. We're here to tell you that the use of faux glow formulas — especially via spray tans — is more common among guys than the average man would believe, and it's a wonderful, safe option for any man who wants that extra kick of confidence.
Spray tans are particularly appealing because of their speed (they rarely take longer than 15 minutes), their convenience, and ability do it year-round. With only minor planning, you can get the full effect of a traditional tan with minimal effort. That minimal effort is what makes sunless tanning ideal for men, especially when it comes to events. "Men will do it for weddings, for holidays, for photo shoots and red carpets, but famous or non-famous [men], it is usually around something that they feel the need to look good for," says Jules Von Hep, celebrity spray tanner and founder of Isle of Paradise. He says that twenty percent of his private clients are men.
Dan Hyman, a journalist who lives in Chicago, got his first spray tan before his wedding at his then-fiancée's suggestion. "I have always been fair skinned, and so getting tanned was something I yearned for naturally," says Dan. "I don't know if I would've taken the leap to do [a spray tan] myself if she hadn't encouraged me."
Knowing it would make a difference in the pictures, Matt* (not his real name), who works in finance in NYC, also got his first spray tan for his wedding. "If it was going to give me a sharper appearance, I was willing to give it a shot," he says. "I told them I wanted a slight tint — [afterward,] I didn't necessarily see a major change in my color, but I felt like it was subtle enough that it gave me a little extra confidence."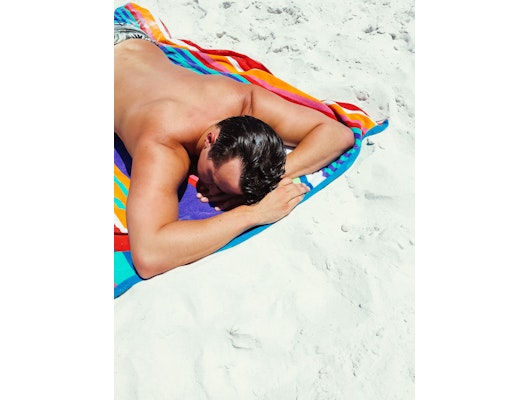 Stocksy United / Taylor Kampa
Looking good in pictures is what most of us want at the end of the day, and while wearing makeup is the norm for those used to being on film, most men don't use it very often (if at all). "I like being able to slightly adjust my skin tone if I want to look a little bit more glowy," says Ian Michael Crumm, a NYC-based influencer who blogs frequently about male makeup. "Getting a spray tan allows me to feel confident without makeup." It's the same reason many of St. Tropez skin-finisher Sophie Evans's celebrity clients, like Hugh Jackman and Michael Buble, come to her for regular spray tanning. If they're bronzed, they require less makeup while on stage or during appearances.
If you've decided to get a spray tan, it's best to get one from a professional first, rather than DIYing it. Sure, there are at-home products you can use, but you really can't beat a spray from a pair of experienced hands. A professional spray tanner is usually adept at creating a natural-looking, even glow, which can be difficult to recreate yourself. Pros can even use different shades to "contour" your body by subtly highlighting assets and camouflaging flaws. But don't look at spray tans as a replacement for hard work at the gym: "If you're not toned, you can only do so much," says Evans. "It's a tan, not a miracle."
There are also differences between bronzing a man versus a woman which a seasoned professional will be able to address. The biggest one: body hair. Since men typically have more body hair than women, it can be tricky to get the formula onto the skin without it getting caught on the hair. "It's not necessarily the format of the product, it's more the application," says Von Hep. "When I'm spray tanning a guy, I start at the ankles and work my way up against the grain of the hair follicles so that it pushes through." Similarly, Read's technique is to lightly layer the product and then buff off the excess. "You build it up in fine layers," he says. "Then I flick over the hairs with a cloth to remove any excess."
Sunless tanning, professional or not, does require a bit of advanced planning to ensure a perfect finish. Exfoliation and moisturizing are key if you want to prevent streaks and patches. For men, specifically, "it's important to put Vaseline or any oil-based ointment on the fingernails because men don't wear polish," says Von Hep. That oil will form a barrier that prevents the tanning solution from penetrating the nail and discoloring it (a tell-tale sign you got a spray). Another of his tips for men, — who tend to have oilier skin and bigger pores than women — is to cleanse your face using a gel cleanser and then wash off with cold water. That will help close the pores and prevent self tanner from building up within them. (Learn more about shrinking your pores here.)
Evans also advises to come with clean, freshly scrubbed skin free of fragrances or aftershave and if you're wearing deodorant, take it off before your appointment. (After all, you don't want your deodorant to block the tanner, leaving pale blotches on your armpits!) She also advises to wear loose-fitting, dark-colored clothing to minimize any rub-off on your clothes.
The act of getting a spray tan is awkward, but not uncomfortable. Typically, you stand in a tent-like contraption, in the buff or wearing underwear, while a person uses what is essentially a paint sprayer to shellac you with tanning solution. It's a strange position to be in, but as I personally found out recently, the awkwardness of the situation is fleeting and the whole process takes only about 10 minutes. "It is cold," says Matt of the spray, "but it's not a big production at all."
The process doesn't end after you leave the tanner's booth, though. The solution has to stay on your skin for at least eight hours to take full effect, so you can't shower or get wet until that time has passed. This idea can pose a problem for some guys. Sam* (not his real name), who works in finance in NYC, and also got his first spray tan for a wedding, was uncomfortable with the feeling. "I didn't like how it felt," he says. "I'm very big into hygiene, so I have to shower before I go to sleep. It was uncomfortable for me to get in bed feeling sticky, like I had chemicals on my skin."
Once the solution has been washed off, the key to preserving your new color is to moisturize. A lot. "Men sometimes have very dry skin, so use a body butter that's thicker than a regular lotion," says Von Hep. The enemy of any tan (sunless or traditional) is dehydration — it causes flaking and patchiness. "Moisturize daily," adds Read. He also advises using after-sun products — even on a faux glow. "They are good at making your tan last longer because they're designed for real tans."
And, if you're getting a spray tan before a vacation (like I did), don't confuse the look with the real thing. "This is not a base tan," warns Evans. "The regular rules of sun protection still apply. Use a spray SPF, not a lotion, since the lotion can rub off the tan." Read also suggests using "a waterproof, oil-free SPF which will protect you from the sun but will also stop the sea salt and chlorine from removing your self-tanner."
Upkeep aside, convenience is really what makes a spray tan ideal for guys. It takes away much of the time commitment (and health risks) of getting and maintaining an even glow. "If there was a situation where it was very convenient and there was an event that I'd want it for, then I absolutely would do it again," says Matt. But remember, just as you wouldn't cheap out on a haircut, don't be thrifty when seeking out a spray tan.
"If you get a cheap spray tan, it can look bad," says Dan. "If you're gonna go for it, you might as well spend a little extra money to get something you have a better chance of being satisfied with." After all, your glow might not last forever, but those pictures sure will.
Allergan may receive commission for purchases made through links in this article.
Products may have been gifted to the author for the purpose of writing this article.