Dr. Sheila Nazarian is unapologetically an influencer. With legs long enough to be a runway model; smooth, glowing skin; and glossy brunette waves, it's easy to see why 183k people (and counting!) follow the glamorous board-certified plastic surgeon on Instagram. But it's not just her own beauty that makes Dr. Nazarian a social media star — it's by far, her brains. She offers authentic advice, a front-row seat into her thriving Beverly Hills private practice, and a peek into her family life (she's married to neurosurgeon, Dr. Fardad Mobin, and has three children!).
After asking her opinion about what I should be doing to my face, her recommendations were thoughtful, direct, and authoritative. You'd want to trust your face in her well-manicured hands. In fact, she even has her own hashtag.
Here, we got a closer look at which products she actually uses, how to grow a successful brand, and which treatments she receives herself. Keep reading!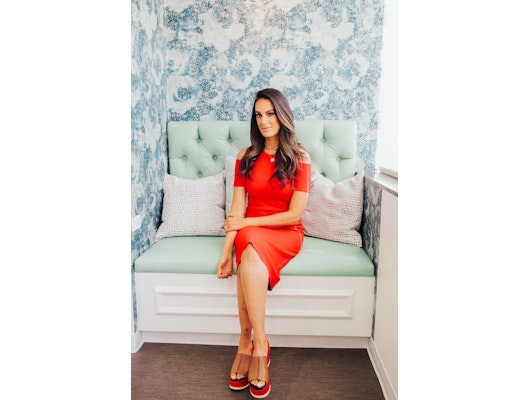 Emily Malan
Spotlyte: What made you want to become a plastic surgeon?
Dr. Sheila Nazarian: I knew that I wanted to do something technical, artistic, and use my hands.  I fell in love with woodshop in elementary school and originally wanted to become an architect or an orthopedic surgeon. Pretty quickly, I realized that I didn't want to be in an office just drawing.  I wanted to build with my hands. So architecture was out. I then started shadowing an orthopedic joint surgeon for six months and wanted a more artistic career. A friend recommended I meet with a plastic surgeon friend of his and when I did, I was done. I never looked back.
Spotlyte: What's your advice to anyone who wants to get into this business?
SN: The best piece of advice I have for people starting any business is to start with the bare minimum and scale as needed. Overhead kills.
Spotlyte: What about growing a social media presence? You're so active on Instagram!
SN: The number one piece of advice that I have with social media is to just get the content out there! People become paralyzed as to what they should post and never start.
Spotlyte: Weirdest part of your job?  
SN: I have out-of-body moments sometimes when I am operating — who am I and why is this person paying me to cut them while they sleep? It's all weird.
Spotlyte: Most rewarding part of your job?
SN: Giving people their confidence back is the best.
Spotlyte: Your skin is gorgeous. What products do you put on your face every day?
SN: I like to switch up the brands that I use. It's like switching out your shampoo every once in a while, and getting that soft hair back. Same with skincare products. I find that when I change it up every few weeks, I have a glow all the time.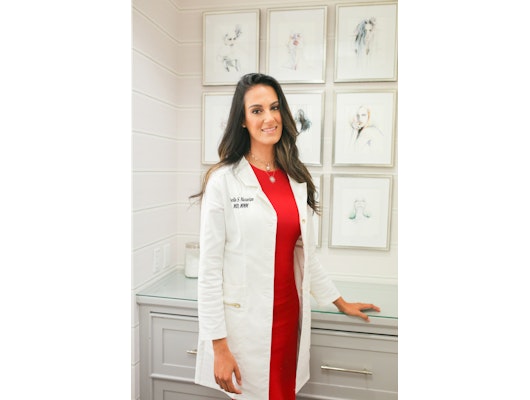 Emily Malan
I also use the following:
Sunscreen: Alastin© Hydratint (more moisturizing) and Nazarian Skincare© Protect (more matte and sheer)
Fun Accessory: Bluestone Sun Shield (anytime I am in the sun for prolonged periods of time and makes for a fun Instagram selfie)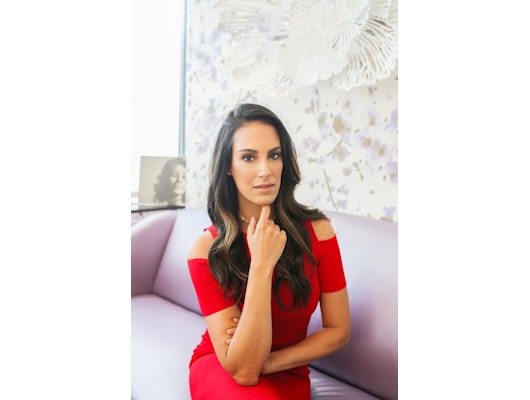 Emily Malan
Spotlyte: What about injectable wrinkle reducers? We know you administer this treatment — that temporarily smooths the appearance of moderate to severe lines on the forehead and crow's feet — but do you get them yourself?
SN: I started getting injectable wrinkle reducers when I was 28 years old. I get my crow's feet, elevens, and forehead done now. I wanted to see what it was like as a patient, so I could better explain what they could expect.
[Editor's note: Injectable wrinkle reducers are a temporary medical treatment for moderate to severe wrinkles on certain parts of the face with risks and potential side effects. Please speak with a licensed provider before consultation.]
Spotlyte: Do you get injectable filler? [Editor's note: Filler is a treatment that adds volume to place on the face such as cheeks and lips. As with any treatment, talk to a licensed provider about the side effects.]
SN: I also started getting filler at the age of 28. I started with it in my cheeks.
Spotlyte: What are common misconceptions about injectables? What is the truth?
SN: The most common misconception is that it is going to make you look fake. My patients trust me to make them look like themselves.
Spotlyte: What other treatments do you get done (laser, facials, etc)?
SN: For my skin type, I like the DiamondGlowTM and Vivace® [microneedling] treatment monthly and Picofocus laser quarterly. DiamondGlowTM cleans out my pores and gives me exfoliation. Vivace tightens, builds collagen, and shrinks my pores. Picosure® safely keeps my sun spots at a minimum. All of these treatments have no downtime, so I don't scare my patients.
Spotlyte: If you weren't a surgeon, what would you do?  
SN: If I weren't a surgeon, I would either be in marketing or a furniture designer. I love being creative and focused on design!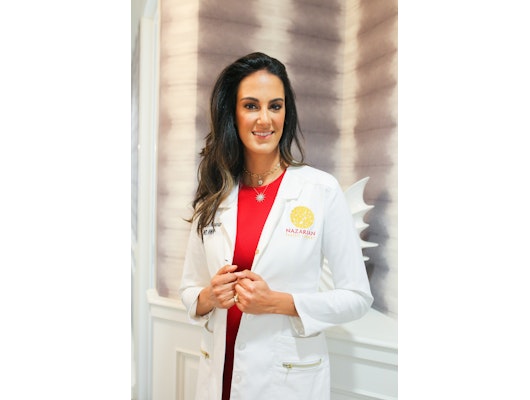 Emily Malan
SkinMedica® is an Allergan owned product.
Dr. Sheila Nazarian is a paid Allergan consultant.
DiamondGlowTM is an Allergan®-owned treatment.
DiamondGlowTM Important Safety Information
Indication and Use
The DiamondGlowTM device is indicated for general dermabrasion of the skin and also delivers topical cosmetic serums onto the skin.
Important Safety Information
DiamondGlowTM is contraindicated in patients who are pregnant or lactating, have compromised skin quality including but not limited to, sunburned, chapped, irritated or broken skin, open wounds, active, weeping acne, cold sores, or herpetic ulcers. Ask your patient about any medical conditions, including allergies, and usage of topical medication on the area to be treated.
Typical side effects include a scratchy, stinging sensation during the treatment and temporary tightness, redness or slight swelling after the treatment. Rare serious side effects may also occur and include severe skin irritation and allergic reactions. Cease use of the device immediately if any of these serious side effects are observed.
Patients should be advised to use a sunscreen with a sun protection factor of 30 or higher following treatment.
Consult the DiamondGlowTM User Manual for a complete list of Contraindications, Warnings, Precautions, and potential side effects.
Pro‐Infusion Serums Disclaimer
The Pro‐Infusion Serums are intended to meet the FDA's definition of a cosmetic product, an article applied to the human body to cleanse, beautify, promote attractiveness, and alter appearances. These products are not intended to be drugs that diagnose, treat, cure, or prevent any disease or condition. These products have not been approved by the FDA and the statements have not been evaluated by the FDA.