In The Path, we spotlight different women making a difference in the fashion, beauty, wellness, medical aesthetics, and more industries. Here, FOX BusinessSM Network anchor Trish Regan shares her road to success.
When you spend a lot of your career interviewing inspirational people, you find that the most impressive individuals rarely follow a traditional path. Forget the road less traveled — some of these people are the first to stomp out trails that have never been navigated before. One such trailblazer is Trish Regan. Though she is now the anchor of Trish Regan Primetime on FOX Business Network (weeknights, 8 p.m. Eastern), she wasn't always on track to be a business journalist.
In fact, she was originally planning to become a professional opera singer. But after years of studying and rehearsing, singing no longer engaged her as it once did, and she regrouped, transferring from the prestigious New England Conservatory of Music to Ivy Columbia University. There, she studied history and economics, and took a Goldman Sachs internship (which she tried professionally for a little while and liked it, but didn't love it) and finally, a network news internship, where she found her calling.
"I love that my background is so unusual because it's given me a different perspective on the world and the stories I cover," Regan says. "In my job today, I need to react in real time to live news events, I need to think clearly, and I need to always stay calm under pressure while leading a team of talented journalists — these are skills that both music and finance helped teach me."
Though she may not have originally intended to be a journalist, she's had a pretty stellar career so far. Regan has covered natural disasters, investigated terrorist financing, written and hosted award-winning documentaries, and been an economic columnist as well as anchored Presidential debates and election night coverage (whew!).
Turns out, journalism was in her blood all along. Regan's mother was a freelance reporter for The Boston Globe and, as the family couldn't afford childcare, often took Regan to work with her. The FBN anchor not only gleaned a passion for storytelling from this, but for women's equality. She works tirelessly behind the scenes at FBN to help mentor her female employees on everything from career and work-life balance to succeeding at home, too.
Keep reading to get some of that career advice — straight from the source — as well as beauty tips, skincare guidance, and more.
Spotlyte: If you could sum up in a single sentence the most valuable piece of career advice anyone has given you, what would it be?
Trish Regan: Love what you do. If you are passionate about what you do, you will be successful — but, you really have to love it. You can't just be going through the motions, you need to be all in.
Spotlyte: What has been the proudest moment of your career so far?
TR: The 2016 FOX Business Network presidential debate. I was half of the very first all-female team to moderate a Presidential debate. My colleague, Sandra Smith, and I had a lot of fun prepping for those debates; we'd meet weekly, talk through each other's questions, share research . . . and we'd even swap tips on how to best get our kids to go to sleep at night!
I don't think either of us realized it, nor gave it much thought at the time, but the reality is: we were the first two women to moderate a U.S. Presidential debate. Plenty of all-male teams had done it, but never all-female. Now, nearly three years later — I look back and think, that was really pretty awesome! I'm so proud.
Spotlyte: We hear you're a fierce advocate for women's equality!
TR: I am. I've actually always been focused on the equality of women from the time I was a young kid. In the fifth grade, they separated the boys and girls in gym class and sent us girls off to a tiny, windowless, tiled floor gym in the basement . . . while the boys played sports in the magnificent, windowed wood-floored gym on the top floor, complete with a scoreboard and bleachers! Can you imagine? I rallied my few troops — a couple friends, my music teacher, and my mom. I convinced my mother to run for the school board to get the situation fixed. She won and, well, let's just say that was the end of gender-segregated gyms.
Spotlyte: How do you help champion women's rights at work?
TR: At work, I am fortunate to have an incredible, super smart, highly motivated, (nearly) all-female team. I believe strongly that women need to look out for one another. We need to support and promote each other. The women on my team know how much I value each one of them and that I understand how difficult the balance between work and family is — especially for young parents.
Many women struggle with wanting to succeed at work and wanting to succeed with our families. I make it very clear that I get that — and that I'll take a confident, happy, well-adjusted person in the seat any day over someone who is too stressed to see the forest for the trees. I encourage women in our company to come talk to me when they're seeking direction, motivation or if they're overwhelmed — my door is always open because I want the women at FOX to know they have an advocate, a supporter, and someone who understands the challenges we all face.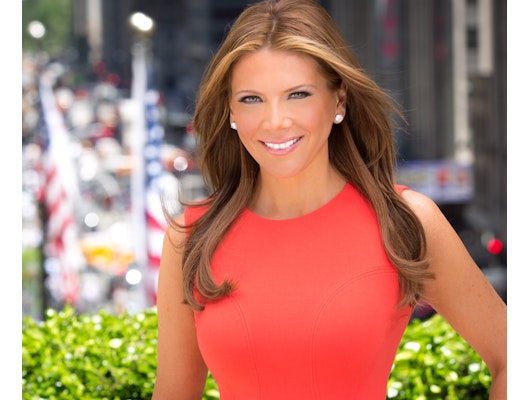 Courtesy of Fox News
Spotlyte: Like your mother did when you were young, you bring your children to work with you to get a look at what you do. Why do you think this is so important?
TR: I do! And, I love doing this. And, my kids love it! I realize I'm pretty lucky to work for a company that's okay with an 8-year-old or 6-year-old watching from the side of the set — not everyone is so fortunate. But, I think it's extremely important to provide children with a window into our work lives.
Spotlyte: Why do you think this is so important?
TR: Think about it like this: a child doesn't understand why mommy is at work — all the child knows is that mommy is away . . . at work. So, work, in a child's head, becomes something that is mysterious, unknown — something that is pulling the most precious person in the world away from them. It's scary. So, by taking one's child into the office on occasion, a mother (or father) is able to take some of the mystery out of work. My children feel more secure knowing where I am and what I'm doing. It's a real positive.
My own mother was a journalist and occasionally would take me out on stories with her. I probably do what I do today because of those early opportunities. Being a reporter was normalized for me because I saw how it was done by my mom herself. And her work never scared me — I never resented it. I knew this is what she loved and what she was good at. I want my children to have that same appreciation for work.
Spotlyte: How do you make clear boundaries between your work and personal life?
TR: This is not easy. Sometimes I wish cell phones didn't exist! On weekends, if the news cycle isn't too crazy, I try to put down my phone and only check it on occasion. I recently got an Apple watch and that's helped me quite a bit. This way, if someone really needs me, I'm available — but don't feel the pressure to constantly check my phone.
Spotlyte: You're incredibly busy at work and at home — when you only have a few spare comments for self-care, what you do?
TR: Yoga practice. It's great for one's mind and body. I've really gotten into it. I'm convinced it's the best thing you can do for yourself.
Spotlyte: What does your on-air beauty routine look like these days? Off air?
TR: I spend about an hour total in hair and makeup every day. For on-air, my hair is blown out. I do not like hairspray because it strikes me as old fashioned and stiff looking — I love it when my hair moves. But, I do use a texturizing spray to help with volume. Off-air, I wear a light foundation and lip gloss.
Spotlyte: Is there a beauty product that you use as a confidence booster?
TR: I wear MAC® Cosmetics lip glosses both on air and off. In fact, if there were only one makeup product I could wear, it would be lip gloss!
Spotlyte: Are there any beauty products or tips you've learned being an anchor?
TR: [Using false] eyelashes — they are feminine and bring out your eyes. I never want too much eye makeup because it's overpowering. So, lashes are a great crutch. They help to emphasize the eyes without being too over the top. If you apply lashes or even just use some great mascara, you can achieve that look.
Spotlyte: Do you have any favorite places to get facials? You have great skin!
TR: This may sound strange, but I actually never get facials! I don't have the patience. Instead, I use a low-grade glycolic exfoliator once or twice a week. It's works great.
Spotlyte: Do you have an anti-aging or skincare philosophy? If so, what is it?
TR: Sunscreen. I'm religious about it. I wear a thin layer of SPF Broad Spectrum 55 every day on my face under my makeup. I love some of the products made by Supergoop!® for off-air, because they all come with built-in SPF. I'm also a big fan of hats in the summer.
Spotlyte: Any products you swear by for your skin? If so, what are they?
TR: On-air, I use the Make Up For Ever® foundation line on my face. I like softer, blended makeup and prefer a natural, less "done" look. Off-air, Maybelline makes a foundation line called Age Rewind ($11). It's quite good, very moisturizing, and has a sunscreen built in. I also positively love the Beauty RX® Soothing Moisture Cream ($60) — it's super hydrating but not oily at all.
Spotlyte: When do you feel your most beautiful? Why?
TR: That's easy. On Saturday morning, when I'm snuggling with my babies and have no makeup on — or on Saturday night, when I head out to dinner with my husband and am all dressed up. My family gives me so much confidence, and when I'm confident, I feel beautiful. Confidence is truly the sexiest, most magnetic and most beautiful quality in a woman.
Spotlyte: If your children retain only one big piece of advice from you — what would you want it to be?
TR: Put your family first. If you can get that right, everything else will fall into place. My husband, my children, my sister and my parents — they are the constants in my life.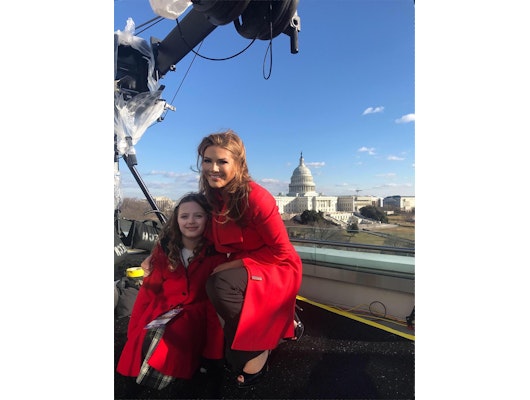 Courtesy of Fox News