There's something about a reunion that brings out the self-conscious high schooler in all of us. And while none of us should expect to — or even want to! — look like we just graduated, we all want to feel confident in the skin we're in.
So, with the help of dermatologists, we've designed a skin-prep plan to help your complexion look smooth, plumped, and practically poreless in three months' time. (Of course, this beauty blueprint works for any big event: a wedding, a college reunion, your 40th birthday party…your 50th birthday party…your…well, you get the idea.) Let's get this party started!
Three Months Before
"If you don't have one already, start a good skincare routine right away," says David E. Bank, MD, founder of The Center for Dermatology, Cosmetic & Laser Surgery in Mt. Kisco, NY. "A good regimen is the foundation of everything else." It doesn't have to be elaborate; just incorporate the basics of age-defying skincare. That would include:
1. A cleanser for your skin type (Bank likes CetaphilTM Gentle Skin Cleanser, $9.49, and CetaphilTM Pro Oil Removing Foam Wash, $9.79).
2. Retinol, which Bank — and every other derm we know — calls "the gold standard" for skin rejuvenation. This includes everything from exfoliation and skin renewal to fading the appearance of brown spots, and evening out skin tone. However (and we say this with a big, flashing warning sign), retinol can be irritating at first. You want to ease into retinol, which is why we've suggested starting using it three months before. While the payoff is great, you'll likely have some sensitivity at the beginning in the way of red, flaky, pissed-off skin.
Bank likes SkinMedica® Retinol Complex because it comes in three different strengths (0.25, $62; 0.5, $78; and 1.0, $93), allowing your skin to gradually adjust to retinol. Or, you can mix any retinol product with a moisturizer or serum — this will help buffer the irritating effects. Trust us when we say that all this effort to integrate retinol into your routine will be totally worth it.
[Editor's note: Retinol shouldn't be used by those who are pregnant or considering getting pregnant. Please consult with your doctor before use.]
3. Sunscreen, which, when worn daily, protects your skin from most environmental aging. The most coveted SPF in his office is EltaMD® UV Clear Broad-Spectrum SPF 46 ($33), a micronized zinc oxide that doesn't give you that white, masky look of other physical blocks.
4. A topical antioxidant, for additional environmental protection. When used along with sunscreen, explains Bank, "it's like a game of doubles tennis: Whatever gets through the net player (sunscreen) can be squelched by the back court (antioxidants)."
Bank likes SkinMedica® TNS Essential Serum® ($281), which, along with antioxidants, contains growth factors for skin rejuvenation. "If you did nothing else but this skincare routine, in three months your skin would look more bright, clear, even, and glowing," says Bank.
"Three months out is also when you should think about laser treatments," says Josh Zeichner, MD, the director of cosmetic and clinical research in dermatology at the Mount Sinai Hospital in New York City."You'll want the downtime so your skin will be fully healed before the big event."
His workhorse laser: Fraxel®, which works by punching microscopic holes in the skin, and allowing the skin to build new collagen as it heals. This will help improve the look of lines and wrinkles, dark spots, and surface scarring.
Downtime (during which your face can puff up like a Cabbage Patch Kid) is about five days, "but it takes several weeks for the skin to fully heal and get its maximal benefit," says Zeichner. "Plus, some people have facial rosiness that persists for several weeks after the laser, so advance planning is key."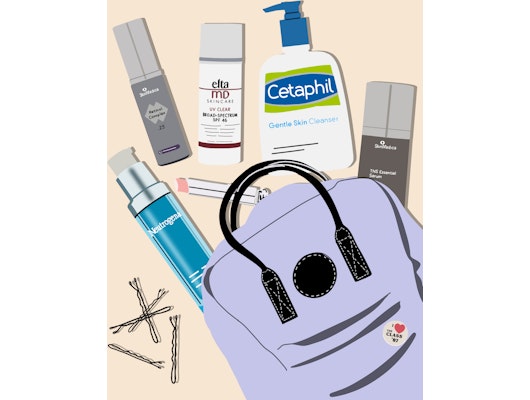 Lauren Johnstone / The Covet Co 
Two Months Before
Whether or not you choose to laser, you'll want to do at least two in-office skin peels, one month apart. Don't expect miracles, says Bank, but "'lunchtime' or 'no downtime' peels can help with some of the issues on your complaint list, like blocked pores, melasma, and dullness. "Let your doctor decide which peel's right for you. Pro peel-maker Glytone® has oodles of options, including an anti-aging peel for hands — because they are prone to sun damage and spots, too!
One and a Half Months Before
Injectable wrinkle reducers and/or fillers are your not-so-secret treatments for your big event. (Injectable wrinkle reducers are used to temporarily improve the look of moderate to severe furrows, frown lines and crow's feet, and fillers treat volume loss in the cheeks, around the mouth and lips, and deep wrinkles in the lower half of your face.) "Injectable wrinkle reducers can take up to two weeks to kick in," says Bank. (Read about this writer's experience with injectable wrinkle reducers here.)
The injection of fillers can cause slight swelling or bruising, so you don't want to do them too close to your event, explains Zeichner. Fillers can also have a bit of a "settling in" period, says Bank, a few weeks when the hyaluronic acid in the filler formula is pulling in more water to the area injection, so you want to let your filler be at its peak plumpness for your event.
Want to chat about cosmetic injectables? Our trained aesthetic specialists are here to help! Get real aesthetic answers, right now from our trained aesthetic specialists!
[Editor's note: Injectable wrinkle reducers are used to temporarily smooth the look of moderate to severe wrinkles in certain areas of the face such as the forehead, frown lines, and crow's feet. They should not be used more frequently than every three months. Like any medical treatment, they have potential risks and side effects. Be sure to talk to a licensed provider to see if they're right for you. Have more questions? Chat with our team of trained aesthetics specialists now.]
One Month Before
A little more zapping may be in order. IPL, or intense pulsed light therapy, is "great for treating broken blood vessels, acne rosacea, and brown spots," says Ellen Marmur, MD, founder of Marmur Medical in NYC. (And wearing your sunscreen every day is key to keeping those spots from coming back!) Bank relies on a diode laser to target brown spots and the Vbeam Perfecta® laser to reduce redness. (To be quite honest, there are many different light technologies out there for these tasks; it's just a matter of your MD's preference.) Whichever you choose, expect a week to 10 days of recovery time before the dark spots flake off or the redness resolves.
Reminder: This is also when you'll want to go back to your injector for your filler check in.
One Week Before
We're in the home stretch! This is when lifestyle choices make a big difference. Bank suggests cutting out alcohol and added salt to reduce puffiness and getting adequate sleep: "If you're getting three hours a night in the week leading up to the event, you won't look your best no matter what else you've done."  
Last, warns Bank, no new skincare products, or you'll risk an adverse reaction. "This is not the time to finally open that box of cream your friend brought back from France, or to walk down the aisle at Bergdorf's looking for some new magic this or that," he says.
The Night Before/Morning Of
This should be your skin's moment of Zen. You've taken care of the big stuff; just "concentrate on calming and hydrating," says Zeichner. "Plump skin will better reflect light and help fill in any superficial lines." He likes NeutrogenaTM Hydro Boost Hydrating Serum ($15), with topical hyaluronic acid. Now go knock 'em dead, kid, and have your photo I.D. ready; you just might get carded.
Dr. Ellen Marmur and Dr. David E. Bank are paid Allergan consultants.
SkinMedica® is an Allergan-owned product line.
Products may have been gifted to the author for the purpose of writing this article.