In The Path, we spotlight different women making a difference in the fashion, beauty, wellness, and medical aesthetics industries. Here, Mented Cosmetics founders Amanda Johnson and KJ Miller share their roads to success.
For decades, women of color have been unable to find shades that work for them throughout the beauty aisles. Progress has been made (options for foundation and concealer have increased!), but lipsticks that actually work on deeper skin have remained elusive for far too many brown girls.
One night, after a failed three-year hunt for a lip color that wouldn't completely wash out their complexions, look chalky, or only work for a particular season, friends KJ Miller and Amanda Johnson found themselves drowning their makeup woes in wine. It was then that the Harvard Business School grads set out to change the tone — literally. That conversation over wine birthed the concept behind their now-viral brand, Mented® Cosmetics.
In this interview for Spotlyte, Miller and Johnson share their definitions of nude, what's next for the brand, and how — after only a brief year and a half in business — Mented has managed to secure itself a top spot on the must-haves list for so many women of color.
Spotlyte: How did Mented Cosmetics go from an idea to a real thing?
KJ Miller: That conversation was our "aha moment," and from there, we taught ourselves how to make lipstick and started creating shades in our apartments. We sent shades to influencers far and wide to gather feedback, and eventually found a manufacturer to help create a shelf-stable formula. We launched with very little fanfare, but the word-of-mouth excitement catapulted our sales. We love that the message that every woman deserves to find herself in the world of beauty is resonating.
Spotlyte: What were each of you doing before Mented?
KM: I was all things retail. I went from being a buyer at KmartTM, to a senior buyer with a mid-size ecommerce retailer, to a retail consultant at Deloitte (with a 2-year pit stop at Harvard Business School). I've always loved retail and consumer products, so I feel right at home with Mented.
AJ: I'm so appreciative of living in New York where I've been able to have many different careers in the same place. I started my career in investment banking at Goldman Sachs, moved to Time Inc and worked in consumer marketing, then went to Harvard Business School. After school I worked at Barneys New York on a digital biz development team before starting Mented. I love retail, luxury, and digital.
Spotlyte: How has it been becoming business owners, specifically as women of color?
KM: It's been incredible. It's been my dream to run a company for the last decade. In fact, I tried (and failed) a few times before this. It's fun, scary, exciting, stress-inducing . . . it's truly a roller coaster — and I think that would be true no matter our race — but I wouldn't trade it for anything.
AJ: I never imagined I'd become a business owner, but now that I'm doing it I can't imagine doing anything else. I love the freedom and responsibility that comes with chasing one's dream. Of course, there are challenges being a women of color in a world not designed for you, but it's been incredible facing those challenges everyday with my co-founder KJ.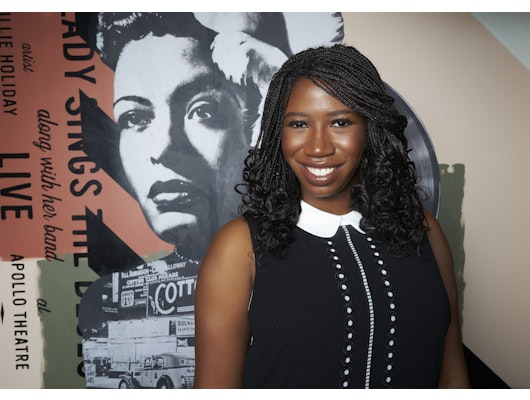 Amanda Johnson, Courtesy 
Spotlyte: How were you able to create what so many makeup brands have struggled to do for so long? And why do you think it's been such a struggle?
Amanda Johnson: Mented was formed with the idea of putting women of color at the forefront. Everything we do — from product development to marketing — is about highlighting the beauty of women of color. Traditional beauty brands have held their attention elsewhere for far too long. It's time for independent brands like Mented to make space in beauty for women everywhere so we all feel like we can truly participate.
Spotlyte: What's your definition of a nude lip?
KM: A nude lip is a shade that either perfectly matches your lip tone or skin tone, or a shade that's a perfect middle-ground of the two.
Spotlyte: Should people adjust their nudes by season?
AJ: Nude is a concept, not a color. So you can think of nude as more brown or more pink. The undertone can be pink or red or purple, etc. There are many shades of nude, and our product collection highlights them all. Based on your skin tone and definition of nude, your perfect nude can shift from season to season.
Spotlyte: What is each of your perfect nudes?
KM: Our shade Mented #5 ($17) will always be my first love — it's my perfect nude if I'm matching to my lips. Brown Bare ($17)  is my perfect nude if I'm matching to my skin tone.
AJ: My perfect nude in most seasons is Dope Taupe ($17)  which is a beautiful brown with a hint of pink. It highlights my complexion and gives me just enough color. When I want to wear a lighter brown I wear Brand Nude ($17),  and when I want to wear more color I wear Foxy Brown ($17)
Spotlyte: What's the most popular nude in the collection?
KM: Mented #5 and Dope Taupe are perpetually battling it out for number one. Funnily enough, these are the first two shades we ever created, and my and Amanda's faves.
Spotlyte: There has been a clear shift in the beauty world toward more inclusive shades. What are your thoughts on the shift, and where does Mented fit into this change?
AJ: We are so excited for the shifts that are happening in beauty towards a more inclusive industry and we hope those changes are here to stay. Unfortunately, diversity and inclusion tends to be a trend, so women of color have come to not put as much trust that these new shades will remain. However, Mented will always put women of color in the forefront. We are not a trend or a shift and we are here to stay. We will continue to offer women of color premium products and choice in the search for everyday beauty.
Spotlyte: Do you feel like there are still many voids on the inclusive beauty front that Mented can help fill?
KM: Absolutely. The reality is women of color have been neglected or sidelined for so long, that even though more brands are taking notice now, there's still a very long way to go in terms of offering the breadth and quality of options we deserve. We're excited to continue filling that void.
Spotlyte: What's next and new for Mented?
AJ: We're excited that two weeks ago we just launched our new matte lipstick and lip liner collections. The collection of shades that we're known for is now available in a matte finish and in matching lip liners. We will continue to roll out new products every season, but we'll stay tight-lipped for now. Be sure to join our email list or follow us on Instagram to stay in the know.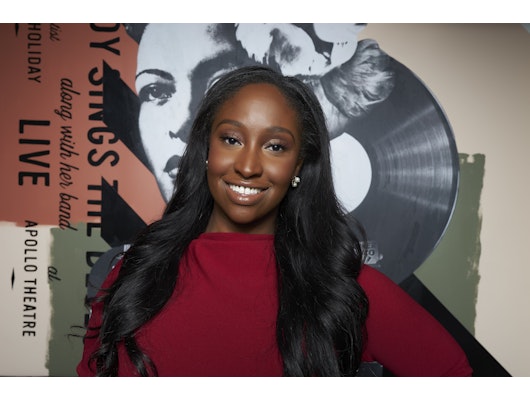 KJ Miller, Courtesy
Spotlyte: Tell us about your personal makeup routines. Aside from your lippies, what else do you use and love?
KM: I've pared back my routine recently. My everyday go-tos are a lightweight foundation. I'm using the formula we created — it's not on the market yet, because we're still tweaking, but I love it! [For] concealer, Hourglass® VanishTM Foundation Stick ($46) is my go-to right now. [Then, for] a super quick eyeshadow look — I use Redbone and Bae-ge from our Everyday Eyeshadow palette ($28), and a quick swipe of gloss — typically Mauve Over ($15) or Send Nudes ($15) from our Gloss for Grownups collection. Add a dash of mascara, who cares which one, and I'm out the door!
AJ: I love an easy everyday beauty routine. I start with our creamy foundation — sorry, you can't buy it yet, but stay tuned. Then, a quick swipe of NARS® Cosmetics concealer ($30), a peachy blush from NYX Professional Makeup®, our Tandemonium shade from our Everyday Eyeshadow Palette, and mascara from Maybelline. I finish my look with Dope Taupe lipstick.
Spotlyte: What's your day vs. night skincare routine?
KM: I went through the Korean 7-step phase, but this is another area where I've pared back a bit. In the morning, I use a medicated acne-fighting cleanser and lotion, then follow up with a pretty heavy cream (I'm currently using one from Bioessence®) and SPF. At night, I love using Fresh® Soy Cleanser ($38) and more face cream. I'm also all about nightly eye cream — doesn't really matter which brand.
AJ: Both my morning and night routine involve a cleaner with my Clarisonic® , a toner, a serum, and a moisturizer. Morning and night, I use Olehenriksen Truth ® Clean Truth® Foaming Cleanser ($30) and Belif® True Cream Aqua Bomb ($38). During the day I use witch hazel for toner, and Peter Thomas Roth vitamin C serum® ($95). At night, I use Neutrogena® Clear Pore toner ($5) and Korres® Wild Rose Brightening cream ($39).
Spotlyte: What are your don't-leave-home-without-them beauty favorites (makeup or skincare)?
KM: I don't get very oily, so my makeup usually stays put, but if I know it's going to be a long day, I'll grab my eyebrow pencil so I can touch them up if needed. I have barely-existent brows, and I'm always mortified when the thinness starts showing.
AJ: I absolutely don't travel without my entire skincare routine. A clean and healthy face is the essential of beauty. And I always have a Mented gloss or lipstick in my pocket.
Spotlyte: What's your stance on cosmetic injectables?
KM: I honestly haven't given this much thought . . . I think I'm open to it, just hasn't crossed my mind. I'm willing to consider just about anything! But I have sensitive skin, so I always do a ton of research before trying anything new.
AJ: Whatever makes you look and feel good. I haven't done it and it's not my business if you have.
Spotlyte: As industry professionals, is there a buzz among women of color about cosmetic injectables?
KM: We were at a conference recently where a WoC dermatologist was talking about injectables and other cosmetic procedures. She said it's growing a lot in our communities, which makes sense to me. Our melanin helps our skin look younger longer, but contrary to popular opinion, black does, eventually, crack.
AJ: I have friends getting injectable wrinkle reducers and other injectables. It's happening and women are talking about it.
[Editor's note: Injectable wrinkle reducers are temporary medical treatments designed to help smooth the look of moderate to severe wrinkles in certain areas of the face. There are possible side effects and risks, so talk to your licensed provider to see if these treatments are right for you.]
Spotlyte: How often do you wear sunscreen and do you think women of color understand the importance of wearing sunscreen daily?
KM: I wear SPF everyday, and I absolutely believe women of color are starting to understand how important this is. It's why sunscreens with no white cast are flying off the shelves!
AJ: I wear sunscreen everyday and I tell all of my girlfriends to do the same. When I'm wearing makeup, I use a setting spray with sunscreen in it. Don't let lack of sunscreen be your undoing.


Allergan may receive commissions for purchases made through links in this article.