It's easy to get swept up in the chaos of life. We push ourselves to the max at work, never turn down a social event, try to create a "picture perfect" world on our social feeds, and go-go-go on vacations that are meant to be a getaway from it all. The pause button is always there, ready to be pushed; but it's far more likely we'll press fast-forward or turn up the volume, instead.
There are a lot of ways you can do so, of course. You could sip cabernet near the fireplace or take an indulgent bubble bath in the sanctuary of your own bathroom. It's also a treat to let others pamper you, and there's really no place more equipped to do so than a spa. Bonus points if said spa allows you to get your massage, highlights, or facials.  
Also, some spas also offer cosmetic injectables!
---quiz start
---quiz end
There aren't many places that offer both types of services in the same space, but we found seven luxurious options around the country that fit the bill. If you happen to be nearby, take advantage.
Want to chat about cosmetic injectables? Our trained aesthetic specialists are here to help! Get real aesthetic answers, right now from our trained aesthetic specialists!

[Editor's note: Injectable wrinkle reducers temporarily smooth the look of moderate to severe wrinkles in certain areas of the face, including the forehead, frown lines, and crow's feet; they should not be used more frequently than every three months. Injectable filler is a temporary treatment that adds volume to areas of the face such as the lips, cheeks, and laugh lines. Like any medical treatment, both injectable wrinkle reducers and injectable fillers have potential risks and side effects. Talk to a licensed provider to see if they're right for you. And learn more now by chatting with a trained aesthetic specialist.]
The spa: Lorena Luca Spa & Skin Clinic in Raleigh, North Carolina
The details: The tag line at Lorena Luca Spa & Skin Clinic is "let us spoil you," and based on its spa menu you can tell that's a genuine goal. Notable services include the Elemis® Muscle Melt Massage, Touch of Frangipani® Body Wrap, and Cellular Restoration Facial, which helps improves skin texture and tone. It also offers a beauty and waxing bar, and a full range of medical aesthetics treatments, including wrinkle reducer injections, filler injections, PCA peels, microneedling, and more.
Why it's worth a visit: This spa offers a truly comprehensive range of services; and its chic, modern interiors will make you feel 100 percent pampered. We also like that they offer couples treatments and "injectable parties" for groups. So bring your bachelorette party or book your 40th birthday bash.
The spa: Solux Med Spa in Chicago, Illinois
The details: Step out of the windy city and into the urban luxe penthouse that is Chicago's Solux Med Spa. The primary focus of the spa is aesthetics, and you'll be provided a wide spectrum of treatments to choose from. Those include filler and injectable wrinkle reducers, Diamond Microdermabrasion, fat freezing, microblading, and an Age Defense Facial that utilizes potent botanical peptides and extracts.
Why it's worth a visit: Solux is a one-stop luxury shop that caters to a variety of people and needs. We love that they have a "Just for Men" menu, as well as treatment plans for brides and moms. Also, make sure to snap a picture for Instagram — you can't beat those penthouse views.
[Editor's Note: Fat freezing is a medical treatment with risks and potential side effects. Please be sure to speak to your doctor prior to procedure.]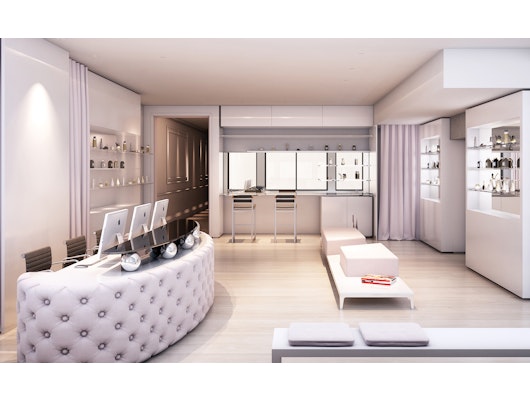 Courtesy of Skinney 
The spa: Sante Aesthetics & Wellness in Portland, Oregon 
The details: A spa that offers both holistic wellness treatments and medical aesthetics under the same roof is not common, but Portland's Sante delivers both exceptionally well. The traditional massage offerings includes hot stone, thai, shiatsu, and reflexology. Also find acupuncture treatments, reiki, and medical weight loss programs in addition to comprehensive medical aesthetics menu that includes injectables, and facials.
Why it's worth a visit: Sante offers a mix of traditional spa treatments in an authentic, luxurious spa setting. While you're there, make sure to enjoy the UV light salt room and hot and cold dip soaking pool.
The spa: Anushka Spa; West Palm Beach, Florida
The details: If you're planning a visit to Florida, don't forget to drop by West Palm Beach, which is located just an hour north of Miami. This thriving coastal town boasts giant art murals, delicious fare, and a million ways to pamper yourself — including Anushka's salon and cosmedical spa. This one sets itself apart from others due to the fact that it offers injectables, facials, and massages alongside a hair salon, nail salon, and cellulite clinic.
Why it's worth a visit: Where else can you get balayage, a mani/pedi, and a bit of filler, too? We love the ultra-clean, bright space, and the fact that the beach is just steps away.
The spa: MD Skin Lounge in Scottsdale, Arizona
The details: Scottsdale is one of the country's most competitive aesthetic hubs, and it takes some serious effort to stand out in a crowd of spas and clinics there. MD Skin Lounge has succeeded via its sleek, modern interior, well-appointed staff, and range of treatments. These include Dermalinfusion facials, oxygen facials, fat freezing, microblading, and an array of laser treatments and injectables.
Why it's worth a visit: We love the scientific, customized approach that MD Skin Lounge takes with each of its clients. In addition to the above, you can get a Blueprint Skin Analysis, injectable supplements, and vitamin drip therapy.
The spa: Plaza Medi Spa in Beverly Hills, California
The details: You'll have a hard time finding a space more extravagant than the Beverly Hills Plaza Hotel, which boasts an in-house medi spa that's received accolades for its lavish facilities and state-of-the-art technologies. Celebrities, locals, and travelers all indulge in the services, which include a Microneedling Stem Cell Facial, Liquid Face Lift, an assortment of massages, injectable treatments, and more.
Why it's worth a visit: The luxe interiors will make you feel like you're on vacation, and there's no denying the convenience of stepping out of the spa and walking back to your hotel room.
The spa: Skinney® Med Spa in New York City, New York
The details: Skinney Med Spa has three locations in New York City, each with a joint focus on medical aesthetics and wellness. Body treatments include fat freezing, laser stretch mark treatment, laser hair removal, Ultherapy, and more. For face, indulge in chemical peels, the SaltFacial™, injectables, Clear + Brilliant®, Microdermabrasion, and a variety of laser treatments to treat wrinkles, hyperpigmentation, and acne.
Why it's worth a visit: This spa goes above and beyond to make you feel pampered via beautiful interiors and a comprehensive range of customized treatments. If you're digging it, try The SaltFacial™, a multi-step treatment that exfoliates, nourishes, and detoxifies.
Products may have been gifted to the author for the purpose of writing this article.