Makeup, especially complexion products, can be a lifesaver to women struggling with acne and post-acne hyperpigmentation. Using foundation and concealer becomes a necessary life skill, one that we watch countless tutorials to help us master. After all, when your skin makes you feel embarrassed or depressed, makeup can help you hide the breakouts and gain back confidence. But there is one facet of face makeup that trips up even the most expert imperfection eraser: cheek products.

According to dermatologist Dr. Kenneth Howe, MD from Wexler Dermatology, "Cheek acne can have several causes, but most commonly it is something that runs in the family." Whether or not it's severe, the type of pimples tend to be the same: Large, painful bumps and redness that can last for days, sometimes weeks.

In those cases, the last thing you want to do is apply a blush, highlighter, or contour product. You run the risk of smearing your painstakingly applied concealer, and you don't want to bring more attention to the blemishes, which cheek makeup can do if applied improperly. But, by skipping this step your skin can look flat and lack definition. You need that blush, bronzer, or highlighter to add a dose of healthy color. It's a cheek Catch-22.

Fortunately, breaking out on your cheeks doesn't mean you have to abandon that makeup category altogether. We spoke with makeup artist Ashleigh Ciucci to get her expert tips on wearing blush when you're breaking out. And, since we know that makeup is only a band-aid for a bigger problem, we also had dermatologist Dr. Howe and celebrity skin guru Shani Darden weigh in with their advice for treating cheek acne. Read on to learn how to get the glowing, healthy, clear complexion you deserve.
The Treatment Plan
While it's handy to have a cheat sheet for cheek makeup, if you want real solutions then you'll need to actually treat the pimple — not just cover it up. "Exfoliating once a week with a chemical exfoliant like the Dr. Dennis Gross Skincare® Alpha Beta® Universal Daily Peel ($88) will help a lot," says Darden. She loves the combination of alpha-hydroxy acids and beta-hydroxy acid (a.k.a. salicylic acid) it contains. "Salicylic clears out your pores and will minimize current breakouts."
She also recommends her signature Texture ReformTM Gentle Resurfacing Serum ($95), a kinder, gentler retinol that increases cell turnover, helping a blemish disappear faster. Dr. Howe swears that the most effective and quickest way to treat a pimple is to see your derm for a cortisone injection. But if that isn't an option, he recommends using the Dr. Oracle A-Thera Tea Tree Peeling Stick ($24) at home. "Each peeling stick is like an oversized Q-tip, pre-soaked with a mixture of glycolic and lactic acids," he says. "Both exfoliate, but the lactic acid is particularly good at penetrating deep into the clogged follicle."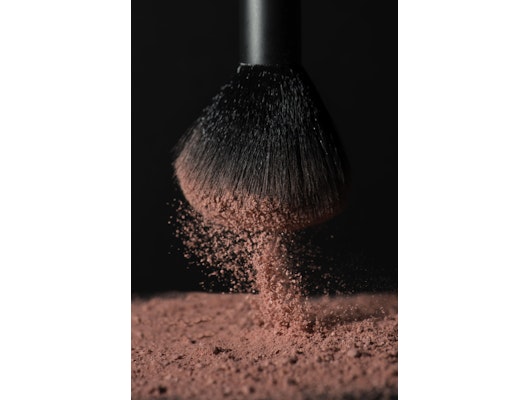 Stocksy United / Pixel Stories
Step 1: Hydrate Before You Hide
Now that we've got a treatment plan in place, let's dive in to the makeup tips. But before you even think about which blush you're going to use, Ciucci says you need to be sure your prep routine is on point. "While it might seem counterintuitive, a dry spot is a tough spot to conceal," she cautions. She suggests using an oil-free moisturizer like BareMinerals® True Oasis Oil-Free Replenishing Gel Cream ($23) to make sure your blemish isn't "crusty" prior to applying makeup.
Step 2: Perfect Your Concealer Game
In order to ensure your concealer stays intact when you apply your cheek makeup, Ciucci says to grab a cream concealer rather than a liquid. "It will stick better and provides more coverage," she explains, citing MAC Studio Finish® Concealer ($30) as her go-to. Target each individual spot, using a pencil brush, like this one from NYX Cosmetics® ($12) to apply. Follow that up by dipping a small shadow brush into a pressed powder (Try: MAC Pressed Blot Powder, $39) and gently swipe on to set. Ciucci says to then repeat the process, applying the concealer, followed by the powder to build coverage without looking heavy.
Step 3: Pick Your Perfect Product
Dr. Howe notes that texture is key with the makeup you choose for your cheeks. "The less liquid-y the product, the better," he says. "The more liquid a product is, the more oil it contains." And oil is not an ingredient you'll want on your skin when you're dealing with blemishes.
Ciucci agrees, but for a purely technical reason: "While I'm usually a fan of creamy products [for the cheeks], they will break down all the concealing work you've done," she explains. Instead, pick powder formulations with a satin texture. "If it's too matte, it won't blend easily, and if it's too shimmery,it'll call attention to any uneven texture," she warns. Her three favorite cheek products for those with breakouts are NARS® Cosmetics Blush ($30), Anastasia Beverly Hills® Contour Kit ($40), and Becca® Shimmering Skin Perfector Pressed Highlighter ($38).
Step 4: Brush It On
"When applying your powders, use an angled brush for your contour, a big fluffy brush for your blush, and a fan brush for your highlight," says Ciucci. "Hold onto the brush midway down the handle so you blend with a soft touch as opposed to grinding the powder onto your skin." (That way, you won't move any of the concealer and foundation you've carefully applied.)
Step 5: Unleash the Secret Weapon
"Even if you've done the best concealing and blending job, your blemish might still poke through," says Ciucci. "This is where my trick of all tricks comes into play." That would be the ingenious move of using concealer on top of the blemish after you apply your blush, bronzer, highlighter and what have you. But, the secret here is that you don't want to use your regular cover-up. "For your contour, use a darker concealer; your blush, a rosier concealer; and your highlighter, a lighter concealer," she explains. "You'll be camouflaging the zit but it won't stick out like a sore thumb because you'll be covering it with a shade similar to the cheek product." Mind = blown. 
Allergan may receive commission for purchases made through links in this article.
Products may have been gifted to the author for the purpose of writing this article.