In this series, Top 11, influential people with share 11 ways they take care of themselves including beauty, skincare, and aesthetics. Knowledge is power!
"You wanna hang out on this bed?" asks Marianna Hewitt, settling onto a rose-colored duvet. It's a stiflingly humid day in NYC, but that hasn't stopped a group of editors from gathering in a pepto-pink apartment to celebrate the latest addition to Hewitt's skincare brand, Summer FridaysSM. Moments ago we'd been sampling the new Overtime Mask — in a similarly Instagram-friendly bathroom adorned with roses.
Overtime is only the second SKU for the brand (which launched in 2016). Its slim product roster is, perhaps, a testament to the importance Hewitt and Gores place on careful curation — a tactic that's also abundant in their picturesque Instagram feeds. Regardless of how you feel about the rise of the Influencer, these two have an undeniable hold on droves of beauty buffs and fashion fans.
I join Hewitt, along with co-founder, Lauren Gores. This duo is leading the pack in the beauty influencer sphere (at press time, they've gleaned a combined following of over 1.5 million on Instagram alone), and it's not hard to see why. Each is strikingly beautiful, of course — but more importantly, they're warm, relatable, and so down to talk about skincare with like-minded enthusiasts.
"As young, millennial, female influencers, we're making the products that we think are cool," explains Hewitt. "We're thinking, 'Lauren, will you like it? Will I like it?'" Add a dash of chic packaging, a "no-nasties" approach to ingredients, and quippy product names, and you've got yourself a recipe for a best-selling brand at Sephora®.
Currently, the girls are tight-lipped regarding future product launches, but they do mention that their followers have considerable pull. "Our community ends up being our focus group," Lauren explains. Adds Hewitt, "In the future, we really want to crowdsource products; [our followers] have given us so many amazing ideas."
Another source of inspiration: other brand founders, who they consider peers, not competitors. (Hewitt cites Jessica Alba and Fresh Beauty® founders, Lev and Alina.)
One motto that encompasses the women's supportive approach: "Summer Fridays is to complement your skin care routine, not compete with it," says Hewitt. "You should be able to add Jet Lag with your favorite Fresh cleanser, or your favorite moisturizer from another brand!" After all, it would be naïve to assume that these self-proclaimed "product junkies" — who speak candidly about the countless beauty products they receive as influencers — use nothing but their own brand. It's refreshing to hear them not only admit to it, but to support it.
Below, the beauty bosses dish on their makeup bag must-haves, as well as their favorite hacks for their Summer Fridays products.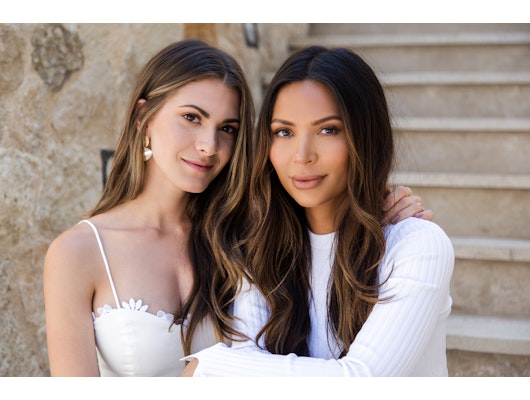 Courtesy
Summer Fridays Overtime Mask ($44): In Hewitt's words, this exfoliating mask is great "for when your skin is feeling a little dull." Not only does it contain apricot seed powder to manually slough away dead skin, but it's also spiked with pumpkin enzymes to chemically exfoliate. Perhaps the best part, though, is how delicious this stuff smells. (Like a loaf of pumpkin bread baked on a cozy Sunday morning.)
Dr. Dennis Gross Alpha Beta® Peel Pads ($90): These classic pads have made a name for themselves as the ultimate on-the-go exfoliant. "I love that these [pads] come in gentle, regular and extra strength," explains Hewitt, "so, depending on your skin type, you can use [whichever works for you]."
Fresh Soy Face Cleanser® ($48): "It's so good — I've been using it for years!" Gores gushes. "It's one of my favorite products ever. I take it with me everywhere." [Editor's note: luckily, the cleanser comes in a convenient travel size, too!]
Tatcha Luminous Dewy Skin Mist ($56): This glow-boosting mist provides an instant hit of that glassy-skin look. "It's so good with the Jet Lag mask, because they're both really hydrating," says Hewitt. "[I use it] before makeup or after makeup," she says, "[especially on days like] today, when it's hot and gross out and you want to refresh your makeup." On a separate note, Gores says her son is a fan of spraying the mist around the room. "It's an expensive habit!" she jokes, "he ends up using all of it!"
RMS Beauty® Living Luminizer ($36): "I love anything RMS Beauty," Hewitt says, citing the brand's cult classic Living Luminizer — a pot of radiant highlighter — as a tool for creating the ideal, barely-there glow. She and Gores both praise the brand's Cheek Tints, too.
RMS Beauty® Raw Coconut Cream ($18): Hewitt swears by this chic little tub of raw, organic, unadulterated coconut oil, which can multitask as a skin moisturizer to a hair hydrator. (It might just be the reason Hewitt's skin looks so effortlessly luminous all the time.)
iS Clinical® Cleanser ($24): While it might not be the most aesthetically exciting packaging, Hewitt swears by this fragrance-free, beyond-gentle cleanser. "I know it's a brand that not everyone knows about," she says, "but it's so amazing; their cleanser is really gentle." Not to mention, it strikes the ideal textural balance: thinner than a cleansing balm (which Hewitt calls "too heavy" for her skin) but luscious enough to leave skin soft, not stripped. ("I don't like to use anything that's too drying on my skin," she shares.) Hewitt loves this stuff so much, she admits to buying it in bulk — a massive "professional size" from Amazon.
Summer Fridays Jet Lag Mask ($48): The formula — a decently thick cream — is devoid of fragrance and color, yet it's chock full of good-for-you ingredients, including ceramides, shea butter, and vitamin C. What's more, it's rife with usage potential. Its recommended use is to wear it as a 10-minute mask and tissue off for baby-soft skin. Or, you can do like Gores and use it on your actual baby. "[My son] has really bad eczema," she shares. "I'll just put [Jet Lag] over his eczema spots [to calm them]." In the case of actual jet lag, Hewitt loves popping the periwinkle tube in the hotel mini-fridge for a cooling post-transit treat.
Unsurprisingly, this ultra-hydrating mask has garnered glowing (pun intended) reviews since it launched. According to the founders, they've received countless heartwarming testatments, ranging from women packing the mask in their pre-baby hospital bags, to Hewitt's 81-year-old father using it. "We love the inclusivity of our brand!" she asserts.
Bioderma® Sensibio H2O Micellar Water ($15): Thanks to the skyrocketing popularity of micellar water, there are countless brands to choose from these days. Hewitt and Gores favor this classic formula from French brand, Bioderma. Not only does it remove stubborn eye makeup, but it dissolves foundation, too, without leaving any residue.
Caudalie® Micellar Cleansing Water ($31): If you're in the mood to splurge, Gores recommends this similar (and equally as French!) micellar water from Caudalie. "It's so good," she asserts. Not only does it leave skin clean, but also it imparts softness, thanks to an infusion of hydrating plant glycerin. 
Neutrogena® Oil Free Makeup Remover ($17): Hewitt calls this her "favorite drugstore buy," thanks to its makeup-annihilating powers, which she says can even break down stubborn lash glue. "I have individual [lashes] on right now; I will put [the product] on a cotton swab and then it'll just dissolves the glue," she says. Gores chimes in to agree: "Nothing else really works the same as that does. You're so right."
Allergan may receive commission for purchases made through links in this article.