Despite existing for thousands of years, matcha has only secured its trending status in mainstream food, beverage, and wellness culture over the past few. Recently, the Japanese-born ingredient is making its way into skincare — and for good reason.
What is matcha?
Chances are, you've probably seen this finely-milled green powder on the menu at your local juice bar. Matcha is a more concentrated version of green tea — "[it's] basically green tea on steroids," jokes Dr. Adarsh Vijay Mudgil, medical director of Mudgil Dermatology. Making matcha requires finely-milling whole, high-quality tea leaves (thereby maintaining all of green tea's time-honored benefits). Since matcha is a powder, it can be dissolved into hot water, frothed into lattes, baked into cookies — and even infused into skincare.
But does it actually do anything in your beauty products?
In short, yes. According to Gabriel De Santino, creator of Gabriel Cosmetics®, matcha can detoxify, smooth, and even brighten dull skin — especially when used in face masks. Not to mention, its natural emerald color is rife with fun facemask potential. "Matcha's gorgeous green color comes from chlorophyll," De Santino explains. (Chlorophyll is the green pigment responsible for the verdant hue of most plants.) In addition to imparting a pretty color, the ingredient contains antibacterial properties, which can "help to reduce acne and redness."
Another topical benefit: matcha is super high in antioxidants, Mudgil notes. Antioxidants are proven to help prevent premature skin aging by neutralizing free radicals, De Santino says. "[They] assist with cell repair, and help smooth fine lines," he explains. For all of the aforementioned reasons, De Santino calls matcha a "magic elixir for skin."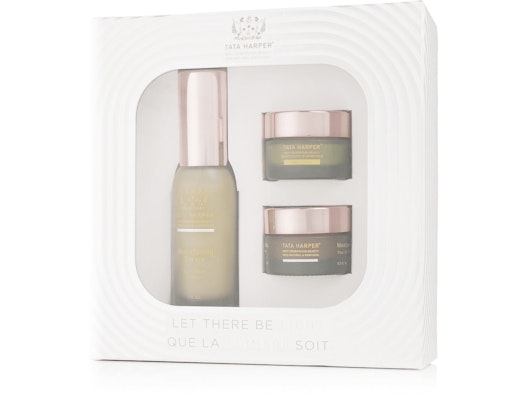 Ergo, it makes sense that there are a multitude of matcha-infused goodies on the market. Take, for instance, the fan-favorite OriginsTM RitualiTeaTM Matcha MadnessTM Revitalizing Powder Face Mask ($43). Upon first glance, it's easy to assume this dusty product is meant for sipping. But add a dash of water, and it transforms into a thick paste, which — when left on for 10 minutes — leaves skin significantly brighter-looking. (We're fans of incorporating this stuff into our weekly Sunday self-care ritual.)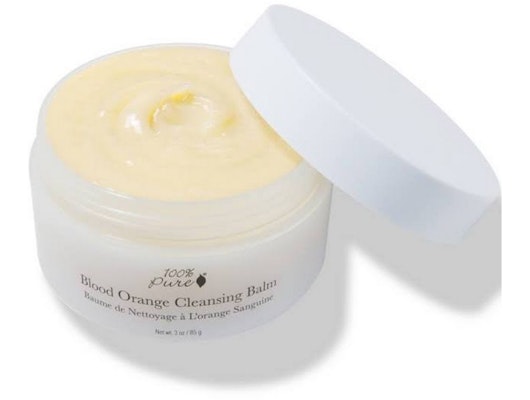 For acne-prone skin and generally congested pores, H2O+ BeautyTM Aquadefense Refining Matcha Mask ($28) works to purge pores using a combination of matcha and witch hazel to attract grime, dirt, and oil. Leave on 'til dry and peel — yes, peel — off. The result: A mask that's equal parts effective and fun.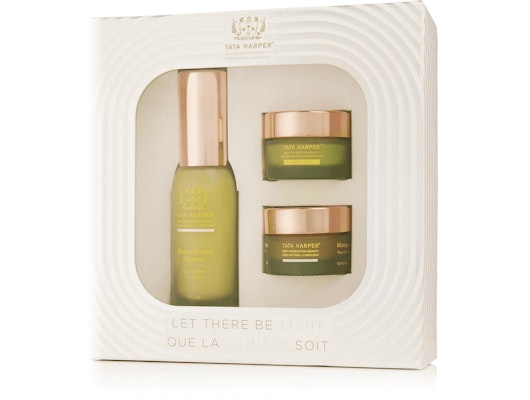 If you want to get your matcha fix on more of a regular basis, consider the Milk Makeup® Matcha Toner ($26). This daily-use, stick-based toner is packed full of the hero ingredient, delivering green tea goodness in a few quick swipes. We'd be remiss not to mention that the formula also contains probiotic-rich kombucha (read more about the buzzy ingredient here). Fans of this (super-portable!) toner swear it quells redness and leaves skin feeling pure without stripping it dry.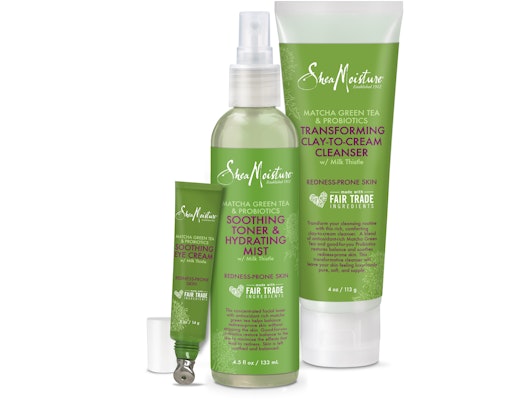 Speaking of maining skin hydration, SheaMoisture® also launched an entire three-piece collection based on the premise of both detoxifying and soothing skin. Our personal favorite, the Soothing Eye Cream ($11), delivers a dose of the stuff via a cooling metal rollerball. "Green tea itself is loaded with vitamin K," De Santino notes, "which promotes blood circulation and aids in diminishing dark circles and puffiness under the eyes."
And remember — if you're feeling as tired as those dark circles would suggest, nobody is stopping you from brewing an entire pot of the stuff and sipping to your heart's content (did we mention it's highly caffeinated?). Talk about a buzz-worthy ingredient.
Products may have been gifted to the author for the purpose of writing this article.
Allergan may receive commissions for purchases made through links in this article.