After working on Wall Street for 14 years, Robin Shobin saw how a stressful lifestyle can take a toll on your skin and overall health. But, as an overworked finance exec, she didn't have much time to sift through the infinite offerings of the beauty industry in the name of self-care. She also found it hard to figure out which treatments and products were actually worth trying, as new ones popped up on the market every week. That's when she decided to leave her career in finance to provide other women what she felt was missing. That white space was a destination named Charlotte's Book, highlighting well-vetted doctors and other beauty providers, along with wellness advice and suggestions.
Here, the erstwhile finance executive shares who exactly Charlotte is, the supplements she swears by, and why she believes women should embrace medical aesthetics — along with the beauty products she can't live without. 
Spotlyte: What made you leave your finance gig to get into beauty — specifically wellness and medical aesthetics?
Robin Shobin: After graduating from college where I got a degree in business and finance, I started at J.P. Morgan. I was there for almost 14 years. I basically spent my career there — in investment banking and on the trading desk for the last ten years that I was there. I was exhausted. I left and decided to just change my career entirely. There was so much pressure to look good, but not a lot of places to find well-vetted experts in the field, and I wanted to create something truly trustworthy.
Spotlyte: What was your career transition like?
RS: After leaving J.P. Morgan, I went to school for visual arts for a little bit. I took some coding classes. I really wanted to take on a more entrepreneurial career path. I launched my website in 2014, and it's been growing ever since. 
Spotlyte: So, who exactly is Charlotte and what inspired the idea?
RS: I felt that print was dying — I never read a magazine. That, and I'm a busy person. I felt like a lot of the beauty sites where you'd go to find information were really geared towards the 20-somethings. There wasn't really sophisticated content that targeted the group of women like me that are looking for this type of information. I also noticed that the sites that did exist are either very cosmetic treatment- and surgery-focused. or they are focused on wellness, green, and organic [beauty]. Nobody's really talking about both. That's where Charlotte came from.
Charlotte is that woman you admire, with a gorgeous complexion and whose beauty secrets you want to know. Who is her dermatologist? What workouts does she do? What is her diet like? That's what I wanted Charlotte's Book to be — a directory to learn about top-notch dermatologists, nutritionists, and wellness experts.
Spotlyte: What challenges did you face as you were trying to grow the site? 
RS: I think it was hitting that unique editorial voice that made us stand out. We garnered a loyal readership, both in our newsletter and our website, because I think people like our point of view. There's so much information out there that people are looking for a relatable and unique point of view — otherwise, you're just like everyone else.
Spotlyte: What's your best advice for people trying to make it in the beauty biz?
RS: In any career path, it's about having a unique point of view and sticking to it. It's always having a positive, can-do attitude all the time. That's because if anything, whether it's going to your job or something entrepreneurial, there's always challenges. It's also all about problem solving. Especially in beauty — there's that gut check where you need to know when to stick to your guns and go with what you're doing or to pivot into something else, and sometimes you've got to know when's the right time to do each one.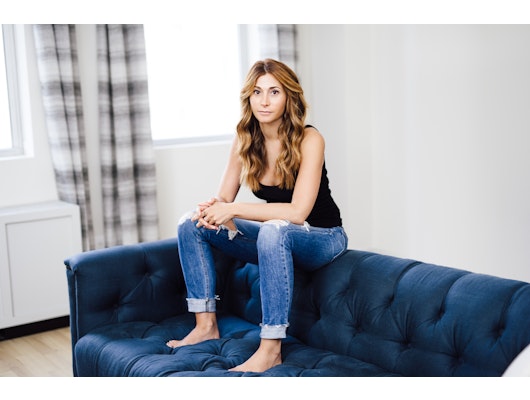 Spotlyte: Switching gears a bit, can you tell us about your beauty routine?
RS: Skincare is a big part of my routine. I feel like the better your skin is, the less makeup that you have to wear. To start, I'm really into cleansing — I use Drunk ElephantTM Pekee BarTM in the morning and Philosophy® Purity Cleanser at night. Then I also use a micellar water at night because I'm a super cleanser. After cleansing, I use tretinoin every other night and alternate it with the CANE + AUSTIN Miracle Pad® 20% Glycolic Facial Treatment. They're strong, they always stay wet through the whole pack, so I feel like they're not being wasted. I also like to use a facial oil depending on the season. Marula oil, usually at night, and then in the morning I'll use a rose oil. I also use a prescription lash growth treatment on my brows — not on my lashes, since they grow so quickly.
For makeup, I keep things pretty simple. I wear the Giorgio Armani® Maestro foundation, which is a bit more matte or the REVISION® Skincare Intellishade® Original, which is a bit more moisturizing. It really depends on the season. I also love KOSAS cream blushes, and then I use a rose salve on my lips.
Spotlyte: What about supplements?
RS: I started taking supplements early in my thirties, but as I've grown on the site, I have gotten educated on what the good and bad supplements are. Understanding a routine that works for me [has been essential], because I think people get really overwhelmed with supplements. With the help of many of the nutritionists and wellness experts on my site, I've come up with something that works for me, and I definitely see a difference when I'm on my routine and when I'm not.
Spotlyte: Which ones do you take?
RS: Every morning I take a shot of organic apple cider vinegar with lemon, turmeric, ginger, and cayenne. I also take a probiotic from Udo's. Then I do a tablespoon of Udo's fish oil, which tastes horrendous. I usually chase it with a spoonful of peanut butter or Manuka honey, because it helps just get the taste out of your mouth. I also take zinc morning and night with food. I started taking zinc for many reasons. It's really good for acne, and my immunity. I've had a few doctors recommend it to me and it's been life changing for me. I never get sick. I also take a vitamin D supplement. I also take GliSODin® — it's a super antioxidant.
Spotlyte: What's your overall beauty philosophy and thoughts on medical aesthetics?
RS: It's all about commitment. I think women should use medical aesthetics to the extent that it makes them feel more confident in their own skins, and I don't think anyone should feel guilty at all. I think that the women that are doing it and then not talking about it are doing other women a disservice, because they are then setting a false standard.
Spotlyte: On that note, when did you start getting medical aesthetics treatments?
RS: When I turned 30, so 10 years ago, I got injectable wrinkle reducer. I get it about twice a year. About two years ago, I also started to get a little bit of filler. At first, I was terrified of filler because people always talk about the bad, but never the good. But my amazing doctors convinced me, so I dipped my toe in the water, and I got just a little touch. I could see a difference!
[Editor's note: Injectable wrinkle reducers temporarily smooth the look of moderate to severe wrinkles in certain areas of the face, including the forehead, frown lines, and crow's feet; they should not be used more frequently than every three months. Injectable filler is a temporary treatment that adds volume to areas of the face such as the lips, cheeks, and laugh lines. Like any medical treatment, both injectable wrinkle reducers and injectable fillers have potential risks and side effects. Talk to a licensed provider to see if they're right for you. And learn more now by chatting with a trained aesthetic specialist.]
Allergan may receive commission for purchases made through links in this article.