Today's influencers can thank women like Tina Craig for paving the way and making bloggers serious players in the fashion and beauty industry. She launched her site Bag Snob in 2005 and disrupted the scene, utilizing the internet and social media to gain a mass following like no one else had done at the time. Now, Craig is the expert that hundreds of thousands of women rely on when it comes to the latest trends.
But while her savvy skills in the digital space are new and innovative, her beauty regimen is a little more old-school. Growing up in an Asian family that taught her at an early age that beauty is all about good skin, she focuses on taking the very best care of herself over using the latest buzzy product.
"The most important thing is to be confident; there's nothing more beautiful than a confident woman with good skin," she says. "Confidence and good skin is a good equalizer; it doesn't matter what social or economic background."
For Craig, keeping skin healthy and glowing is a holistic approach from the inside out. She eats the right foods, washes her face every night, stays out of the sun as much as she can, and uses the right products and treatments. She's admittedly very low maintenance when it comes to makeup and hair  — "I don't care that much for it; for Chinese women, it's about good skin and lipstick" — but at an event for La Prairie®, she sat down with Spotlyte to share her regimented skincare routine and how she takes care of her overall health.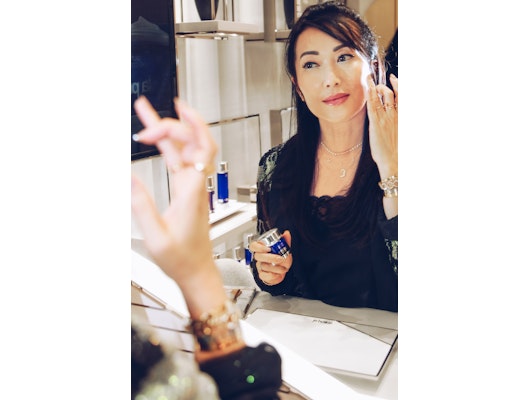 Joslyn Blair
Skin Treatments
Facials: "When I was in college, my friend of mine got a job assisting actress Jaclyn Smith and she would come back and tell us that we — if we could afford it — should try to get a facial every two weeks. Once a month is a must. Not a scary peel, just a good facial massage or cleaning. That always stuck with me, so I always have one facial a month.
I don't like to have a specific destination for my facials, because it means I have to fly there. It just depends on where I am and how my skin is at the time; I'll go to different people depending on my skin needs. But I do love Joanna CzechSM [in Dallas, TX]; she has a great cryofacial to tighten and lift the skin. I love Renée RouleauSM [in Plano, TX]; she has been taking care of my skin since my twenties."
Lasers: "I don't do lasers because I've seen horrible results on Asian skin. Our skin [can] react very unfavorably to it; we have to be careful and I was fortunate someone told me before I went on and tried it."
Massages: "In Los Angeles, I go to THE PENINSULA SPASM for a deep tissue massage."  
Microneedling: "You don't have to spend hundreds on getting microneedling done if you invest in a really good at-home one. A dear friend of mine invented GloPRO® ($199); I love it, it's the best."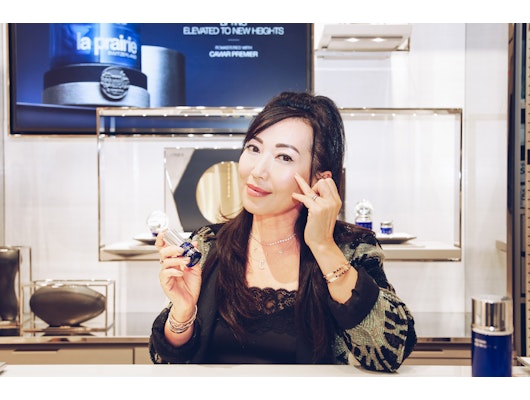 Joslyn Blair
Go-To Products: "I like to stick to something for three months and then I'll change it; your skin gets used to it; I'm constantly trying new things. That being said, I have a few tried and true products:
La Prairie® Skin Caviar Luxe Eye Lift Cream ($350): I've been using this since I was 18. It's lightweight and goes under your makeup beautifully; I love it. It's one of my favorites.
Sunday Riley® Juno Antioxidant + Superfood Face Oil ($72): If you have oily skin, you should use oil to combat it; oil fights oil.
Biologique Recherche® P50 Toner ($67 for 5.1 oz): I only use it three times a week." (Read our review of this cult-favorite product here.)
Routine Tip: "I only wash my face with cold water; hot water is so harsh on your skin and strips your skin of natural oils. This Western thinking of washing your face with hot water and scrubbing — I never do that. I never scrub anything. Cold or lukewarm water is gentler on the skin. If you don't use hot water to wash your black jeans, why would you use it to wash your face?"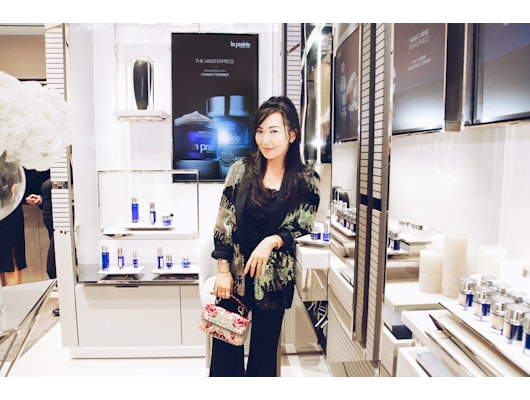 Joslyn Blair
Wellness
Nutritionist: "My nutritionist is my grandmother. She's always right; everything she gave me growing up was to make me smarter or make my skin healthier."
Diet: "I don't eat sugars and diary (if I can help it). I drink wine and vodka sodas in moderation. I don't eat processed foods because that's so bad for your skin. I eat a lot of avocado and a lot of fish. Every morning, I drink two cups of water, mix in my vitamin C powder and take an omega-3."
Acupuncture: "I have an acupuncturist; she gives me herbs when I don't feel well. When I'm sick, I go to her and not a doctor."
Fitness: "I really love pilates. I used to do high-intensity aerobic or HIIT classes, but I didn't feel good after them; they beat up your body. I don't like to be in a big sweaty room with a lot of sweaty people. So I go to One Lagree in Dallas; it combines aerobic and pilates and you get a good workout. I also love walking. The best exercise is when I get lost in cities and I'm just walking around."  
Allergan may receive commissions for purchases made through links in this article.