Most of us became acquainted with the stunning Giuliana Rancic while watching her interview celebrities on the red carpet for E!. But her expertise goes beyond reporter duties and reality TV show stints. She's a designer, mom, and mega-entrepreneur — and now has one more title to add to that impressive list: beauty brand founder. Rancic is launching Fountain of Truth, an age-defying eco-luxe beauty line, this fall.
The collection will be exclusively available on the brand's website, and includes everything from The TRUTH Insta-Face Lift Elixir (which claims that it helps fight visible signs of aging and reduces the appearance of fine lines) to the hydrating, anti-aging Good Day Soufflé Hydrating Moisturizer SPF 15 and Honey Glow Mask (promotes a dewy, youthful appearance). The range also features a cleansing balm called Take It Off, which is designed to cleanse, tone, exfoliate and soothe while removing waterproof makeup. (That sounds like the perfect skincare solution after a long night of Q&As on the red carpet!) All of the products are designed to be clean — more on this later — and priced between $25-86.
Creating Fountain of Truth is a completely logical career move for the 44-year-old breast cancer survivor. After all, she has always looked flawless on screen, which is no easy feat when under the lens of those high-definition cameras. We decided to zoom in even closer, and asked Rancic about her anti-aging secrets, skincare regimen, and more.
Spotlyte: Tell us about Fountain of Truth. Why it was important for this skincare line to be non-toxic and clean?
Giuliana Rancic: When I was 36, I was diagnosed with breast cancer, and I started changing a lot of things in my life — in terms of what I was eating as well as what I was putting on my skin. I realized there were a lot of great clean products on the market, but they weren't necessarily anti-aging products. And there were a lot of great anti-aging products on the market, but they weren't clean. So, I thought to myself: wouldn't it be nice if we had a product that could do both? I partnered with Hain Celestial, pioneers in the natural/organic space: whether it's the food space or skincare or beauty. Together, we developed Fountain of Truth, which is a clean, yet effective, skincare line.
Spotlyte: Do Bill and your son use it?
GR: My son is almost 6 years old, and he's hilarious. He knows that mommy has a skincare line. He has used the hand cream — just for fun, because he loves the smell of it. It has an amazing scent. He thinks it's a cool package, because it's metallic rose gold. He has not used the other products, but he's very aware of them.
My husband absolutely uses them. He loves the elixir and he loves that he's getting skincare from me, because he doesn't really know about it, so he leans on me to get him products. He absolutely loves the products. I've done the mask on him a few times. Daily, he uses The TRUTH [Insta-Face Elixir] as well as the cream at night. He'll also put it around his eyes too, but I apply. He's a great husband, and he's so attentive and giving and nurturing. Often, the way I nurture back is [massage,] he loves a good massage. I also love to give him my own facials at home.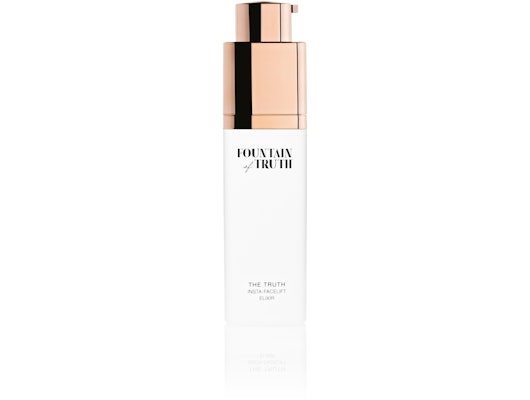 Spotlyte: What is your skincare routine in the morning?
GR: It's pretty simple. I cleanse  the night before, so I don't have makeup on. I use the Take It Off Cleansing Balm. I like to apply it on dry skin, and I use the cloth if I need it. In the morning, I don't have so much makeup on, so I rinse it off with water. I use the elixir. I put that all over my face, jawline, neck. That's nice because it's got a lot of great benefits, but it does also tighten a bit instantaneously, so you can feel that. And then I do the Good Day Soufflé, which is moisturizing and has SPF as well.
Spotlyte: What's your skincare routine at night?
GR: At night, maybe once or twice a week, I'll do the Honey Glow Mask. I'll rinse that off and use the Take It Off Cleansing Balm, and then the Dream Cream Overnight Repair.
Spotlyte: Are there any other brands you're using in your regimen?
GR: Not really, to be quite honest. I have it all right here. Even under my eyes, I've been using the elixir. In the future, we have an amazing eye cream that's coming out with this double roller. I've been using that as well. We have a very comprehensive collection. One of the reasons I wanted to create this was to simplify things a little bit. I don't think you need 20 products. I think that you can have a handful of beautiful, effective, clean products that look gorgeous on your counter. We've been through a lot of versions throughout the last couple of years, of various products. What we've ended on is something I'm very proud of and absolutely love.
SL: What is your approach to anti-aging? What is your anti-aging routine like?
GR: Honestly, I love the sun, so I'm not one of these people who have hats on and protective gear. I'm Italian. I was raised vacationing in Southern Italy and in Capri — always in the sun. My mom has beautiful skin. She's 76, and uses clean products as well and always has her whole life. I think a lot of it is that I love the sun, but it's a balance. I don't get too much of it. I use sunscreen. But I still love to be in it.
I drink water like a lot of other people but, honestly, not a crazy amount. I do make nice smoothies every day, as a midday snack with spinach and frozen berries; strawberries and blueberries. I peel bananas and freeze them. I make these good smoothies every day, but I make sure I'm getting the right nutrients and nourishing my skin as well as my body. But I still indulge and enjoy things! I feel like you don't have to be that strict. It's all just a balance. A lot of us have so much going on that it's nice to simplify a little bit. Women know it's clean, check. It's anti-aging, check. It's beautiful, it feels great, it smells great.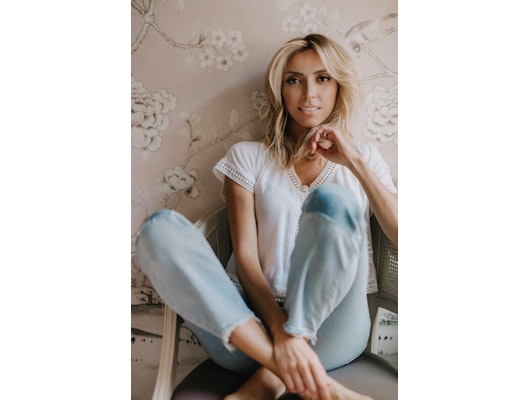 Courtesy of Giuliana Rancic / Fountain of Truth
Spotlyte: What are your feelings about injectable wrinkle reducers and fillers?
GR: To each their own. I think whatever makes you feel good, you should do. There are so many [treatments] now: microneedling and all these different facials. I'm all for it: if you want to do it, absolutely. But for me, I've never had [it] on my face. I've never done anything to my face. For me, it's really about doing the best I can every day and having products that work and help somewhat. This works for me.
[Editor's note: Injectable wrinkle reducers temporarily smooth the look of moderate to severe wrinkles in certain areas of the face, including the forehead, frown lines, and crow's feet; they should not be used more frequently than every three months. Injectable filler is a temporary treatment that adds volume to areas of the face such as the lips, cheeks, and laugh lines. Like any medical treatment, both injectable wrinkle reducers and injectable fillers have potential risks and side effects. Talk to a licensed provider to see if they're right for you. And learn more now by chatting with a trained aesthetic specialist.]
Spotlyte: What medispa treatments do you get?
GR: I've done HydrafacialsTM once or twice.  Something like that before an event is nice. I wish I had more time to do stuff! Some of the facials with downtime: I just really don't have time.
Spotlyte: Do you have any empowering advice or mantras?
GR: A couple things got me through the breast cancer. One was, "Everything will be okay in the end. If it's not okay, it's not the end." I loved that. I think on a daily basis, we struggle with different things and knowing that it will be okay and it's not the end, nothing is final, is helpful. During breast cancer, "This too shall pass" was also really big for me. Once again, going through whatever you're going through, whether it is breast cancer or something at work or in your personal life, a relationship — the idea that it will pass, it just takes time, that really helped me a lot. I was in situations where, whenever I was getting a test, or something, it was a hard day, I would repeat those words over and over. That was very helpful.