A model's life is exceptionally (perhaps even surprisingly) arduous. Sure, they get to visit exotic locations, wear stunning clothes, and mingle with industry elite, but their day-to-day schedule can be downright grueling. For starters, it's literally their job to look amazing coming off three hours of sleep they managed on a red eye, and to keep it together 72 hours deep into the non-stop hustle that is New York Fashion Week. In an effort to lift the curtain on how they always manage to look so great, we asked five Spring/Summer 2019 NYFW models to dish on skincare routines, staple beauty products, and injectables.
Sanne de Roo, 25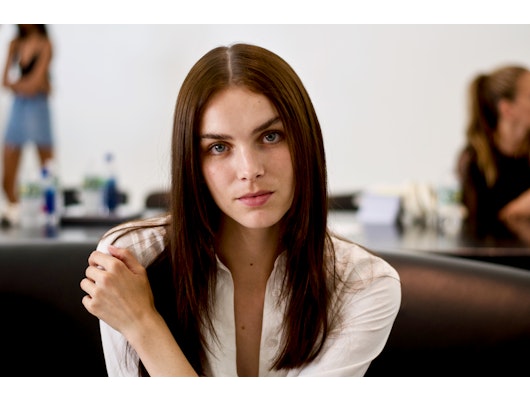 Wendy Rose Gould
Her Aging Philosophy: "I'm not really looking when I'm buying products to see if they are prevent aging or not," says Sanne de Roo, a 25-year-old model we spoke to at Pamella Roland. "For me, it's just really important to wear sun protection above anything else. I always use a day cream with sun protection, because I know that the sun can really damage your skin, which will give you wrinkles. I really do take care of my skin, especially with this job."
Beauty Staples: "When I have to take makeup on and makeup off so much, it makes my skin really dry and a bit reddish sometimes," she explains. "I use Avene's really thick day cream and then an oil from Kiehl's® that I wear overnight. I also do a light facial scrub in the shower a couple times a week and then after I do a face mask to help moisturize," she adds.
Go-To Dermatologist or Esthetician: "It depends on if I have time, but I do like to go get facials and a check up on my face. My skin always feels much better after I go. I'm from Holland, and whenever I go home, I love to go to my doctor there," de Roo tells us. "She also makes her own products, and I love to use her foundation. It doesn't have any weird things in it — it's really natural and very light and you can barely see that you're wearing it."
On Medical Aesthetics: Roo told us that at this point she's never experimented with any injectables, but that she isn't quite so sure what the future holds. "I know for many people who do get injections, it's not about changing your face," she says. "For now, I don't need it, but who knows about the future. I'm not going to say, 'No, I would never,' or 'Yes, I will.' Of course, I'm happy that there is the opportunity for the future."
[Editor's note: Injectable wrinkle reducers temporarily smooth the look of moderate to severe wrinkles in certain areas of the face, including the forehead, frown lines, and crow's feet; they should not be used more frequently than every three months. Injectable filler is a temporary treatment that adds volume to areas of the face such as the lips, cheeks, and laugh lines. Like any medical treatment, both injectable wrinkle reducers and injectable fillers have potential risks and side effects. Talk to a licensed provider to see if they're right for you. And learn more now by chatting with a trained aesthetic specialist.]
Pre-Fashion Week Body Treatments: "Sometimes I go in for a professional massage just to really relax. What really helps for me, though, is yoga because it helps you relax your mind and your body at the same time," she says. "Of course, massage is always the best, but I don't always have time to book an appointment before fashion week. After fashion week, though, I go."
Mia Kang, 29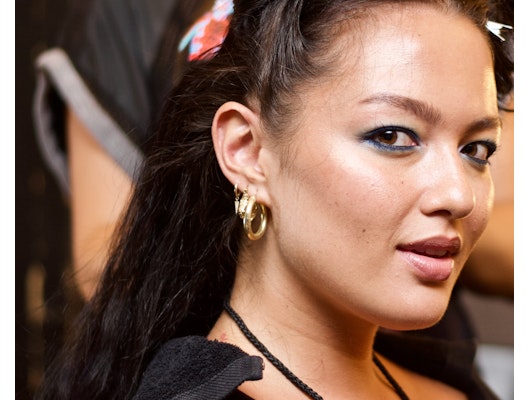 Her Maintenance Philosophy: "I'm half Korean, so I'm big into skincare and big into anti-aging products and treatments," says Mia Kang, a 29-year-old street size model that we talked to backstage at Michael Costello. "I honestly wish that I would have started earlier because I think it's great to be preventative rather than corrective."  
Beauty Staples: "I'm obsessed with disposable sheet masks — obsessed! Like, I use at least one a day. I really love this company that's called FaceTorySM. They send you a selection of different face masks from different companies, so you get to try a whole bunch," she says. "I think if you use only one brand, then your skin sort of gets used to that product, so it's good to try different things. I really love the Korean brands, especially Dr. Jart+ and Tony Moly."
Go-To Dermatologist or Esthetician: "I haven't found an esthetician or dermatologist that I consider my go-to favorite, yet, but I'm open to suggestions. Right now, I just book facials periodically with different people," Kang tells us. "I generally love doing a good microdermabrasion with something hydrating afterward, like an oxygen facial. I always feel phenomenal after with a treatment like that."
On Medical Aesthetics: "I've never tried any sort of injections or medical aesthetics, but I never say never, either. To each their own. Maybe one day I'll even do it."
Pre-Fashion Week Body Treatments: Kang says she doesn't really indulge in any sort of body treatment pre-fashion week, but she does make sure to get a little extra time in the sun. "I love the sun — you can tell by looking at me," she shares."The day before fashion week started, I made sure to squeeze in a 20-minute lie-out in the sun. It creates endorphins in my brain and makes me feel poppin'."
Arisce Wanzer, 31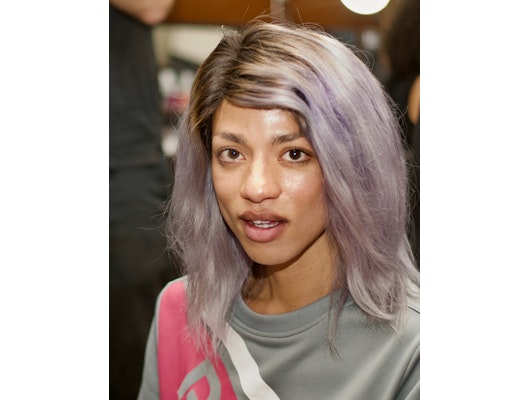 Wendy Rose Gould
Her Aging Philosophy: "I love to say that everyone should be happy with themselves the way they are, but that's not the world we live in" says Arisce Wanzer, a 31-year-old trans model that we spoke to at Marco Marco® and Opening Ceremony®.
Beauty Staples: "Good old-fashioned witch hazel with a cotton ball is my favorite skincare product of all time. I clean my face with it every day," she tells us. "I also like cocoa butter to take my makeup off. Not the lotion or oil, but the raw butter. It melts on your fingers and you rub it on your face and then wipe it off with a makeup towel."
Go-To Dermatologist or Esthetician: "I would suggest Dr. David Rosenberg. He works with all the LGBT celebrities and he's just amazing," says Wanzer. "I'm trans, and I don't ever have to think there's a judgement coming from anywhere, or that I'm using someone who might have voted against my interests. Also, he's very informative and he's not just out to get your money — he's a genuinely nice person. You never feel talked into something," she shares.
She continues, "I got my breasts done with him and [before I found him] went to two or three consultations where they kept telling me I would need to go bigger. I was like, 'I'm a model — it's literally my job to fit clothes and if they don't then I'm unemployed.' I'm still happy with the work he did 10 years later," she says. "He also does peels, and I love getting a laser peel with him. It's not as harsh as some peels I've had before where I'm like, 'Oh my god, I cannot be outside for a week after because I look like a lobster.'"
On Medical Aesthetics: Wanzer tells us she hasn't had injections yet, but that at 31 it's something she's thinking about doing in the near future. "I'm absolutely open to it. I'm totally going to do [injectable wrinkle reducer] in between my eyebrows, because I think I frown in my sleep. I wake up with a line there  — I think I must have nightmares or something that I don't know about," she says.
"[Regarding filler], my lips are naturally poofy. If they ever start lose volume then yeah, filler is happening. I want the lips I was born with. I like aging and think it's great, but I want to age on my terms — because Mother Nature be trippin' sometimes."
Pre-Fashion Week Body Treatments: "I usually do body treatments at home because I really trust myself. I make a sugar scrub out of oats, raw sugar, coconut flour, and coconut oil and mix it all together and scrub the sh*t out of myself. It makes me smell like a cookie," she says.
Natalia Harris, 23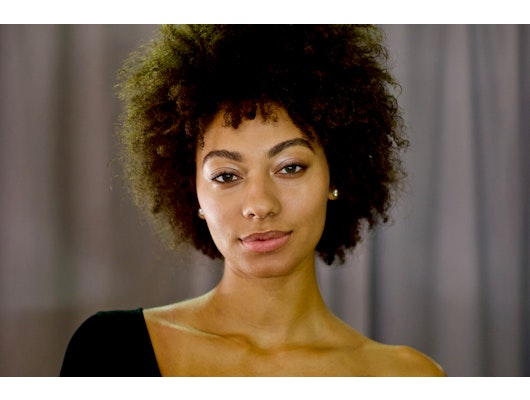 Wendy Rose Gould
Her Aging Philosophy: "I tend to use natural products and I like to moisturize and replenish my skin and take care of it — give it the love it needs," says 23-year-old Natalia Harris, who we spoke to just before she walked the runway at Nonie. "It's important to do as a model, but it's also just part of a good self-care regimen. I feel like we all know our skin really well and it's super important that we all take care of it."
Beauty Staples: "I really love Neutrogena®'s face wipes. They're amazing — they take off all your makeup really gently," she says.
Go-To Dermatologist or Esthetician: "I don't have a preferred esthetician right now — I tend to just do skincare treatments on myself at home. At the same time, it's always really good to get that professional opinion, overview, and treatment," she tells us. "I love when I have time to go get a facial, and I also definitely try to go to the dermatologist at least once a year." She adds, "I should probably go more often, but I do have good skin."
On Medical Aesthetics: "Getting [injectable wrinkle reducers] or filler is personally not something that I would do, but I think that it's good for someone who might want it," she says. "To each their own."
Pre-Fashion Week Body Treatments: "I like to do yoga at home to help stretch and relax. I also take the time to have a 'self-care day' where I really take care of my hair and give myself some face treatments," says Harris. "I like to keep it natural. I'll do like a raw honey mask for my skin to brighten, clarify and soften, and for my hair I'll mash an avocado and apply it. There's a lot of good DIY stuff I've found on Pinterest, and I like to get creative."
Ema McKie, 23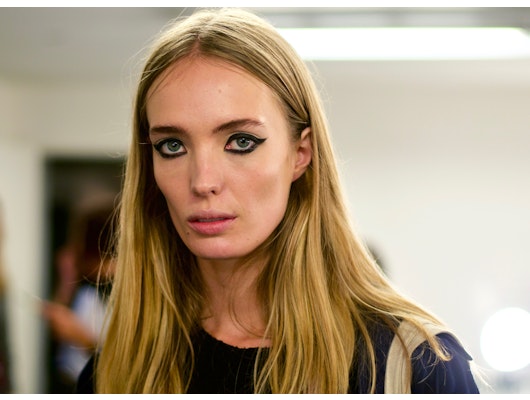 Her Anti-Aging Philosophy: We spoke to 23-year-old Ema McKie backstage at Libertine®, who tells us that taking a proactive approach toward an maintenance skincare regimen is extremely important to her. She says she's still in the process of figuring out a routine and is experimenting with different products, but that she's found a few staples. "I also quit smoking recently — I had been smoking since I was a kid," she confessed. "I'm also super into eating healthily, too."
Beauty Staples: "I use the Kiehl's® overnight cream and I'm sort of in-between on day creams. I also make sure to use toners with anti-aging ingredients. I really like the products by Paula's Choice®. Their toners are everything," she says. "Also, I'm a big believer in sheet masks,  and I love the classic Aztec® Clay Indian Mask that I mix with the apple cider vinegar."
Go-To Dermatologist or Esthetician: McKie says she doesn't have a dermatologist or esthetician right now, but it's something that she's looking into. "A lot of my friends all have dermatologists that they see and they live by it. Their skin is really nice, too, and they wear hardly any makeup."
On Medical Aesthetics: "I do have wrinkles due to constantly smiling and that sort of a thing, but I'm not concerned about them at this point," McKie says. "I do like knowing that I have options in the future, though."
Pre-Fashion Week Body Treatments: For McKie, pampering herself usually happens post-fashion week rather than before. "After fashion week, I always make sure to book massages. I especially love going to Korean spas. I'll get like a body scrub or a massage, and I also love getting acupuncture to help improve circulation and my general energy levels."
Allergan may receive commission for purchases made through links in this article.