While a lump here or there isn't the end of the world, body bulges — like saddlebags, bra fat, and more — are something most of us would be happy to live without. Moreover, it's these frustrating areas that tend to be impervious to the shrinking power of exercise or reduced calorie intake.
But there's no need to feel hopeless. Luckily, CoolSculpting®, also known as fat freezing or cryolipolysis, can be used on the majority of these areas. (That even includes the inner and outer thighs and a double chin!) Once you've determined which area(s) you want to treat, your provider will assess and choose a specially-sized panel for your treatment location.
[Editor's note: The CoolSculpting treatment is a non-invasive fat-freezing treatment that effectively reduces fat in certain self-proclaimed "problem spots" in the submental and submandibular areas, thigh, abdomen, flank, and upper arm, along with bra fat, back fat, and underneath the buttocks (you know, those bulges that just won't go away, regardless of how much you sweat it out on the treadmill). While it isn't a weight loss solution, fat-freezing can reduce pouches of fat. As with any procedure, there are risks and side effects, so talk to a licensed provider to see if it's right for you.]
[Editor's note: The CoolSculpting® procedure is not for people that have cryoglobulinemia, cold agglutinin disease, or paroxysmal cold hemoglobinuria.]
"These highly technical and sophisticated applicators target the fat cells and permanently destroy the treated fat cells by crystallizing (freezing) the cells," explains Shelly Atalig, advanced registered nurse practitioner with Ideal Image. Different areas take different amounts of time, but on average, a single treatment area takes as little as thirty-five minutes. Results are visible after a few treatments, with full results realized after a few months. According to celebrity aesthetician Joshua Ross of SkinLab in West Hollywood, if you have pinchable fat, you may be a candidate for CoolSculpting. Pick a spot to begin! 
Upper Arms
Tank tops are a lot less fun to wear when fat pockets are stealing the spotlight. "Despite working out, lifting weights and eating fairly healthily, I noticed my upper arms didn't look as toned as they used to be after I turned 30," shares Spotlyte contributor Megan McIntyre. She used CoolSculpting to help slim her upper arms.  
Thighs
Whether it's saddlebags weighing you down or inner thigh fat keeping you from wearing shorts, CoolSculpting could be the treatment that brings you closer to showing off svelte legs. Your provider will apply a targeted applicator on the area that's bothering you, which holds it in place while freezing goes to work. One Spotlyte contributor described the area as feeling numb and staying that way for a few days post-treatment — but as bizarre as the sensation might feel, it's not painful. No need to worry about your ability to walk afterwards!
Abs
If you're starting to feel like you're doing situps in vain, consider blasting the fat that's lying on top of the muscle. Another Spotlyte contributor swears it made all the difference. "I loved my results so much, I've gone in to treat another area already and am planning on more," she says. Bonus: In addition to slimming the tummy, fat freezing can also be used to treat love handles.
Under the Butt
Most of us want a sculpted butt, but the little "banana roll" that many of us carry around is still decidedly less-than-ideal. CoolSculpting can reduce that annoying pouch for good. After all, the only thing that should be making its debut on the beach is all the hard work you've put in at barre class. 
Bra Fat
Speaking of the back half of our bodies, this treatment can also be used on that annoying bra bulge area — i.e. the spot on your upper back that's prone to showing lumps when you wear a bra or strappy dress. CoolSculpting can help smooth this area.
Double Chin
There are many ways to contour your double chin. As far as non-invasive treatments go, CoolSculpting is an option which provides you with long-lasting results. Read about one writer's experience treating this area here.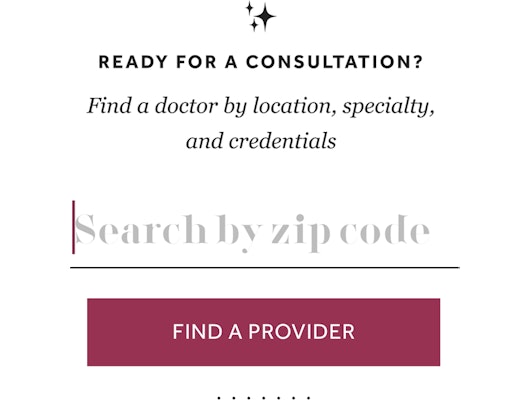 So, whether you have a vacation on the horizon, you're gearing up for a wedding, or you're simply in the mood to wow in that new dress, you can start whittling those annoying bulges, stat. Also remember that this is a medical treatment which comes with risks and possible side effects. As always, feel free to chat with our team of trained aesthetic specialists — they can point you in the right direction for treatment providers!
CoolSculpting® is an Allergan®-owned non-invasive fat reduction treatment.
CoolSculpting® Treatment Important Information 
Uses
The CoolSculpting® procedure is FDA-cleared for the treatment of visible fat bulges in the submental (under the chin) and submandibular (under the jawline) areas, thigh, abdomen and flank (love handles), along with bra fat, back fat, underneath the buttocks (also known as banana roll), and upper arm. It is also FDA-cleared to affect the appearance of lax tissue with submental area treatments. The CoolSculpting procedure is not a treatment for weight loss. 
Important Safety Information 
The CoolSculpting procedure is not for everyone. You should not have the CoolSculpting procedure if you suffer from cryoglobulinemia, cold agglutinin disease, or paroxysmal cold hemoglobinuria.
Tell your doctor if you have any medical conditions including recent surgery, pre-existing hernia, and any known sensitivities or allergies.
During the procedure you may experience sensations of pulling, tugging, mild pinching, intense cold, tingling, stinging, aching, and cramping at the treatment site. These sensations subside as the area becomes numb. Following the procedure, typical side effects include temporary redness, swelling, blanching, bruising, firmness, tingling, stinging, tenderness, cramping, aching, itching, or skin sensitivity, and sensation of fullness in the back of the throat after submental or submandibular area treatment.
Rare side effects may also occur. CoolSculpting may cause a visible enlargement in the treated area which may develop two to five months after treatment and requires surgical intervention for correction.
Ask your doctor if CoolSculpting is right for you. To learn more about what to expect, visit the CoolSculpting website and comprehensive Important Safety Information.