I'm not going to deny it: I absolutely love lip plumping products. It's one of my favorite beauty items to test, and luckily, I've had the opportunity to try almost every lip-enhancing gloss and treatment on the market. Over the years, I've developed a slightly weird affinity for the mildly tingling, sometimes stinging sensation that many of these glossy tubes deliver. And while I adore the instant results of these pout plumpers — which normally contain mild irritants that cause a temporary reaction like capsicum (found in chili peppers), cinnamon, or menthol—I've never seen any long-term results. That is, until I discovered Algenist® GENIUS Liquid Collagen Lip ($35).
I know what you're thinking: there's no way a topical lip treatment can give you the same temporary, volume-enhancing effect as getting injectable lip filler treatments at a dermatologist's office. And long story short, no, it can't. But it did improve the appearance of my pucker, leaving it softer and smoother over time.
In lieu of the common irritants I mentioned above, the serum-like liquid features plant collagen, which claims to help with visible signs of aging like lines and wrinkles. It also contains Algenist's signature Alguronic Acid, which comes from microalgae and is known to be restorative and replenishing.
According to double-board certified plastic surgeon Dr. David Shafer, "Alguronic acid is a group of polysaccharides, which play a fundamental role in skin biosynthesis (the process in your body that turns simple structures into more complex structures) and maintenance." Finally, there are omega-rich microalgae oil beads suspended in the formula. These are important when it comes to your skin's metabolism and health. "This helps with mediating inflammation and promoting structure," says Dr. Shafer.
Unfortunately, applying collagen topically won't plump up the lips. But Dr. Shafer notes that it's still not a bad idea to slick it on. "The building blocks of topical collagen and the other ingredients likely contribute positively to cellular metabolism of the skin," he explains. You'll likely see some cosmetic benefits as your lips absorb all those nutrients.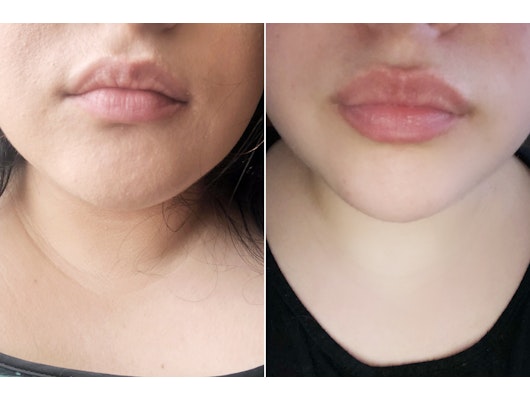 Courtesy of Amanda Etkind
I religiously tested Algenist GENIUS Liquid Collagen Lip for 11 days. Its hefty syringe-style packaging features a white, cooling ceramic tip applicator, which dispenses the dual-phase formula. Upon first application, I was pleasantly surprised with how heavy and substantial the tube felt in my hand.
Per instructions, I twisted the tube few times, and once I saw the gel-like golden liquid appear on the tip, glided it across my lips, then used my pointer finger to pat in the product. I immediately felt the microbeads burst onto my lips with a cooling sensation (amplifying the refreshing experience from the applicator). After a few seconds, I did feel a little tingling, but it's nothing like the intensity of other plumpers I've tried. After about two minutes, the product totally absorbed into my lips, leaving them hydrated with no trace of excess serum in sight.
While I enjoyed using it in place of lip balm — I honestly haven't reached for any since switching over to this treatment — I especially enjoyed applying this before swiping on lip colors. It made my lipstick look infinitely better, because it gave my lips a boost of hydration and smoothed my lip lines without leaving any product behind. (It's the perfect canvas!)
In regard to longer-term effects, I used the treatment twice a day for 11 days and noticed my lip lines looked less pronounced. My pout overall looked softer and more supple. I may not totally put down my old lip plumpers (I still adore that tingling sensation and immediate volumizing effect), but I've definitely made room for this lip-enhancing treasure in my beauty routine. I'll also continue to purchase it even after this tube runs out — that's how you know I really love it.