If you're a bride-to-be, you've likely got far too many responsibilities on your plate right now — from deciding bouquets to ring bearer bow ties to finding the perfect pair of shoes to dealing with venue hiccups. Ultimately, the only thing you should be focused on is making a meaningful commitment to your significant other, which is why we're removing another pressing concern: figuring out the timing your beauty and aesthetic treatments. Everything from a breast lift to a chemical peel needs to be carefully scheduled— you don't want to worry about healing scars or redness. To help you navigate what sort of treatments are ideal for brides — along with when you should schedule them — we consulted a couple of top dermatologists for expert advice.
Major Surgeries: 1 Year or Greater
If you plan to have any sort of invasive plastic surgery — such as a tummy tuck, breast augmentation or reduction, or butt lift — schedule a consultation with your preferred doctor at least a year before your wedding. When the surgery actually takes place depends on the work you're getting done, but that year-long cushion is imperative.
"Advance preparation is key when it comes to looking great on the big day," says Dr. Nancy Kim, a board-certified dermatologist at Scottsdale's Spectrum Dermatology. "We had a client who, despite our advice, insisted on a face lift two months prior to her wedding. On the day of, she still had visible scars and swelling in her cheeks." Dr. Kim notes that while it's essential to consider how much time you have and to assess all of your options, there are effective treatments for every schedule.
Laser Hair Removal: Eight Months to One Year
This is an incredibly common procedure for brides-to-be, and for good reason — maybe you want stubble-free armpits that won't detract from your incredible strapless gown, or you don't even want to think about your bikini line while you're honeymooning in Tahiti. Laser hair removal will help destroy the hair follicle, reducing future growth. This treatment typically requires a series of six sessions, with four to six weeks in between each. For that reason, we recommend starting this venture at least eight months in advance. That way, you'll have a buffer between your last session and wedding day.
Laser Skin Resurfacing: Six to Nine Months
How far in advance you should begin laser resurfacing depends on the type of laser, area being treated, and your specific goals. According to Dr. Sejal Shah, a NYC-based cosmetic dermatologist and the founder of SmarterSkin Dermatology, you should build in a cushion of at least three months.
"Laser resurfacing — such as fractional non-ablative or fractional ablative laser — for textural irregularities such as fine lines, wrinkles, and scars should be completed three months prior to the big day to see optimal results as collagen stimulation takes approximately three months," advises Dr. Shah. "If you need a series — [which is often the case] — then you should really start six to nine months before your wedding."
Laser treatments targeting pigment irregularities and sun spots also typically require a series of treatments (versus a single appointment). Your treatments should begin at least six months prior to your wedding day.  
"More low-level lasers, which aim to make the skin 'glowy' or radiant, can be performed closer to the big day. For example, I love a Clear + Brilliant® treatment for brides," says Dr. Shah. "I generally advise doing a series of four to six treatments, starting four to six months before the wedding with the last treatment 10 to 14 days before."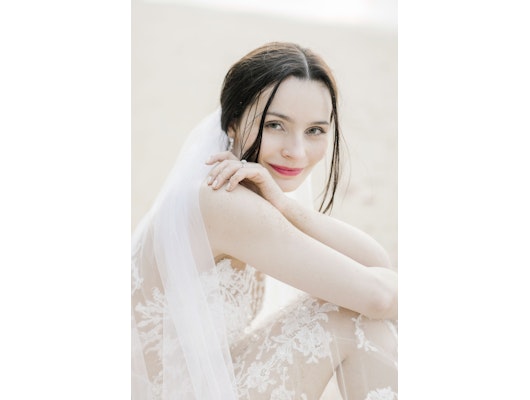 Stocksy United / Dreamwood
Microneedling: Six to Eight Months
Microneedling is precisely what it sounds like: a procedure that involves pressing very tiny needles — roughly 0.1 millimeters in diameter — into the skin. When repeated over time, this technique helps reduce scarring (acne-related or otherwise) and boosts collagen production to improve your skin's overall appearance.
"If skin texture is a concern, we highly recommend the bride start a microneedling treatment cycle six months or earlier before the wedding," says Dr. Kim. "It will improve the texture and tone of skin, providing that picture-perfect glow."
Fat Freezing: Four to Six Months
If a major surgery is out of the question due to limited time, finances, or personal preference, another option to consider is CoolSculpting®. This is a non-invasive reshaping treatment that's become increasingly popular for brides who want to treat "problem areas" that may be more visible in their wedding dress.
"CoolSculpting is an option for areas that may be more exposed, like your arms, back, and chin," says Dr. Kim. "It takes three months to start to see results, and the bride will need at least two treatments one month apart. I personally recommend having treatments done at least four to six months prior to a wedding."
Injectable Wrinkle Reducer: Three to Four Months
This temporary treatment helps smooth the look of moderate to severe wrinkles on areas of the face, including the forehead, crow's feet, and the elevens.
"If you are getting wrinkle reducer for the first time, I recommend doing so four months before the wedding day so that if you are unhappy with the way it looks, its effects will have worn off by the wedding day," says Dr. Shah.
This is a medical aesthetic treatment, which means it's important to schedule that first consultation in advance to talk to a provider and find out if it is right for you. There are risks and side effects to these treatments, which your provider can discuss with you.
If you are happy with the results, or if you've been receiving treatments regularly, she recommends scheduling a final appointment about four to six weeks before you exchange vows. To find a provider in your area, talk to our concierge team — they can connect you with a licensed injector.
---quiz start
---quiz end
[Editor's Note: Injectable wrinkle reducers are temporary wrinkle treatments that smooth the look of moderate to severe wrinkles in certain areas of the face. These treatments should be administered no sooner than every 3 months and have risks and possible side effects. Talk to your licensed provider to decide if this treatment is right for you. Have more questions? Chat with a trained aesthetic specialist now!]
Filler: Two to Three Months
Filler, which is typically made of a hyaluronic acid-based gel, can be injected to fill out your cheeks, lips, and the laugh lines that form around your mouth. Because they're minimally invasive and work quickly, they're a popular option for many brides smooth lines and plump pouts on their wedding day.
"Fillers on nasolabial folds, cheeks, or to enhance the lips should be done two to three months prior to assure that all swelling has subsided and it all looks very nice and settled before the big day," says Dr. Kim. "Three months is recommended if the bride has not done them before." Again, it's important to talk to a provider about the potential risks and benefits for you. And, of course, finding that trusted provider is essential. Consult with a trained aesthetic specialist to find someone experienced near you.
Facials: Two Weeks to Two Months
How far in advance you schedule a facial depends on what type of facial you're receiving. For example, an aggressive chemical peel — such as a TCA peel that involves a week or two of post-treatment skin peeling — should be done between about two months in advance. Less aggressive facials, such as mild peels or ultra-hydrating treatments, can be done closer to the big day. We highly recommend following the advice of your dermatologist since treatments vary wildly.
While you can use the time frames above as a helpful guide, it should go without saying that everyone is different regarding how their body responds to treatments. For a truly customized plan leading up to your wedding day, we recommend consulting a professional roughly a year prior to walking down the aisle. They'll be able to fully assess your skin and help you achieve your specific aesthetic goals.
Additionally, it's important to consider sticking to a skincare regimen that's been working for you in the days leading up to your wedding. Even if your skin is usually pretty resilient, it's better to remain safe and not try that new mask or at-home peel on the off chance it dyes your skin or causes a reaction. Instead, stay with what you know works for you. In the same way you wouldn't suddenly dye your hair a completely new color the night before, it's best to err on the side of caution so that you feel truly confident and beautiful as you exchange vows.
CoolSculpting® Treatment Important Information
The CoolSculpting procedure is FDA-cleared for the treatment of visible fat bulges in the submental area, thigh, abdomen and flank, along with bra fat, back fat, underneath the buttocks (also known as banana roll), and upper arm. It is also FDA-cleared to affect the appearance of lax tissue with submental area treatments.
During the procedure you may experience sensations of pulling, tugging, mild pinching, intense cold, tingling, stinging, aching, and cramping at the treatment site. These sensations subside as the area becomes numb. Following the procedure, typical side effects include temporary redness, swelling, blanching, bruising, firmness, tingling, stinging, tenderness, cramping, aching, itching, or skin sensitivity, and sensation of fullness in the back of the throat after a submental area treatment. Rare side effects may also occur. The CoolSculpting procedure is not for everyone. You should not have the CoolSculpting procedure if you suffer from cryoglobulinemia, cold agglutinin disease, or paroxysmal cold hemoglobinuria. The CoolSculpting procedure is not a treatment for obesity. Ask your licensed provider if CoolSculpting is right for you. To learn more about what to expect, visit the CoolSculpting website.