In The Path, we spotlight different women making a difference in the beauty and medical aesthetics industry. Here, they share their road to success.
Always do the right thing. It's a mantra Marigay McKee — founder of MM Luxe Consulting, managing partner of Fernbrook Convergence fund, and passionate philanthropist who scaled the Himalayas and jumped out of a plane in the name of breast cancer research — lives by on a daily basis. She's even written the phrase in neon and plans to install the glowing motto in the kitchen of her new Manhattan apartment.
Undoubtedly, McKee has done quite a few things right over the course of her enviable career. Before venturing out on her own as a highly sought-after entrepreneur, she started as a "Saturday girl" in Harrods department store in London. It was then, as a wide-eyed college student with a flair for languages (she's fluent in Spanish, French, and Italian), that McKee got her first glimpse of high fashion — while catering to the jet set that routinely stocked up on labels like Saint Laurent, Dior, and Valentino. Little did she realize that she'd one day become the store's Chief Merchant and later move across the pond to serve as the President of Saks Fifth Avenue.
It wasn't exactly a direct shot from shop girl to CEO. McKee made many stops on her journey to the top. She taught English and geography in Spain; assumed her first corporate role at Estée Lauder; became a buyer for Fenwick; and headed up the beauty division at Harrods before transitioning to accessories and fashion. "It sounds very simple, but it wasn't," she explains. "It took a lot of years and many promotions."
That said, it seems that McKee was born knowing how to merchandise. "I was always very diligent about where I put things and how I put things," she says of her childhood self. "My friends' mothers would always say, 'We love when Marigay comes over, because she tidies up our kitchens!"
As vigilant about her beauty routine as she is about her business dealings, McKee, a woman who has literally seen and tried it all, made time in the midst of her jam-packed schedule to reveal the products she's remained loyal to over the years, the biggest lessons she learned from the "father of beauty," and the reason "50 is the new 30."
Make yourself an asset
"When I left home, my parents said, 'Wherever you go — it doesn't matter whether you're a teacher, or you're a social worker, or wherever you end up — always make sure that you add value and make time for the people around you,'" explains McKee. "If you think of adding value, whether it's adding value to the company or adding value to your boss or adding value to your colleagues, then I think you'll always make good choices."
In addition to this essential advice from mum and dad, McKee discovered that staying true to yourself while becoming an indispensable asset to any organization is key: "People may like you or they may not like you, but if you can be yourself and work hard, I think they'll always respect and trust you."
Commit the three "Hs" to memory
"I was very fortunate to have two very good bosses who had a profound effect on my life," said McKee. One of them was the "father of beauty" and current chairman emeritus of The Estée Lauder Companies, Leonard Lauder. "From him, I learned the three Hs of business, which are hard work, humility, and humor," she explains. "I've always really admired that even today, in his mid-eighties, he's never forgotten hard work, he's always practiced humility, and he's never lost his sense of humor."
The former owner of Harrods, the late Mohamed Al-Fayed, taught McKee "everything there is to know about retailing." The motto he instilled in her is one that she still abides by today while consulting on projects like New York City's Hudson Yards: If you make it fun, they'll come. "I always believed that was very true. [Mohamed] also used to say, 'Make the store a stage. Make it theatrical. Make it come to life. Make the magic happen,'" she recalls. McKee certainly has no shortage of tricks up her designer sleeve.
Put down your phone and truly connect
A big proponent of DMC (deep, meaningful conversation), McKee made her family dinner table a technology-free zone. "It's important for brands to have it with their consumers . . . families to have it between kids and parents . . . friends to have it with each other," she explains. "I think we spend so much time using technology, and whilst I'm all for it helping us have easier lives, I do think that technology has also brought with it an element of loneliness."
McKee encourages both her children and the clients she works with to "reach out to the people who really need you" and to practice "inclusivity as the new exclusivity." It's an interesting stance, given that the fashion and beauty powerhouse made her mark at ultra-luxe brands often favored by an elite clientele. "In the old days, it was always about exclusivity, exclusivity, exclusivity, and now it's far more important to be inclusive," she notes.
Use your ears twice as much as your mouth
The ability to truly tune in is one of the many traits that have made McKee a success in multiple areas of her life."I love to chat, but I'm often reminded that you have two ears and one mouth for a reason," she says. "As a consultant, you listen to your clients; you listen to what they want; and you try and help them, add value, and enhance what they're doing. As an investor, you sometimes have to use your mouth a little bit more, but it's also very important to listen."
Stick with what works
"To me, skincare and makeup was always much more than maintenance," says McKee. "Skincare was hope in a jar and I don't think I've ever lost that feeling." The same can be said for cosmetics, which she affectionately refers to as her confidence-boosting "war paint."
Despite having unlimited access to the latest and greatest products that continually flood department store shelves, McKee swears by the same key items she's relied on for the past two decades. And having tried the best of the best, she knows what really works. "When you're in the fashion industry, you start wearing Dior and Valentino every day," she says. "The same is true with beauty, in that La Prairie and Crème de la Mer became part of my daily routine."
A few of the must-haves in her arsenal: Estée Lauder Double Wear foundation and concealer; Crème de la Mer The Concentrate, The Reparative Body Lotion, and The Lip Balm; La Prairie Skin Caviar Luxe Cream; Chanel nude lipsticks; Tom Ford bronzer and eyeshadow quartets; and Too Faced® mascara. While she noted that she probably uses "nine products instead of three" after working as a beauty buyer, McKee says her daily skincare routine is a five-minute job and she's "mastered the art of putting makeup on in the car on the way to the office."
Mascara, lip gloss, and blush are her daytime essentials, while her after-hours look involves bronzed skin, smoky eyes, and pale lips — a combo the mother of makeup, Pat McGrath, schooled her on for her engagement party. "It was so different than anything I had ever done to myself and she's the reason I favor the smoky eye," says McKee. "I always put on my foundation first and then did my eyes and face. Pat said, 'No, no, no, always do your eyes first, because no matter how careful you are, you'll always drop some powder onto your cheeks.'"
Other lessons she learned from McGrath: "She told me that I could always do smoky eyes if I had nude lips, and I've always followed that. She also told me that bronzer was less aging than blush if used correctly."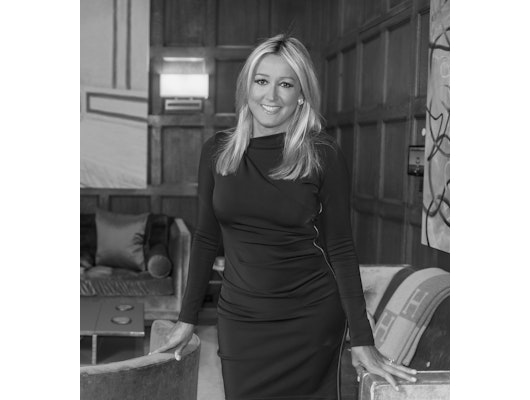 Courtesy of Marigay McKee
Surround yourself with scent
"Fragrance, to me, was always a dream or a fantasy in a bottle," says McKee, who lights a different candle during breakfast, lunch, and dinner. If you walk into her home on any given day, you can expect to find Diptyque's Feu de Bois burning in the foyer, Jo Malone Lime, Basil & Mandarin in the bathrooms, and Pomegranate Noir throughout. Nest's Pumpkin Chai burns during Halloween and Thanksgiving, the brand's Holiday candle is always lit during Christmas, and Grapefruit is reserved for the summer months.
McKee says she also never leaves home without fragrance. "It's very important to me," she adds. So much so, she "sneakily" burns Otherland candles (a brand she invested in with Fernbrook) at her desk in the WeWork offices. On her person, she spritzes the "light and fresh" Chanel Chance or Coco Mademoiselle, and turns up the sex appeal after dark via Tom Ford's Japon Noir. The "very green and sparkly" Tom Ford Neroli Portofino is the perfume you'll find her sporting at the beach.
Invest in yourself
"When I was working in corporate life, I was putting in between 12 and 15 hours a day, so I just didn't have time for myself," says McKee, who has since swapped power suits for jeans and a shirt. "Of course, I would go and get the ubiquitous two or three blowouts a week before I started work, but that's not really time to yourself, that's just maintenance."
After striking out on her own, she's made "flexibility and health" her top priorities. She hits SoulCycle before heading to the office, strolls around Central Park, takes a yoga class, or makes time for meditation at Inscape. "I invest in my soul, in my spirit, and in my mind," explains McKee. "Everyone says to me, 'Oh, you're glowing! Oh, you look so happy, you can't be working!' I'm like, "No, I'm working harder, I just work in a very different way.'"
She also credits injectable wrinkle reducers for smoothing the appearance of forehead wrinkles that have a tendency to make her look "cross." She received her first dose of injectable wrinkle reducers at age 45. "When I moved to America, they told me that I have to do it every six months," she says. "Of course, with all things, the more you have, the more you want, so you have to be careful. I don't like the overdone look." McKee also recommends the oxygen facial at Dr. Neal Schultz's Upper East Side office and enjoys indulging in a spa day with her daughter or husband at Julien Farel's NYC salon.
[Editor's note: Injectable wrinkle reducers are used to temporarily smooth the look of moderate to severe wrinkles in certain areas of the face such as the forehead, frown lines, and crow's feet. They should not be used more frequently than every three months. Like any medical treatment, they have potential risks and side effects. Be sure to talk to a licensed provider to see if they're right for you. Have more questions? Chat with our team of trained aesthetics specialists now.]
Form a power squad
"I've always been surrounded by really strong women and strong girls," said McKee, who counts ladies like Audrey Gruss (founder of the Hope For Depression Research Foundation), Ruth Porat (CFO of Alphabet and its subsidiary, Google), Jane Hertzmark Hudis (Group President of The Estée Lauder Companies), Jane Lauder (Brand President of Clinique), Aerin Lauder (Style and Image Director for Estée Lauder and Founder and Creative Director for AERIN), Debra Black (co-founder and chair for the Melanoma Research Alliance), Glennda Testone (Executive Director of The Center LGBT), Paula Zahn (a journalist who advocates for criminal justice reform), Diana DiMenna (documentary filmmaker, theater producer, and director of the DiMenna Foundation), Susan Rockefeller (a conservationist and filmmaker who serves on the board of directors for Oceana), Tory Burch (designer and founder of the Tory Burch Foundation), and Laura Slatkin (founder and CEO of NEST Fragrances) who serves on the board of directors for Autism Speaks alongside Dee Ocleppo Hilfiger (a fashion designer and entrepreneur) among the many influential members of her inner circle.
"I'm like a speck on the landscape compared to these women," says McKee, who sits on the board for The Shed and The Center LGBT, is passionate about The Rockefeller University (an institution responsible for groundbreaking scientific research), and recently addressed 60 young women for Girls Who Invest (a non-profit dedicated to increasing the number of women in portfolio management and executive leadership). "If you're one of the people who is lucky enough to be the recipient of good fortune and you have smarts, it's really up to you help others," she adds.
Later this year, she's doing a 150-kilometer trek in Santiago de Compostela over the course of 10 days to raise funds for the Breast Cancer Now, a cause she supports by completing an annual adventure (like climbing Mount Kilimanjaro or hiking Mount Everest) alongside 12 other women. "I think women have an emotional chord that runs a little bit deeper, so we can understand some of these issues much more easily than our male counterparts," says McKee.
Never stop learning
"I always try to work with people who are smarter than myself," says McKee. "If you surround yourself with talent it makes life very interesting—there's a constant learning curve." She also firmly believes that it's never too late to change course and experience new things. "If you look at 50-year-olds in our grandmother's time, they were done," she says. "I've got 50-year-old friends who are starting new careers. I've got 50-year-old friends who are completely changing their lives and making a difference. In fact, I've got 50-year-old friends who are having babies. When you've got a support network surrounding you like the one I have, I think you can say 50 is the new 30."