As usual, makeup artists were on a serious skin mission at Spring/Summer 2019 New York Fashion Week, and each lead called in an army of must-have toners, serums, and creams to get the job done. Sure, there were the expected staples — like Bioderma Sensibio H2O, Neutrogena®  Makeup Remover Cleansing Towelettes, and Mario Badescu Facial Spray — but we were particularly keen on hearing about some of the lesser-known (but equally worthy) products.
While poking around makeup artists' personal stashes, we discovered a handful of skincare products that could work just as well on your beauty shelf as they do in their kits. We even asked them to share how the products were being used.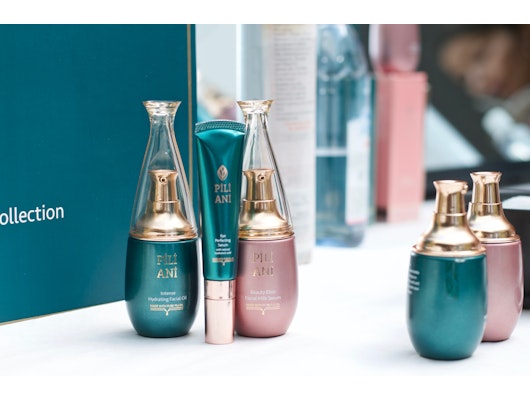 Wendy Rose Gould
What: Pili Ani Eye Perfecting Serum
Where: Tadashi Shoji
How It Was Used: When a product can be used in multiple ways outside of its original purpose, it's always a good thing. Pili Ani Eye Perfecting Serum ($89), which is formulated with hyaluronic acid, pili oil, and a patented marine complex, was being applied both to models' eyes and lips.
"I like to massage it into the temple area, and I've also been using it on the lips of the girls because they come in and their lips are all chapped, dry, and irritated," says Eileen Harcourt, the on-deck esthetician for Pili Ani. "Most lip balms have a waxiness to them, so when you go to put lipstick on it's not going to go on as smoothly. This product is immediately absorbed into the lips and it fills in all the dry lines so there's no residue on the surface — they just look natural. You can put lipstick or lip gloss over it and it's going to go on beautifully."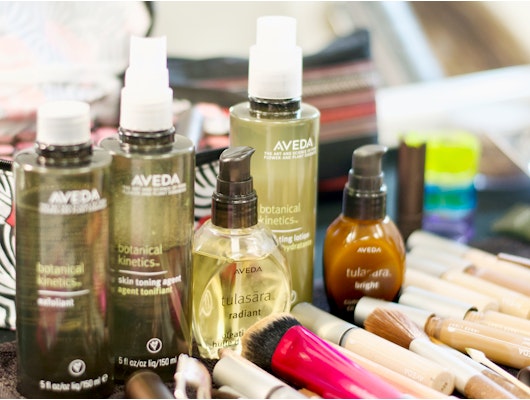 Wendy Rose Gould
What: Aveda® TulasāraTM Radiant Oleation Oil
Where: Christian Siriano®  
How It Was Used: "The idea for today is that the skin is really glowy, kind of bronze-y, very dewy, and really fresh," says Janell Geason Avesta, lead makeup artist for Aveda. "One of my favorite products we're using today is our Aveda TulasāraTM Radiant Oleation Oil ($49), which is great for dry skin — it's the bomb." The oil is comprised of six botanical oils, including sesame, sunflower, jojoba, rosehip, apricot kernel, and sweet almond.
"Sometimes I mix it up with our concealer and it gives that beautiful kind of glow within," she explains. "I think that's really what it's all about for skin now. It's not that highlighters are not being sold — because I think for a lot of people that's easy — but we wanted to really highlight the models' natural glow, so we're using skincare as makeup."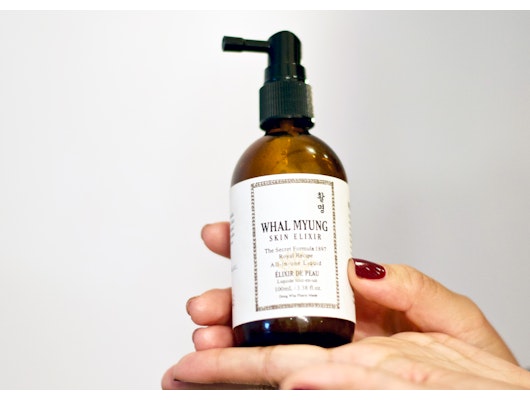 Wendy Rose Gould
What: Whal Myung® Skincare Elixir
Where: Prabal Gurung®
How It Was Used: "I tell everyone that beautiful makeup starts with beautiful skin, and rather than just throwing makeup and foundation on the models, it's really important to prep the skin and get that moisture going," says makeup artist Nam Vo, who was charged with ensuring every model at Prabal Gurung had exceptional skin. "One of the key products we're using backstage is the Whal Myung Skincare Elixir ($58), which creates this sort of veil of moisture to really make the skin glisten."
She also used the brand's Antioxidant Rejuvenating Serum ($48) and Hydrating Cream ($52), making sure to take extra time between each step to really massage the products into the skin to ensure adequate penetration. "Not only does it keep the skin really moist, but it also helps foundation glide on and stay on," she notes.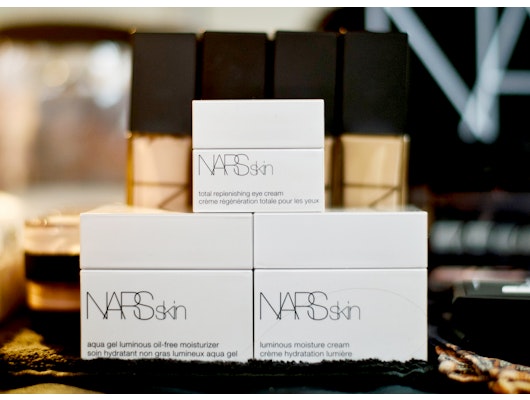 Wendy Rose Gould
What: NARS® Cosmetics Multi-Action Hydrating Toner
Where: Rodarte®
How It Was Used: "During show season, the girls' skin is just so beaten down, so it's important to rehydrate," says James Kaliardos, the key makeup artist for NARS Cosmetics.
"It really does make a difference, and it makes their skin less irritated and creates that smoother finish when you're working,"  
While all aspects of skincare are important, including cleansing and moisturizing, he really stressed the importance of exfoliating and toning. "To exfoliate with a cotton pad using the NARS Cosmetics Multi-Action Hydrating Toner ($32) really gets rid of dead cells, makeup residue, and any dirt," he says. "Then we put the moisturizer on top, and the makeup just sits much better. Skipping these steps is such a huge mistake."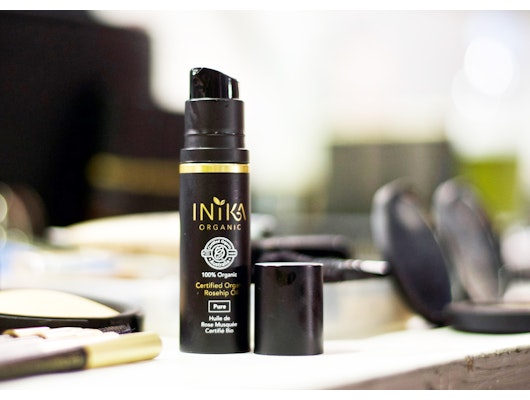 Wendy Rose Gould
What: Inika® Certified Organic Rosehip Oil
Where: Nonie
How It Was Used: Rosehip oil is arguably one of skincare's most unsung heroes, but Campbell Richie, lead makeup artist for Inika Organics was eager to incorporate the Inika Certified Organic Rosehip Oil ($32) into her routine for the day.
"I like to warm the oil up in my hands and then pat it gently into the skin," she says. "Then, I'll move on to do the eyes to let it sink in and then go back and do my base."
Because rosehip oil is a dry oil, the skin drinks it up quickly without leaving a slick finish. The result is super hydrated, soft skin that allows makeup to apply evenly.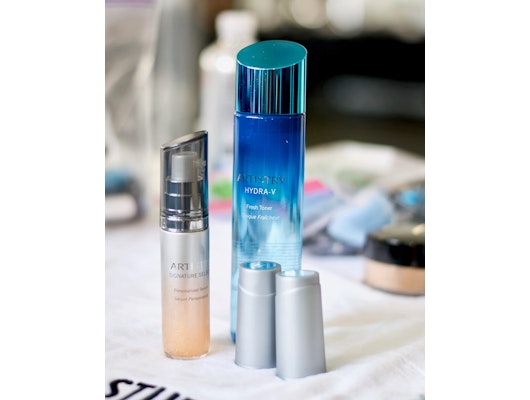 Wendy Rose Gould
What: Artistry Signature SelectTM Personalized Serum
Where: Pamella Roland
How It Was Used: "This year, Pamella's inspiration was the island of Bali, and when I think of Bali, I always remember that there's so much sunlight," says key makeup artist for Artistry, Rick DiCecca. "Very luminous skin was important — like you're just glowing in the sun."
To prep models' skin, they used the brand's just-launched Signature SelectTM Personalized Serum ($80), which allows you to add two or three "amplifier" shots to the 100 percent phyto-infused water base.
"We added hydrating and brightening shots to the base today," explains. DiCecca, "which is why their skin has this beautiful glow. It adds that really beautiful luminosity."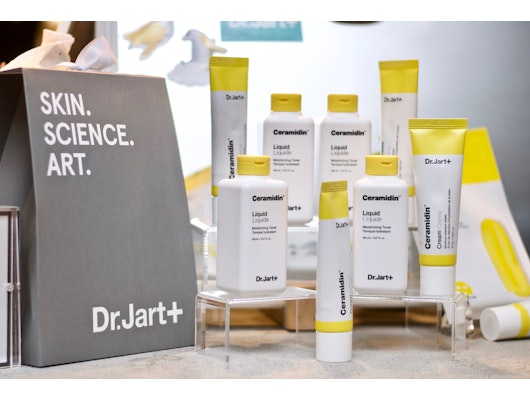 Wendy Rose Gould
What: Dr. Jart+ CeramidinTM Facial Mask
Where: Opening Ceremony
How It Was Used: "As you know, all these models have super stressed out skin during fashion week, so we're actually using Dr. Jart+'s re-launched CeramidinTM Facial Mask ($6), an ultra-hydrating sheet mask that's infused with panthenol and aloe vera," explains makeup artist Moani Lee. "It's really good for moisturizing, cooling, and calming. We keep it on their skin for about 10 minutes and massage it right in."
She explained that Ceramidin is a lipid, and likened skin cells to building blocks and ceramidin as the mortar between them. Ceramidin occurs naturally in the skin, but it's often broken down due to UV rays, stress, and environmental damage. Incorporating the ingredient into your regimen will help repair the skin so it's plump, soft, and hydrated, says Lee. They also used the brand's CeramidinTM Liquid ($39) and CeramidinTM Cream ($48).
Allergan may receive commissions for purchases made through links in this article.