By now you've likely heard that CBD oil is the hottest ingredient of 2018 to land on health store shelves. The supposedly miracle oil, formally identified as cannabidiol, is being used in everything from bath bombs to mascara. No, it won't make you high even though it comes from the same plant used in marijuana. But it may provide benefits such as feeling relaxed, relieving pain, and soothing skin. Like coconut oil, it's not a one-trick pony. One sector it's gaining momentum in is the spa world, as CBD oil-infused massages continue to be added to the services menus.
"CBD oil just seemed like it was something that married well together with massage," says Demetri Travis, the lead masseuse at NYC's Chillhouse. "Supposedly CBD oil helps relieve symptoms of anxiety and depression, and people are obviously using it for pain. There are multiple ways of taking CBD. Some people take it via a mouth spray, pills, or a drinkable [tincture]. And of course, it can be applied topically. There have been several studies that show that CBD reduces inflammation. Reduction of inflammation means muscles heal faster." And so, the CBD-oil infused massage was born.
At Chillhouse, the treatment ($100 for 50 minutes) features a muscle-healing CBD oil combined with cooling arnica oil and numbing lidocaine. When I tried the treatment, the cocktail gave immediate relief to my chronic neck and shoulder pain. The effects lasted about a week.
What makes the Chillhouse service unique is that the CBD-arnica-lidocaine oil blend is only applied to areas where you "need" it (as opposed to the entire body). "What's good about applying it topically is that we can focus where we want to put it," Travis explains. He compares it to seeing a physical therapist who places a cold pack on specific areas of soreness. Massages at Chillhouse technically spot treat pain with CBD oil. That said, if you have pain all over (I did!), there is no harm in using it everywhere.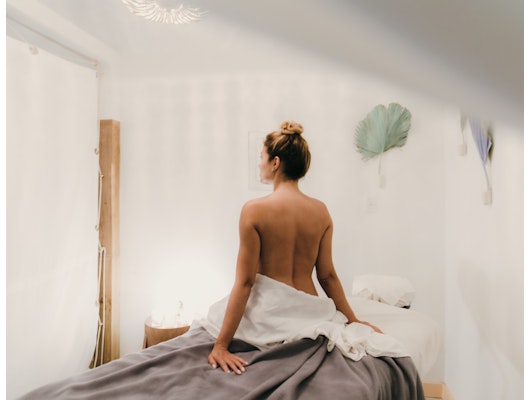 Courtesy / Daniela Spector via Chillhouse
At the luxurious St. Regis Aspen Resort's Remède Spa, you can also find a CBD Healing Massage on the menu ($250 for 60 minutes). The Remède Spa version of this treatment features a locally made CBD oil by That's Natural, which is applied to the entire body.
"It is an industry leader that uses Colorado-grown hemp, a clean CO2 extraction process and is solvent- and preservative-free," explains Irisha Steele, the resort's spa director. The spa decided to add CBD oil to its signature body rubs (which are heavenly) based on client needs.
"One of our regular guests has been in pain for 10 years due to a previous injury," Steele says. "After receiving a CBD Healing Massage, his immediate feedback was the pain was gone. He now comes back bi-weekly for treatments and has purchased the product to use for at-home care. We have a lot of skiers and snowboarders who use this treatment for quicker recovery to help get back on the mountains."
When I experienced the CBD Healing Massage, I felt relief again on my pain areas (neck, shoulders) as well as an overall feeling of relaxation. That said, I spent the day utilizing the St. Regis's outdoor pools, hot tubs, and indoor therapy pools — which surely added to my zen state. Would I have felt the same way had I simply used aromatherapy oils? Possibly. But if the addition of CBD ensures I can unwind and heal, my personal philosophy is to lean into the natural therapy.
"I truly believe in the healing powers of the plant," Steele echoes. "Plants are here to heal us. I wanted to provide guests with  another option for healing. My goal is for people to leave and/or reduce the use of painkillers and provide options in whole plant based products without the side-effects of pharmaceutical drugs."
So how, exactly, does CBD oil do this? "It has strong anti-inflammatory properties, helps the body to not make the chemical that causes inflammation, and protection of nerves by inhibiting the processes that damage nerves," Steele says. The results, as mentioned, manifest as stress, anxiety, and pain reduction.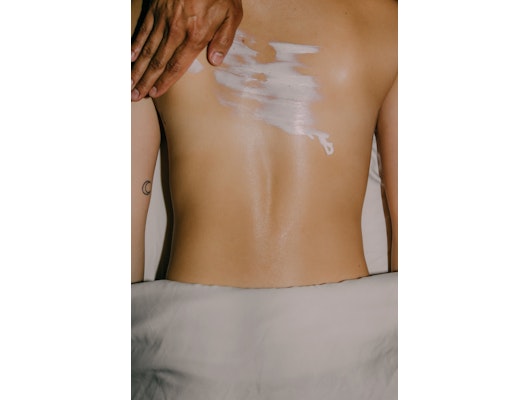 Courtesy / Daniela Spector via Chillhouse
If you're looking to try this at home, Travis advises to look for a verified supplier. "If you see CBD oil for less than $60, it's probably not real," he adds, referring to the counterfeit products popping up. "Right now, it's in high demand and people are taking advantage of that by charging a lot for it." Chillhouse buys their CBD oil from Massage Warehouse.
"Warm it up into your hands and then rub it into your body thoroughly in the area that you need it," Travis advises. "That helps with absorption." He also recommends applying it before bed. "It works most effectively after you've rested for the night and woken up in the morning," he says.
Maybe it's psychosomatic, maybe it's real. Either way, treating yourself to a DIY or high-end massage is never a bad idea.
The author received the above treatment for free.