In this series, Top 11, influential people with beautiful skin share 11 ways they take care of it. Knowledge is power!
Dr. Doris Day might share her name with a classic movie star, but it's another famous actress that she reminds me of. With her dark brown hair, piercing almond eyes and enviable cheekbones, a modern-day Natalie Wood comes to mind. But it's her expert touch, keen eye and state-of-the-art practices that has kept Dr. Day one of New York's go-to dermatologists ever since she hung her shingle on the Upper East Side 15 years ago.
Dermatologist is just one of Dr. Day's titles. Along with her successful Upper East Side practice, she is also a radio host on Sirius XM 110 Doctor Radio, and a regular on The View, Good Morning America, Live with Kelly and Ryan and Dr. Oz. If all that isn't enough, she is also a three-time author. Her latest book, Beyond Beautiful hit the shelves earlier this year.
And when it comes to beauty, the doctor practices what she preaches — literally. Whatever she suggests for her clients first is vetted and experienced by the doctor herself. After admiring her timeless beauty, we are left thinking: we'll have what she's having. Lucky for us, she obliged. Here, her top 11 product, lifestyle and treatment secrets.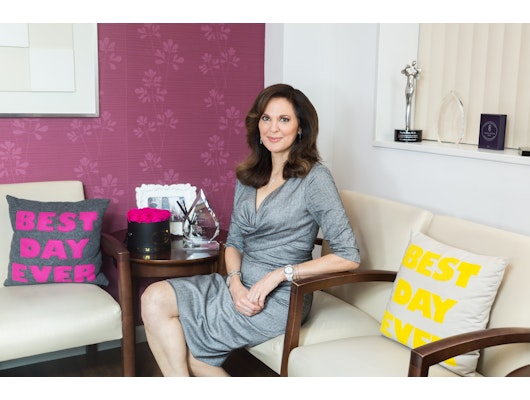 Kelsey Ann Rose
Like Clockwork
"I try to go to bed same time every night by 9:30-10 p.m. and wake up by 5-6 a.m. every morning because the body likes homeostasis. The more balance you have, the happier your system is."
Focus Group of One
"I try to give my skin special attention for five minutes in the morning and, again, at night before bed. I'm am always trying different products, because I'm testing them. Everything I tell my patients to do or use, I consider for myself, as well. I use sunscreen with a minimum of SPF 30 every single day, all year round. I don't go out without it and I always re-apply.
I'm always testing different brands, but I really like Eryfotona ($50) from Spain. It's SPF 50 and it has a DNA repair enzyme in it. I also like Neutrogena®, Colorscience®'s powder ($65), Revision® Skincare Intellishade® Matte SPF 45 ($75), Chanel CC Cream SPF 50 ($55) and Skinceuticals Physical Fusion ($34)."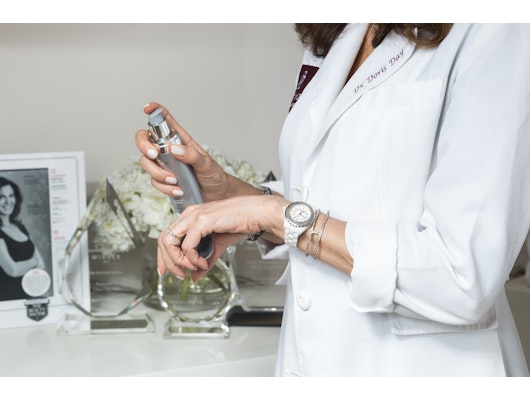 Kelsey Ann Rose
Takes Her Vitamins
"I take several supplements: One called TA 65, which keeps telomeres long. I also take vitamin D, DHEA and niacinamide."
The Power of Positive Thinking
"Every night, I practice evening meditations and thoughts to sleep on. I always give myself positive things to think about. I first do relaxation breathing, then go into visualization. I start by visualizing myself tall and thin.
I also use visualization to think about my patients. I think about the interactions and outcomes, and I visualize my patients looking beautiful and healthy and happy, then I visualize focus, strength and positivity for myself.  
I try to give myself positive, encouraging, happy things to sleep on. I am a visual person, so I use that to my advantage and think about beautiful places I've been to, people I've met and what I still want to accomplish. I also say a prayer for my children to stay healthy and happy in their lives."
Always Moving
"Every morning, while my coffee is brewing, I stretch for 10 minutes. It's whole body stretching, and it kind of wakes me up. I walk to and from work every day, too. It's a little over two miles. I also work out twice a week in the gym in my building. I do the Stairmaster, bicycle, and free weights for about 35-40 minutes. It feels good when I'm done. If I have lots of energy left, I climb the 14 flights of stairs to my apartment instead of taking the elevator."
Hydrate!
"I try to drink a lot of water every day. I keep a glass bottle on my desk and refill it throughout the day."
It's OK to Cheat
"I try to avoid sugar as much as I can, but I'm not too hard on myself when I cheat, because I do. I allow myself red meat and pizza once a week, but I usually focus on fish and vegetables."
Enter Laughing
"I try to keep a great sense of humor. And I also remember to be grateful every day, for every day. I do say I love you to the people I love pretty much every day."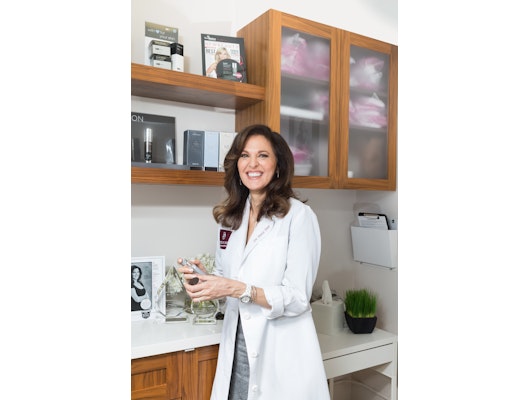 Kelsey Ann Rose
Cosmetic Injectables and Other Treatments
"I do [injectable wrinkle reducers] every four months. I don't do my forehead, but I do between the eyes and crow's feet. I do Thermage or Ultherapy twice a year. I get fillers every few years – once in a while on cheeks, but never on my lips. I do Fraxel twice a year and I get hydrafacials every three months. I have the Gentle Waves and do that twice a week."
[Editor's note: Injectable wrinkle reducers and fillers are temporary medical treatments that help reduce the look of moderate to severe wrinkles and restore volume, respectively. As with any medical procedure, there are risks and side effects, so talk to a licensed provider to see if they're right for you. Have more questions? Chat with a trained aesthetic specialist now.]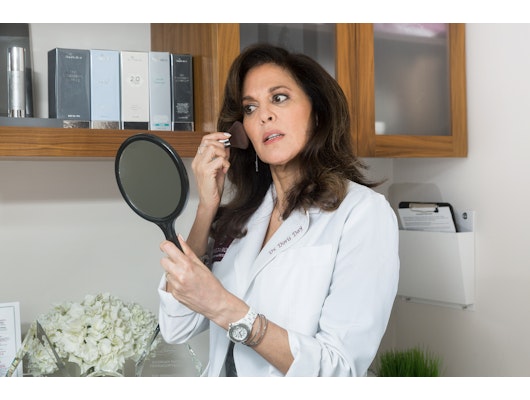 Kelsey Ann Rose
Days of Beauty
"I go to Julien Farel salon once a week for a blowdry and manicure, and leave there looking like a princess!"
Emsculpt
"I've just started doing Emsculpt [High-Intensity Focused Electromagnetic body strengthening, toning and firming procedure] and I love it. I just did it on The View a few days ago. As soon as we finish this interview, I'm doing it again. I'm seeing results already, both in appearance and how I feel. I felt sore the next day, but it's already made my workouts better because I feel stronger now that Emsculpt has given me more muscle. God, I love my job."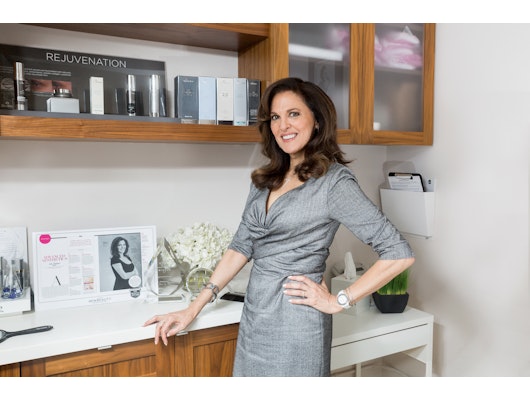 Kelsey Ann Rose
---quiz start
---quiz end