The first time I thought about getting injectable wrinkle reducers, I was lying on a facialist's table in a dark room of a nondescript day spa. It was New Year's Eve, and I was redeeming a gift card to a place I would have not gone otherwise (but who was I to turn down a free facial?). I wasn't even thirty years old.
After inspecting my skin under the light and while he was exfoliating and moisturizing my face, he started to sell me on injectable wrinkle reducers. These treatments are designed to temporarily smooth the appearance of moderate or severe wrinkles in certain areas of the face, like the crow's feet and "the elevens". I already had wrinkles, he said, and he could tell they were only going to get worse. He claimed it really would be in my best interest to consider getting injections soon.
It was clear that he was trying to upsell me. He wasn't a dermatologist (red flag number one). In fact, he said he had only recently gotten certified in injections (red flag number two). I certainly wasn't going to give in to his constant prodding. If I were going to get cosmetic injections, I finally told him, I would go to my doctor. What was meant to be a relaxing end-of-year facial had turned into an upsetting sales pitch for something I didn't think I needed.
But why didn't I think I needed an injectable wrinkle reducer? I continued to mull over the facialist's words for months. I'd sit in front of my bathroom mirror studying my face, watching the lines he pointed out gradually get deeper. It was over a year later that I actually got a wrinkle reducer. A friend had started to see a licensed dermatologist and invited me to join during one of his visits. I went with the intention to simply ask him questions. You see, at that point in time, I didn't know any men who had injections (or at least any who would freely admit it).
That house call was nearly five years ago. Since then, statistics have come out showing that more and more men are embracing cosmetic injections. According to the American Society for Aesthetic Plastic Surgery, in 2016, men accounted for nearly 10 percent of injectable wrinkle reducer procedures. While this doesn't mean that it's exactly common, it does show that men are becoming more open to the idea.
---quiz start
---quiz end
We could spend a lot of time thinking about the reasons for this change. Some doctors I've spoken to have noted that more of their male patients asking for injections show an increased interest in smooth skin and camera readiness. Chalk it up to the demands of social media, if you will, but the bottom line is that men are paying more attention to their faces.
I know this all to be true from my own work as a men's grooming editor. But hindsight is 20/20, and if I had known then what I know now, it may have not been so hard to make the mental leap for myself. I might have realized sooner that I just didn't know of any men that got cosmetic injections, while there was a good chance I knew plenty that actually did.
Cut back to a (board-certified) doctor crouching over my face, needle in hand, telling me in a calm voice exactly what he was going to do and where he was going to inject. The areas I needed to focus on where my forehead above my eyebrows and also between them. This was of particular interest to me, since even at thirty I already had a deep crease between my brows.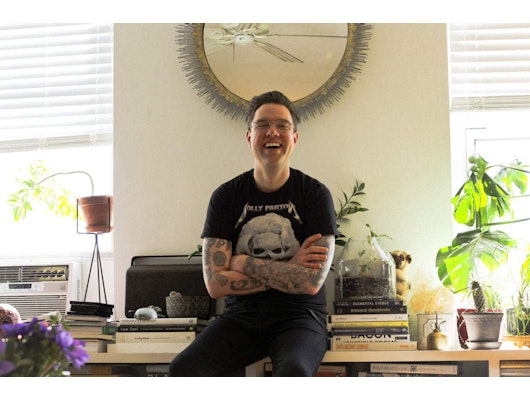 Ian Michael Crumm
He gave me the option of numbing cream, which I turned down because of machismo (I have tattoos, for god's sake, I ain't scared of no needles!). The job was finished before I knew it. Soon I was dabbing small prick spots with alcohol and we were discussing aftercare.
As with any prescription treatment there are side effects, so talk to a licensed provider before committing to it. It generally takes a few days (sometimes up to a week) for the effects of wrinkle reducers to take hold. I checked the mirror many times throughout the days after my procedure, but it wasn't until about five days afterward that I woke up to a smoother-looking forehead. That morning, as I looked in amazement at my reflection, I couldn't believe how much better I thought my forehead looked. I truly hadn't realized how many wrinkles I'd had until they were treated. In that moment, I knew there was no going back.
Nicci Levy, founder of Alchemy 43 which is a new "aesthetics bar" concept in Los Angeles, regularly administers wrinkle reducers to a male clientele. In fact, she says about fifteen percent of her client base is male, well above the national average. It's interesting, then, that the aesthetic philosophy toward giving cosmetic injectables to men can sometimes differ from women. "Men look good with a little bit of age," Levy says, "so it's about softening them."
In the years since I started getting wrinkle reducer injections, I've found this to be true too. Sure, I've gradually been getting more injected and I still have laugh lines. Also I have movement in my forehead and eyebrows, it's just that while at rest, they're smooth.
Statistically, men getting wrinkle reducers is on the rise, but people still act surprised when I start talking about injections. There is still a bit of stigma attached to a man getting them, though I'm not sure why. Vanity knows no gender. I'm happy to tell anyone who will listen about how much I love wrinkle reducers. I consider it part of my skin care routine, with a standing quarterly appointment with my doctor the same way I have monthly appointments with the barber, aesthetician and acupuncturist. Also remember that injectable wrinkle reducers are a medical procedure which have risks associated, so please be sure to consult your physician.
Want to chat about injectable wrinkle reducers? Our trained aesthetic specialists are here to help! Get real aesthetic answers, right now from our trained aesthetic specialists.
So whenever another guy pulls me aside at a party or a dinner or DM's me on Instagram asking about injectable wrinkle reducers, I always say the same thing: Man up and get some shots.