Mention the word cannabis to someone and you're bound to get a reaction, from furtive glances to knowing nods. We've spent decades looking at it as a drug, but not much time examining it as just a plant. But, thanks to a new canna-movement in the beauty industry, the conversation around it is shifting as we learn more about the power of green.
You've probably also heard the term CBD thrown around a lot recently and for good reason: it's a powerhouse ingredient that can aid in everything from acne to muscle pain. Formally known as cannabidiol, CBD is the non-psychoactive extract from the cannabis plant. In short, it comes from the pot plant but it won't get you stoned.
"It's an incredible compound sourced from industrial hemp and packed with vitamins, omegas, and essential fatty acids that are known to have beneficial impacts on the skin, hair, and overall body," explains Julie Winter, COO and founding partner of CBD For Life."It can be used to create hydrating, anti-aging, and anti-inflammatory skincare products."
Think of CBD as "skin food," explains Erica Ragusa, an herbalist and founder of Ambika Herbals. "The same properties of cannabis that are healing and regenerative for aches and pains are helpful as anti-aging and skin-balancing agents in skin and body care," she notes. "Cannabis applied topically brings vital nutrients to the skin and can help with inflammation, acne, eczema, and mature or dry skin."
It's this versatility that has led to an explosion of CBD beauty products. And, provided you are choosing ones that feature the real deal, that means you can sub it in for almost any of your current beauty mainstays. For the record, actual CBD products will feature words like hemp extract, full-spectrum, cannabinoids, or terpenes. Hemp essential oil and hemp seed oil, while fabulous for skin health and hydration, do not contain CBD or any of its anti-inflammatory, anti-aging, pain-relieving properties, explains Ragusa.
Still wary about incorporating cannabis into your daily regimen? We suggest thinking of it like any other plant you would find in a beauty product, be it lavender or aloe vera. Yes, cannabis (more specifically, marijuana) is technically classified as a drug, but not every extract of it is illegal — just THC, which is the psycho-active compound. "I always tell people that CBD won't make you high, it just makes you awesome," says Krista Whitley, founder of Altitude Products. And couldn't we all use a little more awesome in our lives?
Keep reading to discover some of our favorite CBD-infused beautifiers to help you green up your routine.
Bath Bomb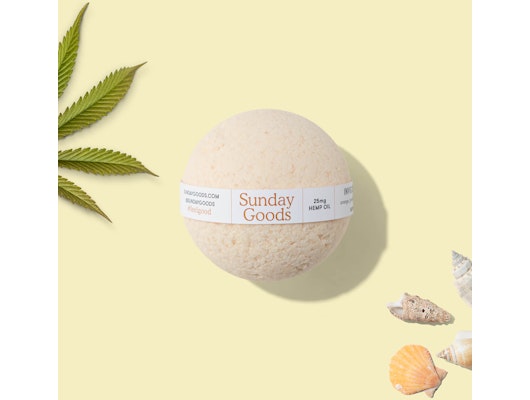 Why take a bath when you can take a CBD bath? Sunday Goods'® CBD Invigorating Bath Bomb ($10) combines 25mg of cannabidiol with essential oils of grapefruit, vanilla, and sweet orange into a fizzy ball of bliss. Drop it in the tub to soothe achy muscles and melt away stress and anxiety.
Acne Fighter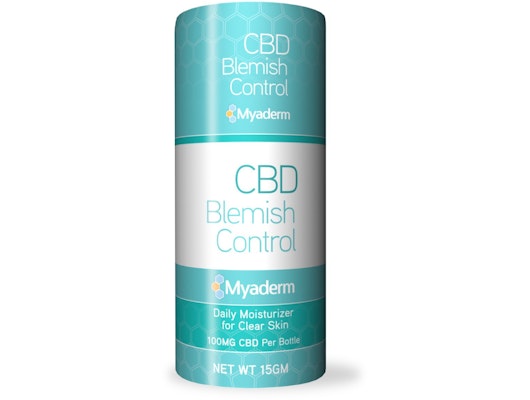 For as much as we talk about it, acne is still one of those skin diseases people don't really know conclusively how to manage. One thing scientists and dermatologists can agree on, though, is that it's an inflammatory disease, meaning it's caused by your immune system's chronic reaction to both internal and external stress.
As we mentioned before, CBD is an anti-inflammatory plant, so it's tailored to help in the fight against blemishes. After seeing customers using its pain-relieving topicals to diminish breakouts, pharmacist-formulated cannabidiol brand Myaderm took that knowledge and feedback to create a CBD Blemish Control serum ($25). In addition to that protection against inflammation, Myaderm's pharmacists also point to research that CBD helps regulate sebum production (excess oil is another large factor in the formation of blemishes). The effect of CBD on acne has not been studied extensively, but we wholeheartedly support more research that can aid us in our quest to eliminate acne. You hear that science? Help a sister out here.
Body Oil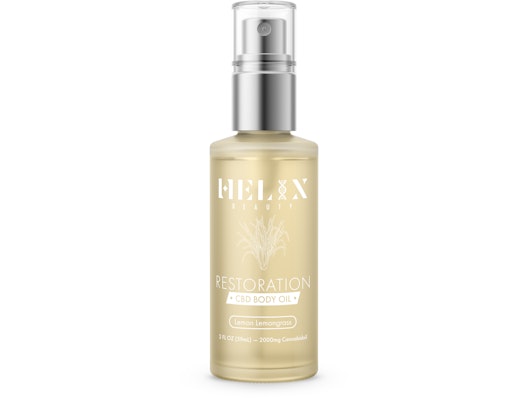 While pain management is something that CBD is known for, it needs to be in high milligram doses in order to have an actual effect on joint and muscle aches. So, five milligrams in an eight-ounce product is not going to give you any significant relief. You want to look for products that contain a minimum of 250 milligrams of cannabidiol if you have serious pain you are trying to mitigate. High-dose topicals, while effective at treating pain, usually come in a salve form and have a bit of a medicinal scent to them.
Green Helix founder Joe Caruso believed that there was a way to blend luxe skincare with alternative healthcare, which is how he developed the immensely hydrating and restorative Restoration Full Spectrum Lemongrass Body Oil ($145). It packs a whopping 2,000 milligrams into a two fluid ounce bottle.The high-dose CBD extract is suspended in a base of sunflower seed, jojoba, sesame, and lemongrass oils.
"If you are treating your shoulder for pain," he explains, "there's no reason why you can't also provide rehydration and protection for the skin." Hear, hear. Try pressing it into damp skin post-shower to get the optimum moisturizing and soothing effects.
Anti-Aging Serum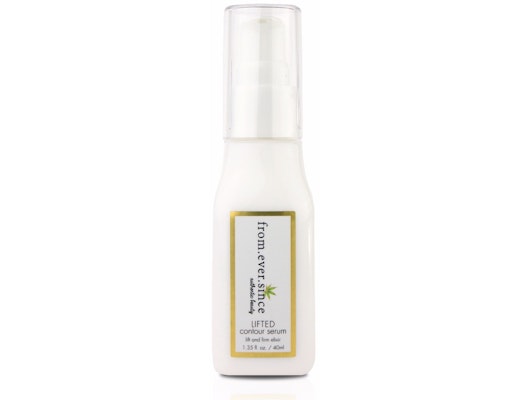 In addition to its anti-inflammatory powers, CBD has also been shown to be a stellar antioxidant, capable of protecting the skin from environmental damage and oxidization that contributes to wrinkles and fine lines. The From Ever Since Contour Serum Lift & Firm Elixir ($95) has hemp extract, hydrating vitamin E, plumping hydrolyzed collagen, plus African acacia gum, which provides an immediate (albeit temporary) tightening and lifting effect.
Bar Soap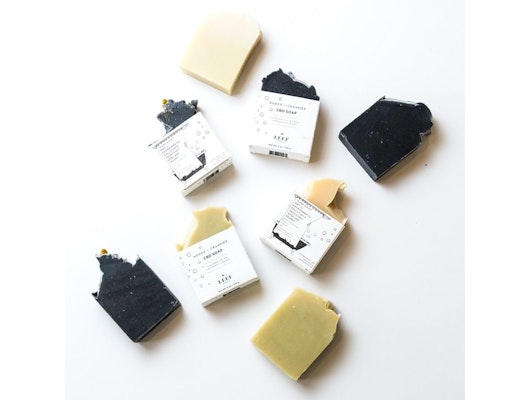 This isn't just any old bar soap — the Leef Organics Nooks + Crannies CBD Soap ($22) simultaneously hydrates and relieves skin irritations like redness and itching while it gets rid of dirt and grime. Try the Cucumber Melon version for a summery scent experience that will clean, calm, and protect your skin from top to toes.
Scalp Care
Don't let your skin have all of the fun — cannabidiol is also a great way to keep your scalp and hair healthy. Ragusa uses full-spectrum hemp extract in her Scalp Serum ($26) (i.e. it contains not only CBD, but also a host of other beneficial cannabinoids like sleep-promoting CBN and anti-microbial CBC to nourish hair and soothe an irritated scalp.
"As an herbalist, I always prefer to work with plants in their most natural state, which is why with the hemp extract I use is full spectrum, as this process preserves all of the components naturally found in the plant," she says. "I also think about other herbs that may complement hemp in a formula to elicit certain responses when applied."
In this case it means adding in Ayurvedic herbs like amla and jatamansi, plus sesame oil and lavender essential oil. She recommends warming up the bottle in a hot mug of water and then massaging into your scalp before bed. Wash it out the next morning to activate its regenerative effects and revel in your lustrous, healthy strands.
Post-Workout Body Lotion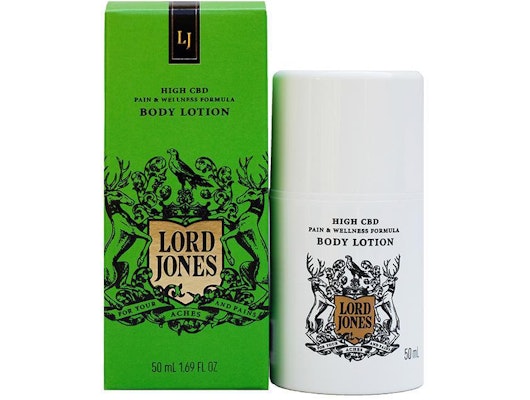 Muscle tension from over-exertion or general fatigue can be a problem for just about any of us. Who hasn't winced in pain after going a little too hard at barre class? For those types of strains, nothing beats a cramp-alleviating muscle lotion like this one from cult-favorite wellness brand Lord Jones ($50). It combines a cooling agent featuring menthol and lactic acid to relieve tension on contact, plus whole plant cannabidiol that is readily absorbed for optimal tension relief.
Sensitive Skin Cream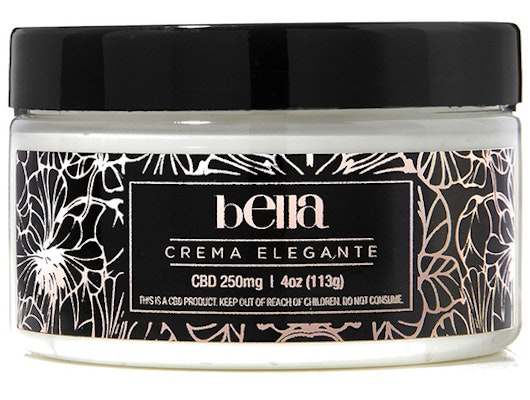 As anyone with highly reactive skin knows, you have to be militant about ingredients or risk a flare-up. CBD is actually a benign-yet-beneficial plant extract that can be used for those suffering from rosacea, psoriasis, and eczema.
Whitley was so impressed with CBD, she used it to create a cream for her daughter Bella, an eczema sufferer. "Eczema is caused by a depressed immune system and thin skin that is irritated typically by either internal or external sources," she adds. So she formulated her Bella Crema Elegante ($78) to be free from any potential irritants and to include peptides, phospholipids, and yeast extract for maximum hydration and smoothing benefits. You get all the benefits of CBD, but don't have to worry about potentially irritating ingredients mixed in with it.
Mascara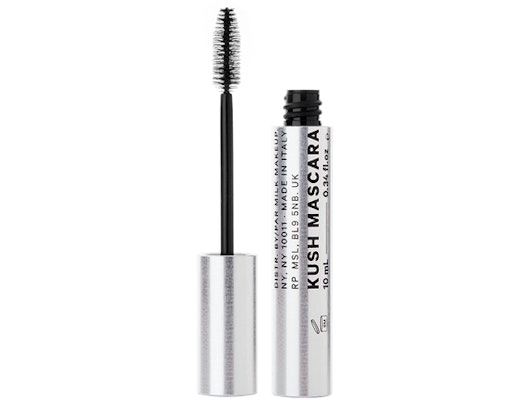 Milk Makeup's® Kush High Volume Mascara ($24) is made with hemp-derived CBD oil to condition lashes as it lengthens and thickens them. The brand wanted to create a vegan mascara, but since most traditional mascaras use beeswax as a conditioning agent, they looked to cannabis to give Kush a creamy formula and allow the special heart-shaped, volume-boosting fibers to glide smoothly over the lashes.
Foot Cream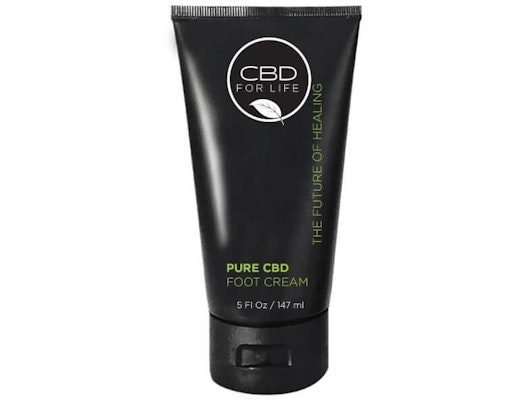 It's not exactly the sexiest of products, but anyone who stands on their feet for long hours — or gets a little too high-heel happy — understands the power of a soothing foot cream. Made specifically for tired feet, the CBD For Life® Pure CBD Foot Cream ($20) combines cannabinoid extract with peppermint, aloe vera, and jojoba seed oil to moisturize and aid in reducing aches and pains. Kick off your shoes and rub it into your overworked feet using small, circular motions for a moan-inducing foot massage that will have you feeling more "ahh" than "ouch."
With all of these ways to care for your skin and body, it's easy to see how CBD has gotten its recent reputation as an overachiever ingredient. Now it's only a matter of time before it infiltrates every aspect of your beauty routine — think of it as the coconut oil of 2018.