If you consider yourself more mature than millennial, it's probably best to leave the Instagram beauty trends to the selfie generation and hit the refresh button on your everyday routine. All you need are a few minor tweaks that make a major difference, and who better to reveal these game-changing adjustments than makeup artist Sir John, the go-to pro for A-listers like Beyoncé, Joan Smalls, Naomie Harris, and Gabrielle Union. Here, the famed face painter reveals his top tricks and the beauty lessons he learned from his forever muse: his mother.
Lesson 1: Get dolled up for the derm.
Before your next (or first!) appointment to get an injectable filler — which temporarily adds volume to specific areas of the face (learn about them here) — show your doctor your desired outcome with makeup. Use lip liner and gloss to visually represent how pillowy you'd like your lips to be, or apply bronzer and highlighter on your cheeks to represent the more contoured look you are hoping to achieve. "It's a good diagram of where you want to be and where you feel comfortable," Sir John explains.
If a seamless canvas for foundation is what you are looking for, an injectable wrinkle reducer might be your best option. This is a treatment that temporarily smooths the appearance of moderate to severe wrinkles on the face, in areas such as the forehead and crow's feet.
Both injectable fillers and injectable wrinkle reducers are prescription treatments. There are benefits and also side effects, so talk to a licensed provider and ask lots of questions. Thinking about a consultation? Chat with a trained aesthetic specialist to find providers near you!
Lesson 2: Try a skin-boosting tag team.
To wake up dull skin in seconds, Sir John serves a one-two punch of brightening vitamin C followed by complexion-plumping hyaluronic acid (which is also a key ingredient in filler). The dynamic duo he keeps in his kit include SkinCeuticals® C E Ferulic and Dr. Barbara Sturm Hyaluronic Serum.
Before applying makeup, he suggests using a water-based moisturizer (oils prevent foundation from adhering) and prepping skin with a primer—a product his mother turned him onto. "I wasn't a huge fan a few years ago and I didn't really get it, but my mom swears by it," he said. It's especially helpful for women who experience sweating in tandem with hot flashes or anyone who needs an anchor to prevent makeup from melting off midday. He likes MAC Prep + Prime Skin ($32) or NARS Smooth & Protect Primer SPF 50 ($36), which minimizes the appearance of pores and blurs the look of fine lines.
Lesson 3: Ace your base like a pro.
After you've laid the groundwork, turn your attention to the surface level. Skip dense formulas (like heavy creams) or mattifying foundations that have a tendency to settle and make fine lines appear even more prominent. Sir John suggests reaching for a featherweight fluid like Urban Decay Naked Skin ($64), Marc Jacobs Beauty Shameless Youthful-Look 24H Foundation ($46), or La MerTM The Soft Fluid Long Wear Foundation ($120), all of which offer sheer-yet-buildable coverage. Then, start from the center of your face and work out toward the perimeter using a damp makeup sponge, such as the BeautyBlender®.
"I don't believe anyone needs foundation from forehead to chin," Sir John said, who concentrates more product in the center of the face where people to tend experience redness or need to even out skin tone. "Start by applying strategically on the cheeks, underneath the eyes, around the nose, and across the forehead and chin. As you work your way out, you'll likely notice you don't need much coverage around the sides of your cheekbones or your jawline."
If you want to give your glow a bit of a boost, add a drop of liquid luminizer (like Becca Shimmering Skin Perfector® ($41)) to your foundation for a lit-from-within effect.
Lesson 4: Warm up with blush.
Instead of "cookie-cutter stripes," Sir John suggests creating a "halo of healthiness" with a liquid bronzer for a "soft and more diffused" contour. He likes to apply NARS Liquid Bronzer in Laguna ($40) using the Charlotte Tilbury Blusher Brush ($66) to the temples, the bridge of the nose, and just under the cheekbones and jawline. Set pigment in place by dusting a matte bronzing powder (such as Marc Jacobs Beauty O!Mega Bronzer Coconut Perfect Tan ($49)) over top with a big, fluffy brush.
You can also consider blush your new "shortcut to happiness," he said. "Stay away from blue undertones, like raspberry shades. Warmer colors like sherbet or poppy add warmth, character, and a healthy flush—like you've just run for a taxi." Using a fluffy brush, swirl a matte shade (like Glossier Cloud Paint ($18)) on the apple of your cheek just beneath your eye and reserve any shimmer for the sides of your face (more on that below!). For even more staying power, top cream formulas with a shine-free powder, such as MAC Powder Blush in Melba ($38).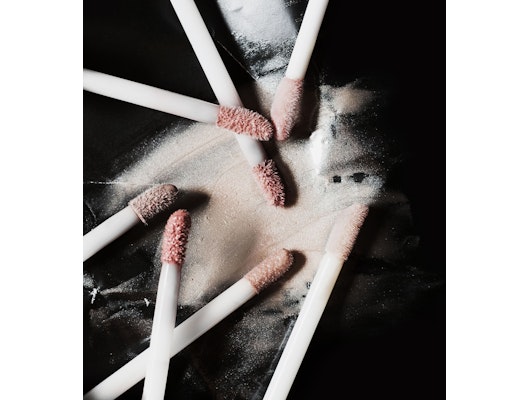 Stocksy United / Magdalena MM
Lesson 5: Find your light.
You can get your groove back and your glow on long after you leave your 30s behind. "Avoid large particles of shimmer—anything that looks glittery or crystallized," Sir John warned. He reaches for Becca Shimmering Skin Perfector® ($41) (the same luminizer he likes to mix with foundation) and taps it along the tops of the cheekbones, the brow bones, the center of the lids, the tear ducts, the cupid's bow, and the bridge of your nose.
"Don't go all the way down to the tip of your nose, focus instead on the area between your eyes—avoiding the 'eleven' lines," he added. For a naturally dewy effect, try using your liquid sunscreen (which you're already wearing under your makeup, of course) as a highlighter in the same spots. "It's very light reflective and a softer way to add radiance," he said.
Lesson 6: Reach for an unexpected shadow shade.
"Eyeliners and brow products are both vehicles that can be used to lift your eyes," explained Sir John. Since brows become sparser with age, the pro suggests filling them in with a pencil first, then following with powder like Anastasia Beverly Hills Brow Powder Duo ($23). "A pencil alone can look too waxy and shiny, but powder sets the shape, locks it in, and looks just like hair," he said.
In lieu of liquid liner that can crease or transfer, define eyes with a waterproof pencil and use your fingertip to softly smudge the pigment out toward your temple for a diffused feline flick. If you want to wear shadow, base lids with a primer to prevent creasing and reach for warmer shades like taupe, plum, or coral with a matte finish. Dark, cool tones can look harsh, while shimmery or metallic formulas can emphasize crepe-y skin.
If your lashes aren't as lush as they once were, fatten up your fringe with a primer (Sir John likes L'Oréal Paris Voluminous® Lash Paradise Mascara Primer) before applying mascara or ask your doctor about prescription-only lash serums that can stimulate hair growth.
Lesson 7: Fake believably fuller lips.
Leave the liquid lip kits to the Instagram "It girls" and reach for an old-fashioned liner pencil that offers budge-proof color and control that doesn't run the risk of feathering into lines. Place the tip of the pencil just outside of the perimeter of your natural lip line and trace just above your cupid's bow and below the center of your bottom lip for a bee-stung effect, explains Sir John.
Next, fill in the entire shape with liner and follow with a creamy lipstick. Matte or overly gloss formulas can magnify every crease, he warns. In terms of color, warmer reds and corals "give life" to the face, while blue-based wines and berries can make lips look thinner.
Lesson 8: Save the baking for the kitchen.
"I don't believe in baking," said Sir John of the time-consuming technique that involves dusting a heavy layer of powder over certain areas (like under eyes) to set concealer and brighten the face. The pro says your T-zone is the only spot you really need to hit with a thin veil of translucent powder, such as Make Up For Ever Ultra HD Microfinishing Loose Powder ($46). It "knocks off oil" on any skin tone without flashing back in photographs. Now, that's reason enough to snap a selfie and save your look for posterity.
 Note that Sir John was paid by Allergan for this interview.
Allergan may receive commission for purchases made through links in this article.
---quiz start
---quiz end