At age 40, Dr. Lily Talakoub believes her skin looks better than it did at age 20. In the last 10 years, the Washington, D.C.-based dermatologist has completely changed up her routine, which she says has given her a more noticeable glow.
If you're curious to see her gorgeous skin, you can check out the Insta-famous doctor on the 'gram where she has 20,000+ followers. There, she posts about injecting brides to be, events she's hosting, and which skincare products she actually uses. You may even see her clients grace the feed, including A-listers, government officials and Fortune 500 CEOs. To find out exactly how she looks so darn amazing, we grilled her on any and everything she does for her skin — from the products and treatments she loves to what she eats in a given day.
Read on for some tried-and-tested, truly "dermatologist approved" tips that you'll be tempted to translate into your own lifestyle.
The skincare routine she swears by
Dr. Lily's skincare routine motto is "exfoliation meets hydration." She's foregone the usual hardcore exfoliating, which she says is favored by most derms, in lieu of something gentler.
In the mornings, it's all about sunscreen. She swears by Avene's SPF 50 ($36), a tinted physical blocker that goes on like makeup and provides more full coverage than your run-of-the-mill tinted moisturizer. "I tend to get melasma and so I really make sure that I aggressively put sunscreen on, even in the winter," she explains of her dedication to the habit. "I wear it every single day, 365 days a year."  In addition to her SPF, she also slathers on ​E​sthederm Intensive Hyaluronic Serum ($73) and Intensive Retinol Cream ($95).
At night, her routine is slightly more regimented. After cleansing with Elemis Pro-Collagen Cleansing Balm ($64), she uses a vitamin C serum (at the moment, she's partial to Pro Heal by iS Clinical ($148), and follows it up with Peter Thomas Roth's Water Drench Hyaluronic Cloud Serum ($22) and Hungarian Thermal Water Moisturizer ($58), so that her skin has three layers of actives working their magic while she sleeps. "When I put the moisturizer on, I put it on like I'm battering a cake," Dr. Lily says of her application technique. "I'm not putting a little dime-size amount on my hand and blending it in. I put it all down my neck and on the top of my chest, too."
Then, there are the "every once in a while" acids, which she has significantly cut down on in the last few years. "Because every time you exfoliate the top layer of your skin to get the dead skin cells off, you're also getting rid of the good bacteria that you need," she explains. "And all the natural oils that you need to keep on your skin to keep your skin moist and hydrated." So instead of sloughing off her dead skin cells every night, she uses a prescription grade retinol twice a week, and Cane and Austin's Miracle Pad 20% ($78) once a week. Always remember to consult your physician, especially if you are pregnant, before trying prescription grade retinol.
She is also a huge fan of facial oils, like Josie Maran 100% Pure Argan Oil ($48), and lathers them on on top of her moisturizer to seal everything into her skin and make sure it doesn't evaporate overnight. "When I go into bed, my husband says, 'you're gonna slide out of the bed you're so greased up on your skin!" says Dr. Lily. And that is exactly how she likes it.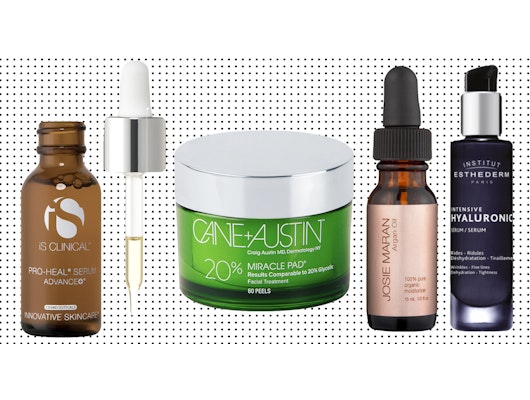 The two things she refuses to eat
For the sake of her skin, gluten and dairy are Dr. Lily's sworn enemies. "If I eat a lot of gluten, I will see it in my skin," she explains, citing the idea that gluten causes gut inflammation, which can lead to facial redness or breakouts. "I never got sick with gluten," she explains. "Nothing ever happened. But when I take myself off gluten, and then go back and eat gluten, I don't feel right. I feel tired, lethargic. My skin won't look right."
However, she says, being "gluten free" doesn't mean that she's shoveling down heaps of gluten-free processed foods. "You need to cut the gluten-free stuff out, because that has tons of sugar. And sugar is not good for your skin either," she explains. She also eats very little dairy, which studies have shown may also cause inflammation in the gut. And of course, she drinks as much water as she can to complement her external hydration internally.
The cosmetics treatments she's committed to
When it comes to treatments, Dr. Lily is big into practicing what she preaches (or, erm, practices). "I am addicted to radio frequency — It's what I call 'the young women's anti-wrinkle,'" she says, noting that she uses the device once a month around her eyes and jowls. "It's a way to reduce the appearance of fine lines and wrinkles, because radio frequency lasers break down collagens and new collagen develops."
She also gets a super simple facial every month that includes steaming and a little bit of microdermabrasion. As far as injectable wrinkle reducers go — a treatment that temporarily smooths the appearance of moderate to severe wrinkles — she's been a devoted user for the last 15 years on her eyebrows, and more recently on her forehead and around her eyes. Please talk to your doctor about the benefits and risks associated with injectable wrinkle reducers. Thinking about a consultation? Chat with a trained aesthetic specialist to find providers near you!

Allergan may receive commission for purchases made through links in this article.