For many of us, concealer is a non-negotiable element of our makeup routines — our "desert island" beauty product, if you will. After all, a quality concealer can make us look well-rested, healthy, and vibrant. Skip it for a day, and people might even ask if you're sick. But if your favorite concealer seems to be slacking as you age, you're probably not imagining it.
"Just like you wouldn't wear the same haircut at 20 as you would at 40, the products that worked for you 20 years ago probably don't work the same now," says celebrity makeup artist Mary Irwin, who works with supermodels Tara Lynn and Hilary Rhoda. "As your skin ages, concerns can go from covering acne and dark circles, to, well, maybe still covering acne and dark circles, but add wrinkles, sun damage, and maybe some texture issues."
While concealing all that may sound like a lot to ask for from one product, it's not impossible. According to Irwin, you'll want to update your choice of formula to address current concerns. You should also learn a new trick or two — in her words, "techniques that work to both conceal and give a youthful appearance." Read on to find out exactly how to give your concealing routine the upgrade it needs.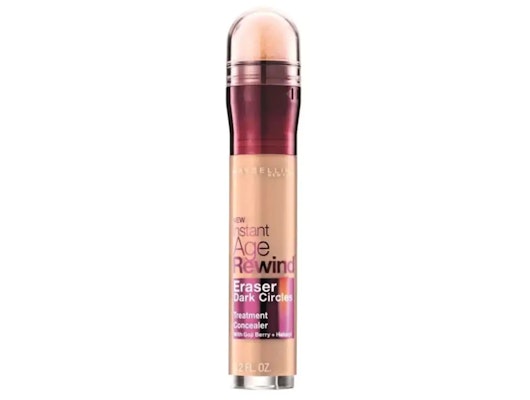 Formula Matters
While undereye concealer can help you fake a fresh-faced look, a subpar formula can actually impart the opposite effect. Specifically, concealers that lean more dry than hydrating can exacerbate wrinkles by settling into fine lines, notes Erin Parsons, Global Makeup Artist for Maybelline, who has worked with Ashley Graham and Jourdan Dunn.
"Definitely pass on anything that is too matte or drying around the eye area," she warns. Instead, she recommends using a radiant formula on the undereye area that provides coverage and hydration. Parsons is a fan of Maybelline Instant Age Rewind® Eraser Dark Circle Concealer ($10), which features a built-in blending sponge on the cap for seamless application, while Irwin's pick, IT CosmeticsTM Bye Bye UndereyeTMAnti-Aging Concealer ($24) is rich and creamy, with a little going a long way to cover imperfections.
Injectable wrinkle reducers — treatments that can temporarily smooth the appearance of crow's feet — work by reducing the muscle activity in the area injected, preventing contractions and reducing wrinkles. By helping to smooth out those creases around your eyes, it might be harder for your concealer to find lines to settle in. Remember, like any medical treatment, injectable wrinkle reducers do have some risks, so talk to your provider to see if they're right for you. Have more questions?  Chat with a trained aesthetic specialist now.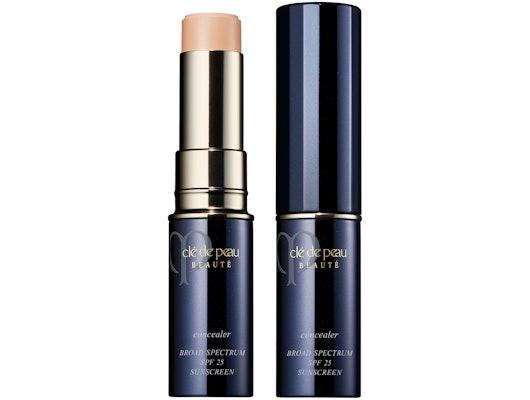 For covering other areas, such as sun spots and hyperpigmentation, you don't need a luminous formula. Irwin recommends a thicker, full coverage concealer — such as the Clé De Peau Beauté Concealer ($75) —  that can be applied alone or over foundation and sheered down as needed. Laura Mercier® Secret Camouflage Concealer ($35) is another excellent option for the face because each compact features two complementary shades, which can be used to tone down darkness and redness. "It's in every makeup artist's kit," Irwin adds.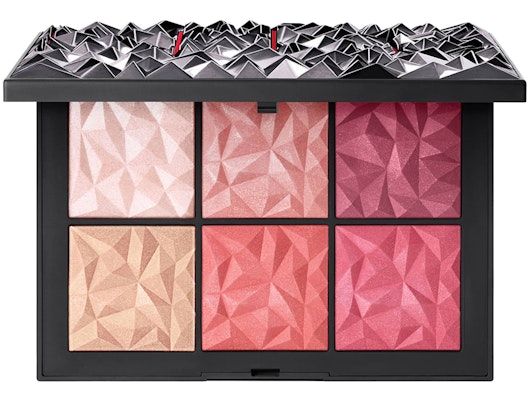 Buy Your Concealer in Pairs
Keep two concealers in your kit, Parson advises. Pick one with warm undertones for neutralizing undereye circles (which should be the first shade you apply in your concealer routine), and one that's slightly brighter than your skin tone. Use that second formula as your final step to wake up the undereye area. However, you should avoid a hue that's too light or chalky. "A tone that's too light may create more hollowness to the eye than help cover it," Parsons explains. That hollowness could make you look older than you actually are! Try NARS Radiant Creamy Concealer ($30) — it comes in a broad range of shades and undertones and blends beautifully.
As for concealing hyperpigmentation, Irwin stresses the importance of using a concealer that is the same color as your skin tone, not lighter. After all, you're not trying to illuminate the area — you're trying to mask it.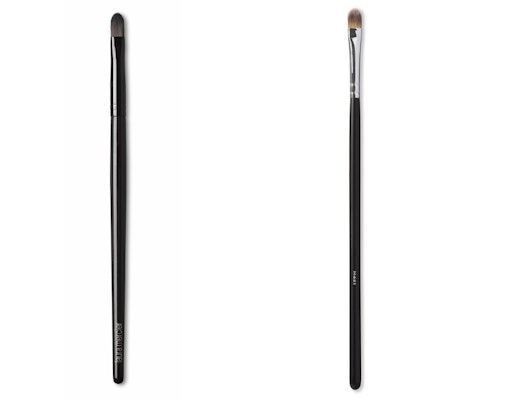 Upgrade Your Toolkit
If your concealer application technique boils down to just smudging it on with your fingers and hoping for the best, it's time to invest in the right tools. "Using the proper brushes goes a long way," Irwin explains. Just as you would use different brushes for eyeliner and eyeshadow, using specific concealer brushes for different issues can help you get the flawless finish you're after.
For dark circles, Irwin recommends using a long-bristled fluffy brush (try the Morphe M421 Mini Concealer Brush, $4), which will allow you to blend out liquid formulas and cover the undereye area in a few broad strokes. For dark patches (like sun spots or hyperpigmentation), Irwin suggests using a small, flat, pointed brush, such as the Laura Mercier® Secret Camouflage Brush ($26). "You'll paint the coverage just where you want it," she says.   
Apply Like a Pro
Parsons swears by her tried-and-true undereye application technique, which incorporates the two different concealer tones we just outlined. First, dab a few dots of the warmer shade onto the darkest, most hollow area under your eye — avoiding the outer eye, where many of us tend to have lines, she notes.
Next, use your long-haired fluffy brush to blend. If you don't have a brush on hand, feel free to use your ring finger (which applies the least amount of pressure to the delicate under eye area) to pat in. The warmth from your finger can also make the concealer look more natural, Irwin adds. 
Once you've blended, add one dot of the lighter-toned concealer (again, only to the hollow area) and repeat the above blending steps. "This [layering] technique helps brighten without adding too much product," Parsons explains. "Using less product and treating only the areas that need coverage is best for mature skin."
Color Correct and Perfect
If you're still finding yourself loading on a ton of concealer despite all the aforementioned tips, Irwin suggests color correcting beforehand. This technique uses classic color theory to cancel out the look of skin imperfections. In the case of dark circles, you would select a color-correcting formula in a tone that is the direct opposite of the purplish-blue hue under your eye — peach or red, depending on the depth of your complexion.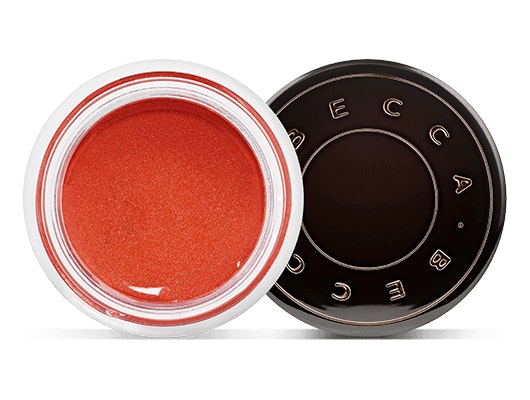 We love the Becca Cosmetics Backlight Targeted Color Corrector in Peach and Papaya ($32 each). Both shades are effective in counteracting darkness, but Papaya is especially effective on darker complexions. By incorporating this step, you can help neutralize the look of your dark circles before you even apply foundation — and whittle down the number of concealer swipes you apply.
Allergan may receive commission for purchases made through links in this article.