In this series, Top 11, influential people with share 11 ways they take care of themselves including beauty, skincare, and aesthetics. Knowledge is power!
When meeting influencer Pili Montilla, the first thing you notice is her enthusiasm. The dynamic, 30-something TV host and producer is practically effervescent with energy, bringing that zeal to every project she works on, whether it's collaborating with brands like DirectTVTM and WalmartTM, or hosting her Emmy-winning show, Té Para Tres con Pili Montilla. You'll also notice her intensely sky-blue eyes, which seemingly always twinkle as if she's just holding back some incredible secrets.
For Spotlyte, she actually did share some of those secrets — regarding her skincare routine. Montilla revealed that it was only 10 years ago (around the time she moved to Los Angeles) that she started seeing her skin as an investment, making regular appointments to meet with pros.
"Dr. Zein Obagi in Beverly Hills changed my skin for the better!" she says. "I used to have a bit of adult acne and his regimen not only got rid of it,but improved my skin." Higher-quality products like those from Dr. Obagi's own line are now essential to her routine, as well is slathering herself with sunscreen. She also "religiously" gets a facial once a month at Jenny Wax in Santa Monica. The Puerto Rico native also visits the offices of Dr. Marrero, a two-brother team, whenever she's in San Juan for "the best facials and treatments."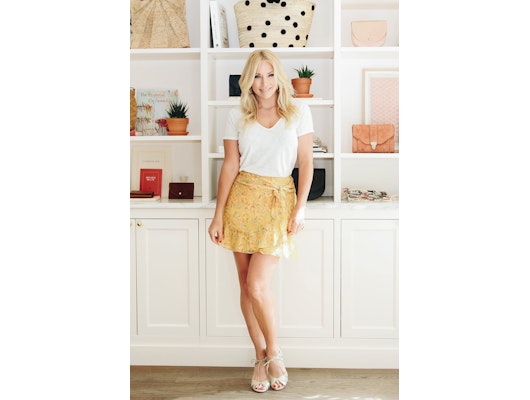 Joslyn Blair
As a former athlete and model — and as a current frequent traveler for work and pleasure — she also swears by drinking endless amounts of water. "I travel with a giant water bottle which I fill up right before boarding and make sure to drink in its entirety during my flight," she explains, adding that she always takes every opportunity to order water from flight attendants. "I don't drink alcohol while on the plane," she says. "Boring, I know! Jajaja!" She'll also keep her skin makeup-free in the air, and on long flights, will pamper herself with a mask. "If you ever get scared or weirded out by a woman wearing a face mask on a plane, it might be me," she quips.
Another product Montilla relies on is cosmetic injectables — more specifically, injectable wrinkle reducers (a temporary treatment that helps smooth the look of moderate to severe wrinkles in certain areas of the face). She makes sure that her provider's technique allows her to maintain mobility and her natural facial expressions, especially because of all her on-camera work.
Here, posing in Sezane at the Soho location of the brand (another one of her partners), she shows off her skin and divulges a bit more — her Top 11 beauty secrets.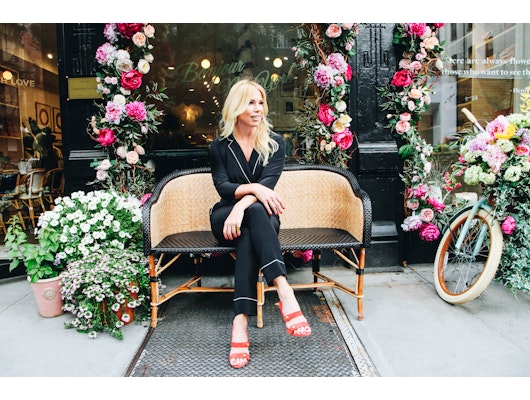 Joslyn Blair
ZO® Skin Health Exfoliating Polish ($67): "I am a big fan of exfoliating and this scrub leaves my skin silky smooth and with a beautiful glow. The granules are super fine and a little goes a long way. On the expensive side, but so worth it!"
St. Tropez Gradual Tan Everyday Tinted Body Lotion ($30): "I'm from an island in the Caribbean, so I love the sun and being tanned — yet I have Irish blood, so my skin is fair. We know how damaging the sun can be. This tanning lotion gives me a nice, natural, even color without the orange-y tones. [It] makes me feel as if I've been sunbathing on the beautiful beaches of Puerto Rico!"
Injectable Wrinkle Reducers: Montilla believes that when applied in the right way, this treatment is worth trying. "I visit Nurse Roni [at August Aesthetics] in Beverly Hills three times a year for a little help here and there," she shares. "I love the subtle results." Keep in mind these are prescription treatments to be used no sooner than every three months — and there are risks as well as benefits. Talk to a licensed provider to learn more. Thinking about a consultation? Chat with a trained aesthetic specialist to find providers near you!
[Editor's note: Injectable wrinkle reducers are used to temporarily smooth the look of moderate to severe wrinkles in certain areas of the face such as the forehead, frown lines, and crow's feet. They should not be used more frequently than every three months. Like any medical treatment, they have potential risks and side effects. Be sure to talk to a licensed provider to see if they're right for you. Have more questions? Chat with our team of trained aesthetics specialists now.]
Clarins® Paris Eye Contour Gel ($41):  "I have puffy eyes, and this serum helps me reduce puffiness in the morning. I recommend leaving it in the fridge. The cold serum feels great and helps bring my bags down."
I.C.O.N. Inner Home Moisturizing Hair Treatment ($12): "My hair loves this product! I apply it before my hot yoga practice and leave it on during class. The heat lets the product penetrate deeper. I have thin, long, blonde hair and Inner Home really helps it stay healthy and moisturized."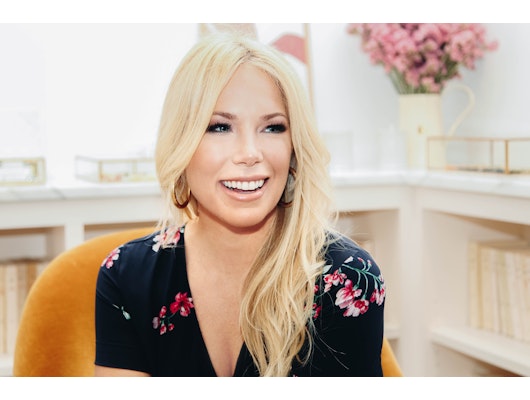 Joslyn Blair
Fat Freezing: "I only get it done at Dr. Derik Marrero's office in [San Juan,] Puerto Rico because I trust them. The results are subtle, but significant. I love that it's non-invasive. [I] highly recommend it if you want to rid of excess fat in stubborn areas."
Neutrogena® Hydro Boost Face Masks ($3): "[These are] super hydrating, easy to carry and perfect for my travels."
Aveeno® Daily Moisturizing Body Lotion ($9): "I am adamant about hydrating my skin right after I shower. Aveeno body lotion is absorbed fast and keeps my skin super soft."
Music: "People think I'm younger than I actually am, and I know part of it is because I'm young at heart, [an] adventuress, open to life, happy and . . . addicted to music! Music and dancing are a huge part of my beauty routine. I play music constantly — especially while getting ready for a red carpet or an event. Whether it's attending a music festival, at a concert, going out dancing with my friends or just me in my apartment, I dance at least five times a week. Dancing to music that exhilarates you gets your energy flowing, your heart pumping and gives you the best beauty accessory ever: a huge smile on your face!"
ZO® Skin Health Sunscreen & Primer SPF 30 ($65): "This is perfect for music festivals and outdoor events. It is a bit tinted and has a silky touch to it. [It] protects my face from the sun while acting as a great primer."
Byredo Eau de Parfum: "My most acute sense is the sense of smell. A nice woody, earthy smell puts a huge smile on my face. Byredo is my favorite brand because their scents are unique and not too strong. I get so many compliments every time I wear them. I have one scent for daytime — Gypsy Water ($165) — and another for nighttime — Black Saffron ($165)."
Allergan may receive commission for purchases made through links in this article.