While the "don't pick your face" edict may be generations old, so too is the temptation to ignore it. That means that anyone who experienced breakouts in their younger years may now be dealing with the fallout decades later. Yes — we're talking about acne scars. Anyone who's been staring at the same pockmarks since their senior prom may understand the frustration of feeling like there's nothing you can do to fix them. But according to dermatologists, there's no such thing as "too late" when it comes to making a difference in your skin. You'll just need some professional help, because the longer the mark has been there, the harder you'll have to work to fade it.
"Scars improve very slightly over time as the color fades and the thick tissue loosens — however, the scars will never go away on their own, especially if they are deep," says Michele Farber, MD of Schweiger Dermatology Group in NYC. "Older acne scars are harder to treat because they are fully formed, while newer ones are still remodeling on their own."
Admittedly, it is easier to treat scarring in younger skin due to the fact that there's more collagen, hydration and general resilience. "Older skin tends to have less collagen, more inflammation and tends to be thinner," explains Sameer Bashey MD, FAAD of ZO Skin Center in Beverly Hills. "These factors make it harder to achieve better results when revising scars."
But fear not — there's still hope for even the oldest and peskiest of acne scars. Aside from hopping in the Delorean and attempting to turn back time, there are actionable things you can do to reverse the damage you did to your face in your less skin-savvy years.
Understand What You're Working With
Unlike newer marks, which tend to respond better to topical treatments like retinoids and resurfacing, more established scars will require more aggressive methods. "Old scars are more responsive to mechanical and surgical procedures such as subcision, laser resurfacing, or the use of chemical peels," says Dr. Bashey.
For new scars, we like SkinMedica® Scar Recovery Gel with Centelline ($102), which combines a synergistic complex of Centella asiatica, Bulbine frutescens and Oleuropein that help soften and minimize the appearance of scars.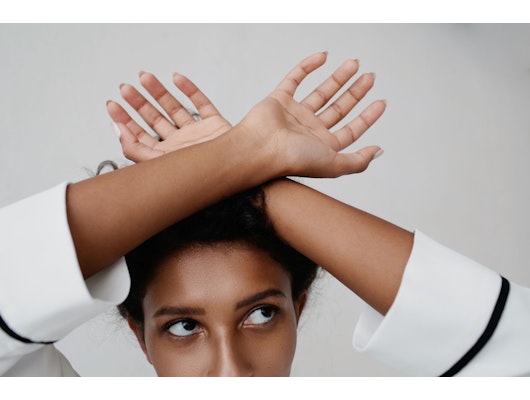 Stocksy United / Sergey Filimonov
Get Hi-Tech
To see a real difference in your skin when it comes to old marks, it's likely that you'll have to try a more heavy-duty treatment under the guidance of a professional.
"There are several in-office treatments for scarring," says Dr. Bashey. "My personal favorite to use is the Carbon Dioxide Laser, because it has been proven to have the best results." He adds, "I've had many patients who have had acne scars for several years and have still seen improvement with the CO2 laser ablation combined with our medium-depth chemical peel."
Even on their own, medium-depth chemical peels can help chemically exfoliate the top layer of skin, and can make a difference in superficial discoloration and textural issues. Ask your dermatologist what your best peel options are for your skin type.
Pulsed Dye Lasers, which seek out discoloration and help reduce it, are another option. Because this technology is designed to work on broken blood vessels, rosacea, and other red-toned skin issues, it works best on — you guessed it — red, raised scars. This method can also be used alone or alongside the CO2 laser, depending on what your expert recommends. 
Bring in the Needles
While lasers are a common treatment option, needles may be the way to go in more severe situations. "If you have what are called 'ice pick' scars, you may need more than what the laser can offer," explains New York-based dermatologist Dr. Joshua Zeichner. "These scars are very narrow but deep. We can take a tiny instrument to remove the scar tissue altogether. This is called a punch extension. The ice pick scar is replaced with a flatter scar that looks much better and can be lasered."
Other sharp object options include micro-needling, which you can try at home with a dermaroller — our favorite is Beauty Bioscience's GloPro vibrating version ($199) — and manual subcision, an in-office procedure that's used for treating slightly sunken scars. A special needle is inserted into the area, which helps promote new collagen, improving the mark's appearance.
Chat With Pros
Before you dive in and attempt to undo the handiwork of your teenage self, take some time to talk to your doc. "The treatment and modification of scars requires a multifactorial approach that your dermatologist can tailor for you," says Dr. Bashey. While it's tough to completely erase past misdeeds (like picking), if you dream of your skin in its (almost) prepubescent — and pre-picking — glory, get started!
 SkinMedica® is an Allergan-owned skin care product line.
Allergan may receive commission for purchases made through links in this article.