In this series, Top 11, influential people with share 11 ways they take care of themselves including beauty, skincare, and aesthetics. Knowledge is power!
If you're a long-time reader of In Touch Weekly and Haute Living, or if you've ever seen a gorgeous marketing campaign for on-demand beauty app Glamsquad, then you've — perhaps unknowingly — seen the work of Caitlyn Chase. Caitlyn, a beauty and fashion industry veteran, started her lifestyle blog, Caviar & Cashmere, in 2011. Recently, she also added business owner to her resume with the launch of her eponymous, Los Angeles-based skincare line, Caviar & Cashmere Skincare.
Caitlyn's passion for beauty —and beautiful skin — runs deep. "My love for beauty began at a young age, when I would watch my mom apply her makeup in the mornings," she says. "She modeled for 15 years, and learned so many amazing tricks from some of the world's top makeup artists."
Caitlyn's grandmother (who Caitlyn swears looks 20 years younger than her actual age of 98) also served as one of the main sources of inspiration behind Caviar & Cashmere Skincare: "She taught me all about skincare from a young age, so my passion for beauty is multigenerational and multifaceted," says Caitlyn.
Caitlyn's beauty philosophy — which takes inspiration from the beauty enthusiasts in her life, as well as her time working in the industry — has evolved over the years. Now, it's more about quality than quantity. "My approach to skincare is simplicity," she shares. "I believe in using fewer products which are highly concentrated with effective clean ingredients. I don't think it's necessary to have twenty steps in your regimen." To simplify the all-too-common experience of being bombarded by a seemingly endless array of products, she started her own line, Caviar & Cashmere Skincare. The collection is a minimalist system of three non-toxic products that are clean, effective, and luxurious.
While Caitlyn has spent years perfecting her personal skincare routine and developing Caviar & Cashmere, she's also equally choosy about what dermatologists and aestheticians she goes to. The two experts she trusts? Her long-time dermatologist Dr. Jennifer Herrmann of Rodeo Drive Dermatology for medical aesthetics treatments, and Joanna Vargas (and her team of experts) for facials. "I have been going to Joanna Vargas at the Sunset Tower Hotel for facials for the last three years, and they're the only ones I trust (besides Dr. H) with my face!" she says.
Dr. Hermann also happened to be the perfect sounding board once Caitlyn started her skincare line. "Dr. Herrmann is actually an advisor for Caviar & Cashmere Skincare, which I am so grateful for since I highly value her opinion and insight," she says. "Her practice is also heavily focused on cosmetics, so she is not only well-versed on the medical side of things, she is also my go-to for any type of laser facial and filler."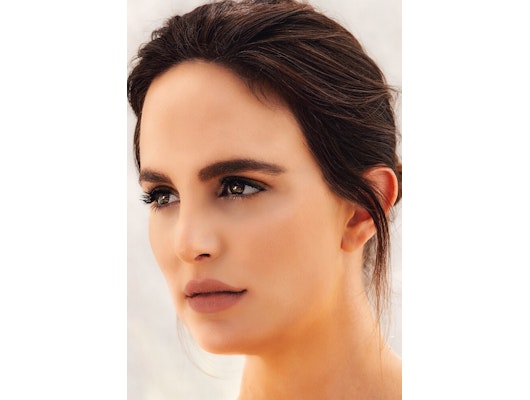 Joe Simpson
And now onto the exact 11 ways Caitlyn keeps her skin looking the way it does!
Caviar & Cashmere Clarifying Cleanser ($30): "The Caviar & Cashmere Clarifying Cleanser is a micro-foaming gel cleanser which removes makeup, dirt, and oil without over drying the skin. The Caviar & Cashmere Clarifying Cleanser is made with some of my favorite ingredients to help prevent treat breakouts such as tea tree oil and witch hazel, and is gentle enough for even the most sensitive of skin."
Kevyn Aucoin® The Volume Mascara ($29): "There are many days that I don't have time to do a full face of makeup (and thanks to my new skincare line, I don't really need much) so I count on a great mascara to throw on to pop my eyes. I love Kevyn Aucoin's® Volume Mascara because it creates length and thickness without looking clumpy or put-on." 
Injectable Wrinkle Reducers: "An injectable wrinkle reducer is a secret weapon as far as medical aesthetics go. It is ideal for people who'd like to treat wrinkles. I started two years ago getting [injected] where I furrow my brows, and it has made a difference in the visibility of those expression lines in between my eyes." 
[Editor's note: an injectable wrinkle reducer is a treatment performed by a professional to temporarily smooth the appearance of moderate or severe lines on the face in areas such as the forehead, frown lines or crow's feet. Treatment should be sought no more frequently than once every three months. As with any prescription, be sure to talk to a licensed provider about all the risks and benefits. Have more questions about injectable wrinkle reducers? Chat with a trained aesthetic specialist now.]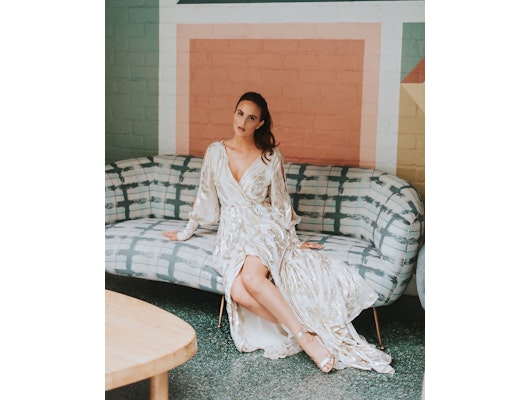 Morgain Foitle
Jergens® Natural Glow® Instant SunTM ($10): "I am pretty anti-sun exposure, since I would like to keep my skin youthful (and healthy) for as long as possible. Since I feel better with an overall tan, my solution is to use sunless tanner. I recently started using Jergens® Natural Glow® Instant SunTM which works wonders for a quick fix. It is easy to apply and dries quickly, allowing you to get a natural bronze color and run out the door ten minutes later without the threat of damaging your clothes or leaving streaks on your body." 
Caviar & Cashmere Regenerating Serum ($98): "The Caviar & Cashmere Regenerating Serum is the perfect product for those who would like to reverse the signs of aging and also prevent future fine lines and wrinkles. The powerful serum combats daily UV damage by neutralizing free radicals and environmental stressors, all while preventing the breakdown of collagen, and evening out skin tone with its super potent ingredients such as Vitamin C, E, and ferulic acid." 
Sara Happ The Lip ScrubTM ($22): "Exfoliation of the lips is an often overlooked step, and something I try to do at least once a week. Sara Happ makes the yummiest smelling lip scrubs which help slough off dead skin, making your lips smoother and lipstick stay on longer."
Lymphatic Massage Facial: "If stress has you clenching your jaw or squinting your eyes like me, a lymphatic massage facial can help relieve that tension by kneading targeted points on the face to unlock strain and even help temporarily reduce puffiness."
Aquis© Hair Towel ($22): "Aquis© Hair Towels use some sort of magic to cut hair drying time in half, and also reduce frizz and breakage. The turbans are super stylish and easy to wash with your other bath towels."
Clear & Brilliant®: "The Clear & Brilliant® facial is the perfect foray into laser treatments. It is the most gentle type of laser and requires little to no downtime. Clear & Brilliant® is great for people who'd like a quick remedy for dull skin, since it makes the skin look more radiant and glowing." Note that if you have have had botulinum toxin injections, or dermal fillers (such as collagen or hyaluronic acid) within the past two weeks, talk to a licensed provider to discuss risks.
Caviar & Cashmere HydraLuxe Creme ($88): "The Caviar & Cashmere HydraLuxe Creme is a lightweight moisturizer for all skin types, which has been formulated with multifunctional ingredients to nourish, protect and deeply hydrate the skin while improving the appearance of skin tone, texture and radiance. A secret tip: the HydraLuxe creme also acts as the perfect makeup primer, so I use every day under makeup."
SlipTM Silk Pillowcase ($85-105): "Having a silk pillowcase has been a game-changer for me. Not only does it help prevent those annoying sleeping lines on your face, it doesn't let your precious moisturizer or serum seep in, so you can keep it on your face and not your pillow. An extra added benefit is the fact that it helps your blowout last longer, too reducing frizz." 
Allergan may receive commission for purchases made through links in this article.